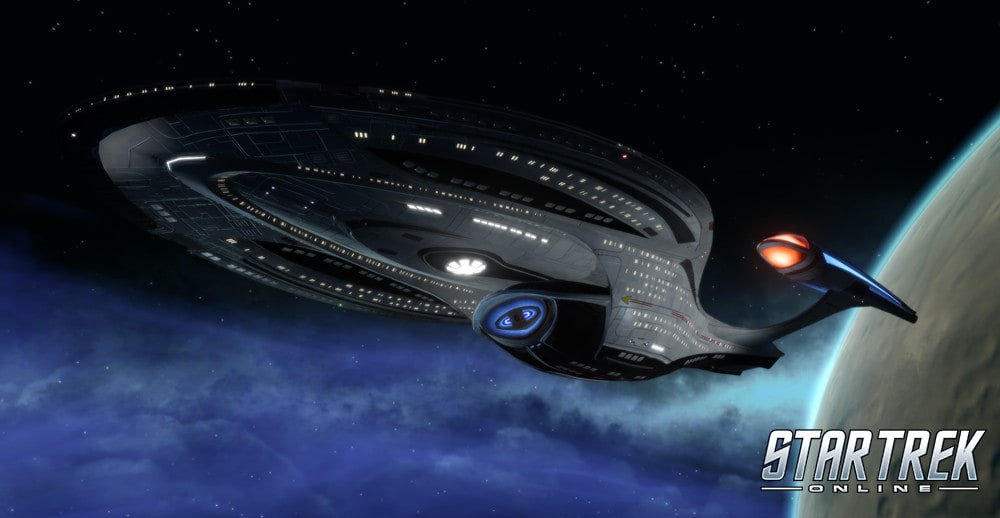 Star Trek Online is coming soon to consoles! Xbox One and PlayStation 4 Captains will soon be able to boldly go where no one has gone before, seeking out new life, new civilizations and more!
Players can create captains in three different factions within the Star Trek universe. Pioneer your destiny as a Starfleet captain, become a proud Klingon warrior in the service of the Empire, or rebuild the Romulan legacy in command of a warbird!
Choose the look for your captain and crew, and customize the appearance of your ship. Select the gear, weapons, and equipment for your away team, and prepare your ship for the dangers of the final frontier.
There are many exciting story episodes to experience – over 125 in all. Discover the secrets of the universe as you explore strange new worlds, and defend the galaxy from a host of deadly alien foes. There are eleven 'seasons' and two full expansions – Legacy of Romulus and Delta Rising – included in this experience, and more on the way!
The challenge of PVP combat awaits you as well. Test your mettle against other starship captains in a number of tactical battle engagements throughout the galaxy.
Build the power of your captain, crew and starship in preparation for fierce challenges in the endgame. Team up with other captains to tackle ground and space queue conflicts built to challenge the best the galaxy has to offer!
In the Reputation System, you can complete various projects to aid groups and factions throughout the galaxy. As you do, your reputation with them grows, unlocking new items and abilities to use in your career as a starship captain.
There's more to come. We'll be releasing more exciting gameplay and content in future updates, including:
Guild Housing and Progression, represented in the Fleet Holdings System.
Crafting, through the Research and Development System.
The Admiralty System, in where you direct the actions of an entire fleet to earn items.
The Duty Officer System, which allows you to direct the actions of your crew to earn items and improve your space and ground operations.
The Agents of Yesterday Expansion, which adds Federation captains from the TOS era to the game along with a series of new adventures that take place throughout space – and time!
Stay tuned for more updates on the upcoming console editions of Star Trek Online. We're excited to share all of the gaming experiences that STO has to offer with you!