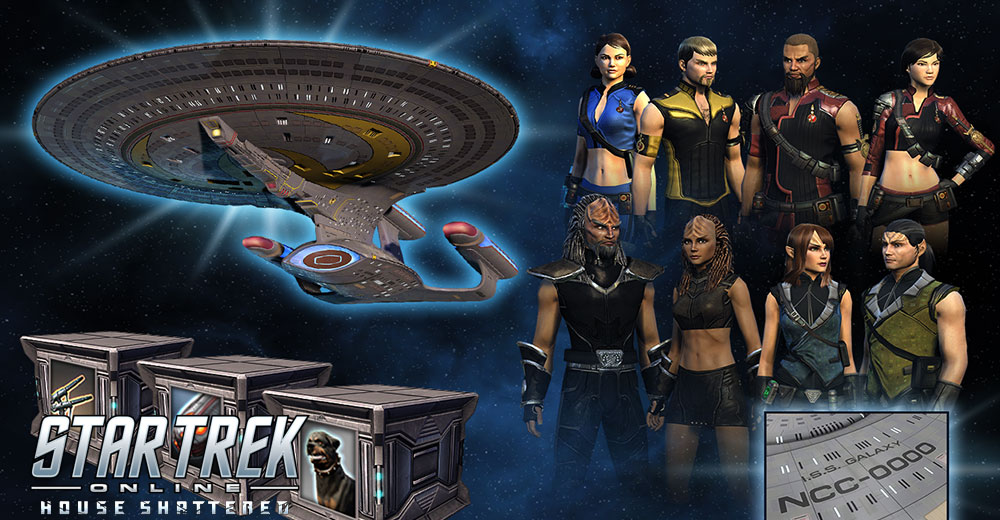 Ever since The Original Series first introduced the Mirror Universe in "Mirror, Mirror", it has captured the imagination of fans, appearing in several different series, and in Star Trek Online in various episodes and events. As a universe with humans who never grew out of bigotry, warmongering, and hatred, and all the changes inflicted on the galaxy as a result, it dances between a warning to improve our ways and an inspiration at the ongoing fight to make that galaxy a better place.
For players interested in exploring more of their villainous side, we're releasing a brand new bundle for Star Trek Online, coming on October 21st for 6,000 Zen! From October 21st at 8am PT (17:00 CEST) to October 28th at 10am PT (18:00 CET), this bundle will be 25% off! This bundle brings together some of the must-have items for any would-be mirror captain in Star Trek Online – account-wide costume unlocks, an intimidating pet, ground and space weaponry, a new Tier 6 starship, and more! Here's the full breakdown of everything in the bundle:
All New Tier 6 Ship: Legendary Dreadnought Cruiser
Agony Phaser Torpedo Launcher
Mirror Universe Phaser Dual Pistols
Mirror Odyssey Uniform
Mirror Antares Uniform
Mirror Sierra Uniform
Mirror Shorts Uniform
Mirror Romulan Uniform
Mirror Bort'asqu Uniform
Mirror Leeta Uniform
Mirror Porthos non-combat Rottweiler pet
Mirror Universe Registry unlocks
Mirror Hakeev duty officer
Mirror Universe Registry Unlocks
After purchasing this bundle, you will be able to choose the appropriate mirror universe prefix for all starships on your account – even ones that don't have a mirror universe counterpart in-game! All Federation or Federation-aligned characters will gain access to the I.S.S. (Imperial StarShip) prefix on all starships, all Klingon or Klingon-aligned characters will gain access to the A.K.S. (Alliance Klingon Ship) prefix on all starships, all Romulan characters will gain access to the A.R.W. (Alliance Romulan Warbird) prefix on all starships, and non-Romulan characters will also be able to use the A.R.W. prefix on all Warbirds.
Click below for more information on the ship!