This year, catch some new in-game events just in time for the holidays!

---
Snowman and Snow in Major Cities (December 6th 2017 – January 31st 2018)
Archosaur and other major starting cities will feature Living Snowmen inside and outside their walls. Kill Snowmen and they will give you some Chi Stones, Dice Tickets, and more.
Curious to see what Snowmen in the cities drop? Full droplist below:
| | |
| --- | --- |
| Liuho Stone | Chihsing Stone |
| Merry Christmas | Celestone of Human |
| Celestone of Earth | Celestone of Heaven |
| Pakua Stone | Hsiaoko's Mantou |
| Dice Ticket | Chiukung Stone |
| Perfect Stone | Eye of Observation |
---
Do the Penguin March! (December 23rd 2017 – December 29th 2017)
This year's event will once again take place in the Frigid Bay. Once in the bay, you can get the opening quest from the Penguin-mart Shopkeeper. He will have the quest, Emperor's Cruise for you to take, which once complete awards you 3 Christmas Event Tickets. You'll use these tickets to exchange for a penguin launcher later.
Every day at 10am, 2pm, and 6pm server time, Santa and Toto will appear in the Frigid Bay (441, 201) with a quest for all those Lv30 and up. Give Toto your 3 tickets and he will award you with a penguin launcher! Your job is to push as many presents and toys into the gingerbread house as you can within 15 minutes! Follow the arrows on the ground for guides on where to push the presents towards.
Deliver more than 50 presents to receive a system message as well as the presents changing into penguin toys. Once a total of 200+ presents are delivered, the penguin toys will be replaced by snowmen toys. Reach 500+ delivers for the golden reward!
This is a team event, so make sure to work together. Interfering with another person's delivery only hurts everyone's chances at the top prize. Team work is the key to getting the most out of this event!
---
*NEW*
Ancient Frost Kirin's Request (December 23rd – 30th )
Ancient Frost Kirin appears in Frigid Bay! Fulfill his request and earn a wonderful assortment of Homestead Minions and supplies for your troubles!
Complete the questline and receive the following rewards :
3 Major Homestead Supply Bags (DOES NOT have a Homestead level requirement)
3 Primordial Beast Egg Chest – Obtain one random Primal Minion
1 Snowy X'mas Designgraph Pack
---
*NEW*
Christmas in Neverfall (December 25th)
On Christmas Day, visit Neverfall City and with the magic of a special set of jingle bells, acquire a special present under the tree. If you are lucky, you can acquire a special festive All-Class Pet!
Chippy the Chipmunk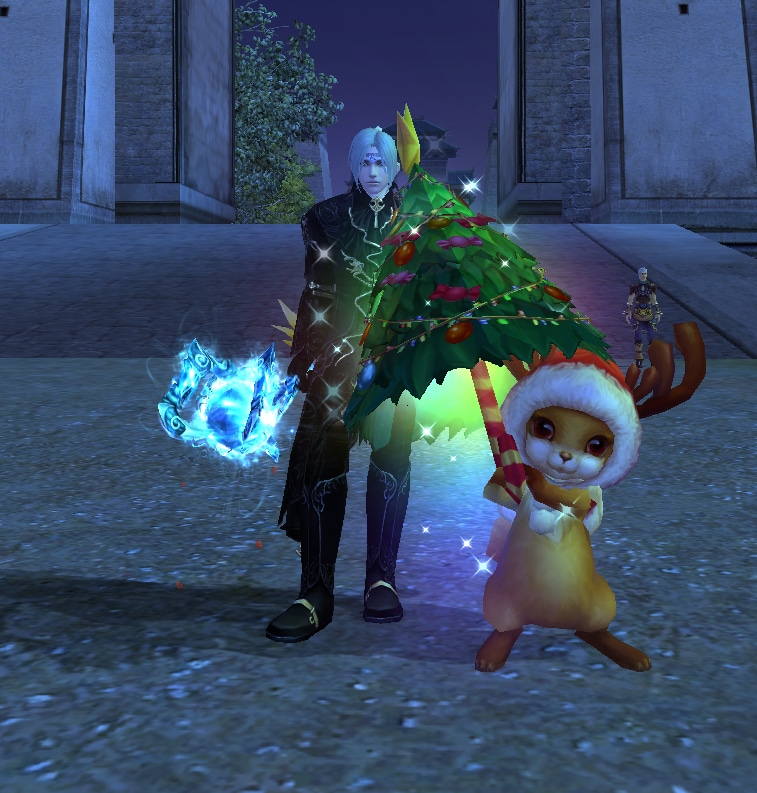 ---
Mini World Bosses Visit Archosaur!
Also in December, catch some other In-Game events to keep your spirits bright!
Starts: December 11th and December 1
5th
Dawnglory : 9:00 AM PT
Tideswell : 3:00 PM PT
Etherblade : 5:00 PM PT
Twilight Temple : 5:30 PM PT
What do these monsters drop? Take a look at the drops listed below!
| | |
| --- | --- |
| Celestone of Heaven | Celestone of Earth |
| Celestone of Human | Mirage Celestone |
| Scarlet Fruit | Ironguard Powder |
| Dew of Star Protection | Samsara Wheel |
| Calmness Dew | God's Tea |
| Vacuity Powder | Chrono Page |
---
Wraith Hunter Descends
During the coldest months of the year, the Wraith Hunter has returned!
Starts: Wednesday 12/13/2017 (After Maintenance)
Ends: Wednesday 12/27/2017 (After Maintenance)
Reminder: In order to participate, players will need to reach level 100 and have progressed through the Boundary quests to Mirage Sky I. Players will need to kill four monsters a day at set times in order to collect enough Wraith Hunter Insignia's to turn in for a War Avatar Pack S! Collect four Wraith Hunter Insignia's and exchange them for 1 War Avatar Pack S!
Wraith Hunter Times
16:00 – 16:15 (server time)
18:00 – 18:15 (server time)
20:00 – 20:15 (server time)
22:00 – 22:15 (server time)
System broadcasts will go out periodically to notify players when to pick up the quest.
---
We hope you enjoy our winter festivities this year!
Thanks for playing PWI and we'll see you in-game!