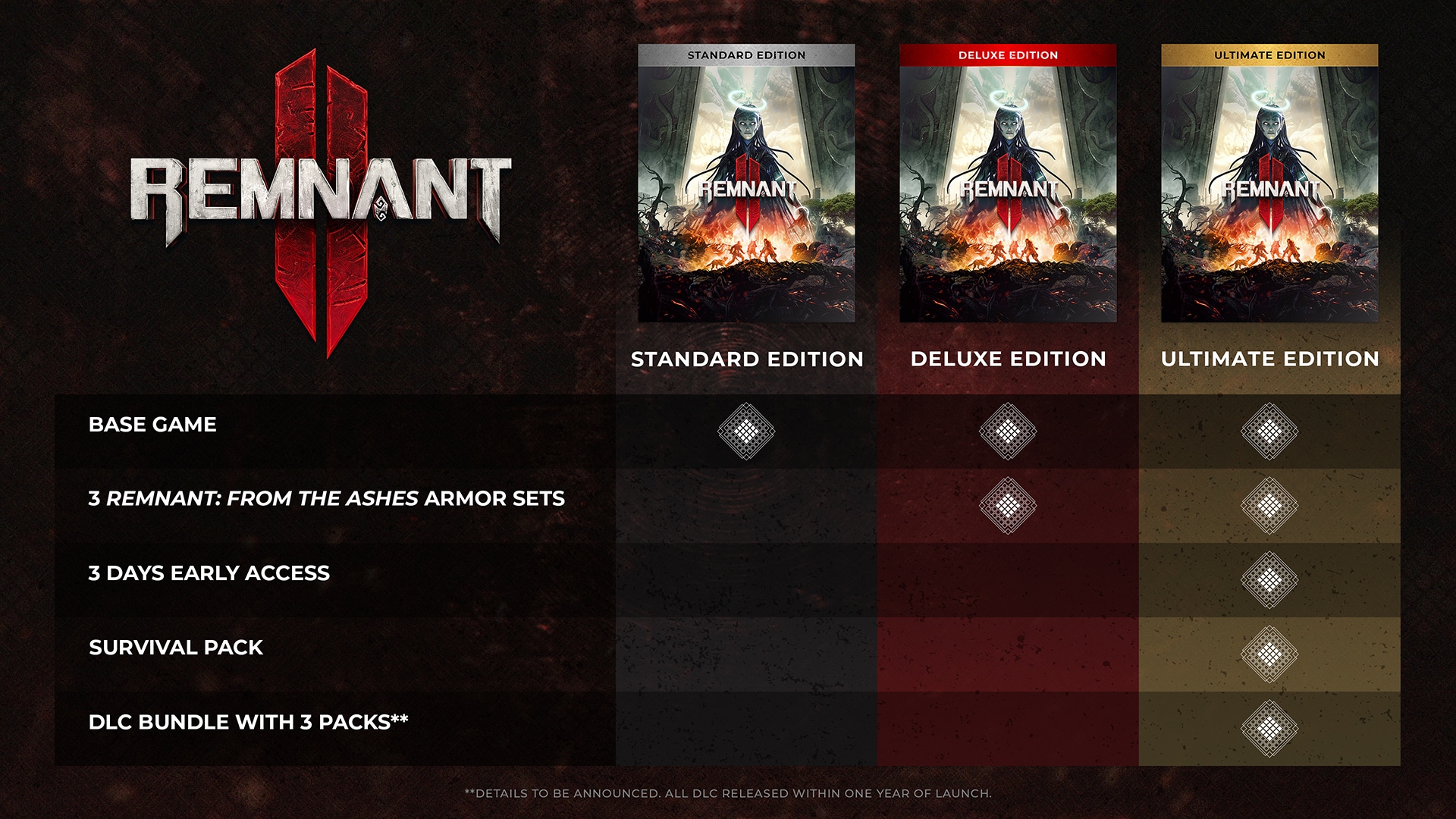 We're incredibly excited to finally announce that Remnant 2 will be available on July 25th, 2023 for the PC, PlayStation® 5, and Xbox Series X|S! Remnant 2 pits players against overwhelming odds alone or cooperatively with two friends as they scour dynamically built worlds with branching quest lines, unique loot, and terrifying enemies. Fans who digitally purchase the Remnant 2 Ultimate Edition will also receive early access to Remnant 2 on July 21st, 2023 three days before its official launch date. In addition, if players pre-order any digital edition, they will also get early access to the *Gunslinger Archetype Class.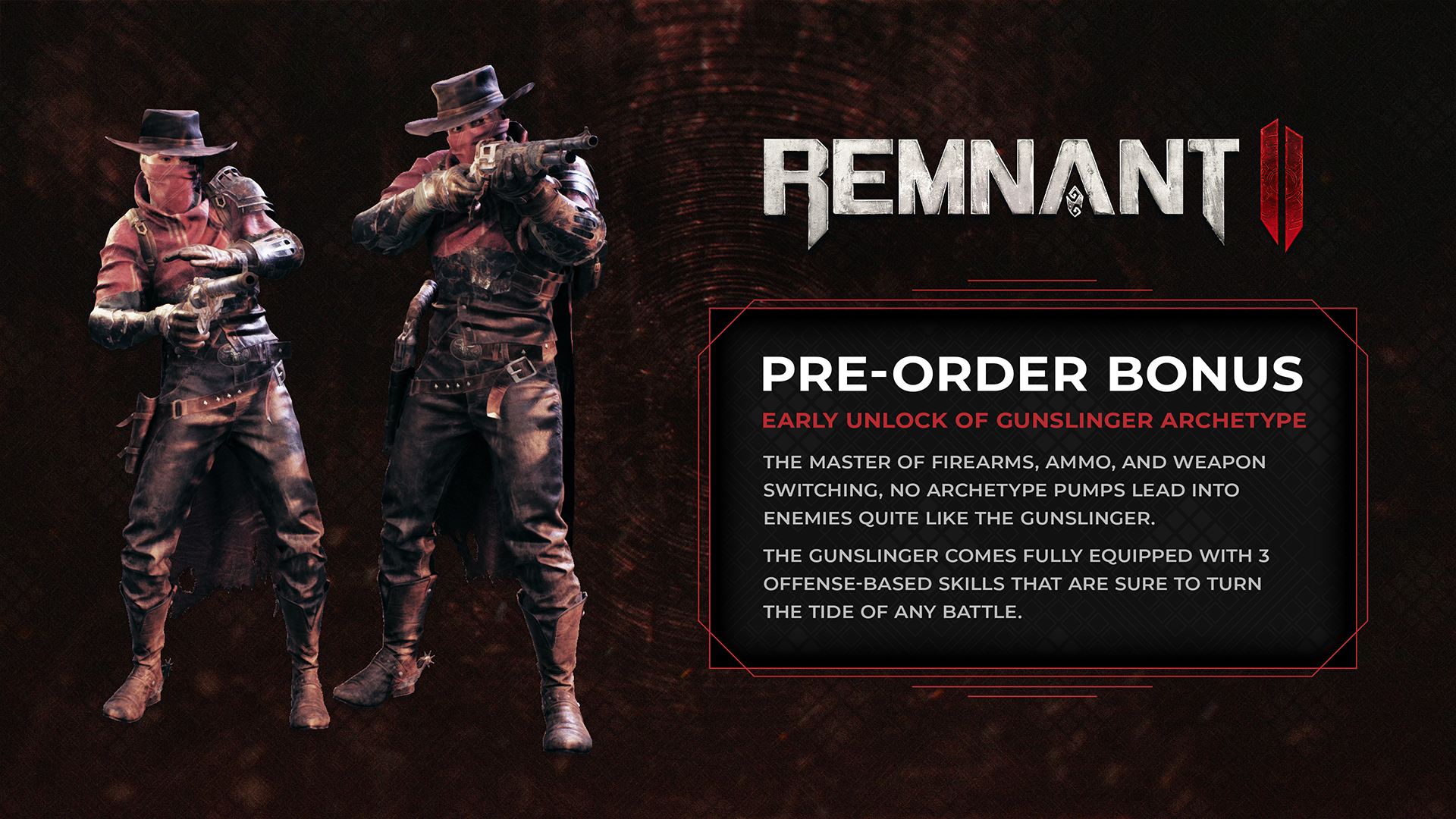 Starting today, fans will be able to choose from three options when digitally pre-ordering Remnant 2 from PlayStation® Network, Xbox Network, Steam or Epic Games Store: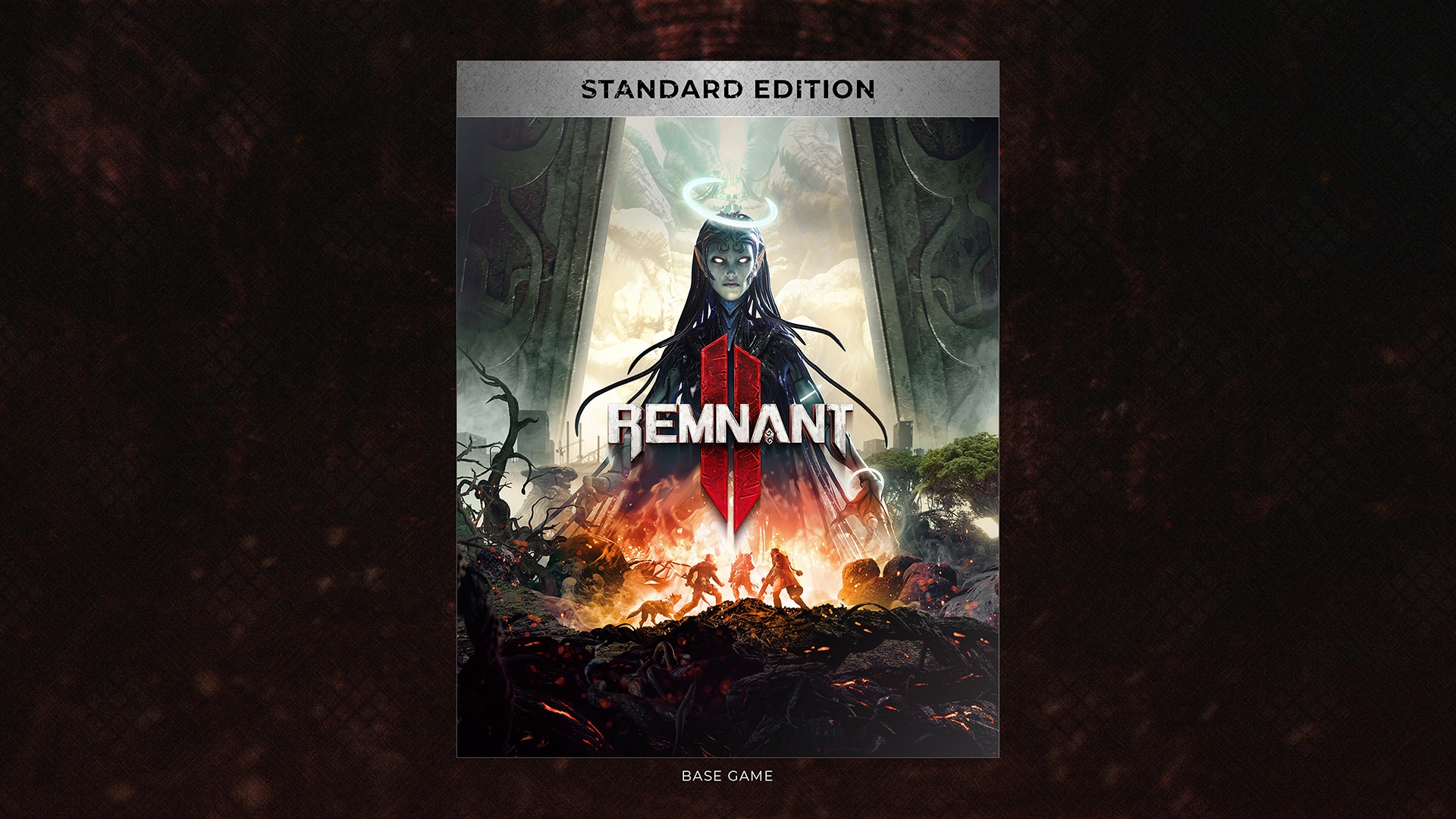 Standard Edition - $49.99
Base Game – Enjoy Remnant 2 when it releases on July 25th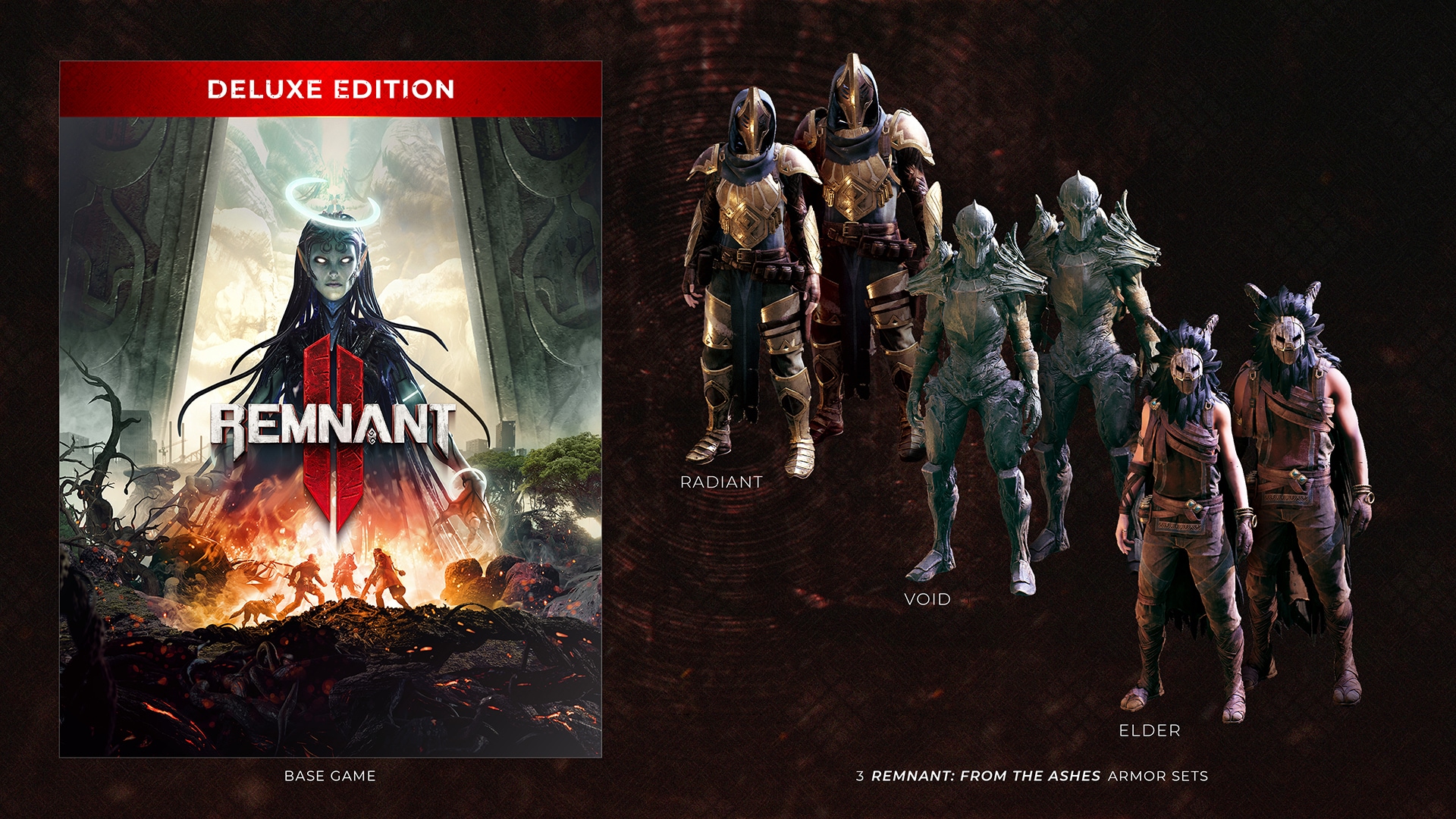 Deluxe Edition – $59.99
Standard Edition content
Three Remnant: From the Ashes *armor sets in Remnant 2 - Elder, Void, and Radiant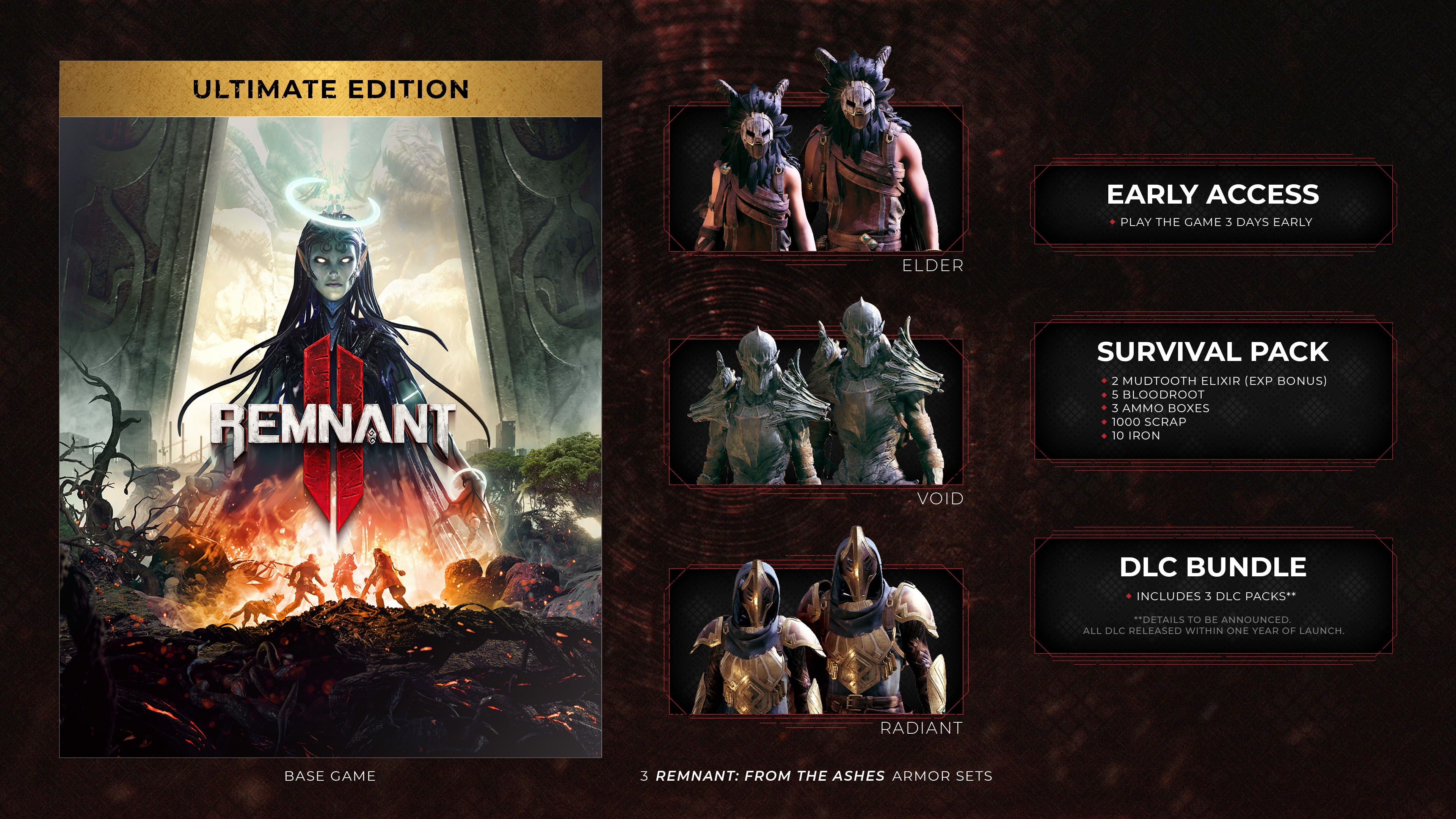 Ultimate Edition - $69.99
Deluxe Edition content
Early Access – Start playing Remnant 2 on July 21st ahead of the official launch of the game
Survival Pack – Start the game with a variety of expendable items to get a leg up against powerful foes
DLC Bundle – Receive three DLC packs for Remnant 2. More details regarding the DLC packs will be announced at a later date. All DLC is expected to be available within one year of launch.
*All Archetypes and armor sets can be unlocked through normal play.
Editions - https://www.remnantgame.com/en/editions
Steam - https://store.steampowered.com/app/1282100/Remnant_2/
Epic Games Store - https://store.epicgames.com/en-US/p/remnant-2
Xbox Series X|S - https://www.xbox.com/en-us/games/store/remnant-2/9p9278zmgqlj
PlayStation 5 - https://store.playstation.com/en-us/concept/10004544
Remnant 2 plunges players deeper into a devastated world requiring a mix of methodical and frenetic ranged and melee combat against cunning enemies and punishing boss battles. Enter the fray as a lone-wolf or even the odds by teaming up with two friends to overcome daunting challenges. Each time players start a new playthrough of Remnant 2 they will be brought into a new world built from a wide pool of locations, enemies, NPCs, bosses, and weapons. These dynamically built levels allow for unique experiences as elements are woven organically into the world and narrative.
An updated Archetype system gives players more flexibility to their play style and lets groups better sync unique passive abilities and stunning powers together in co-op play. Multiple Archetypes can be unlocked, leveled up, and equipped together for a wider variety of play styles.
Follow: https://twitter.com/Remnant_Game
Watch: http://www.twitch.tv/RemnantGame
Like: https://www.facebook.com/RemnantGame
Discuss: https://discord.com/invite/remnantgame