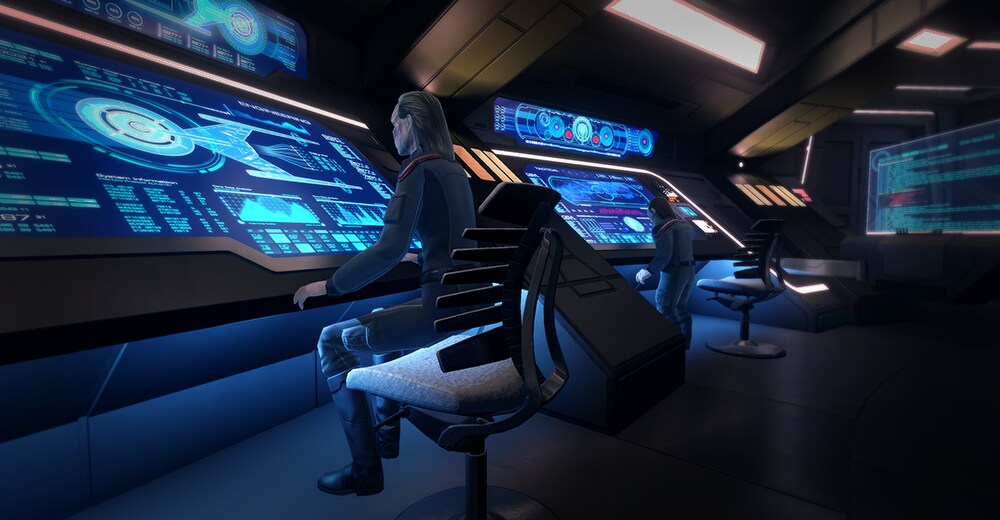 Event Campaign – Part IV:
No Win Scenario Event:

This Featured Event is the fourth of a series of upcoming Events that will participate in the latest multi-event system known as an Event Campaign.
This Event will include multiple TFOs previously featured individually in a combined Featured Event that will allow players to choose their preferred test each day.

The event versions of "Kobayashi Maru" and "Arena of Sompek" can be accessed via the new Event UI, accessible within your Mission Journal by pressing on the "Events" Tab.

Participating in this Event will give all players the opportunity to win the Sompek Energy Rebounder Kit Module for their entire account!

Kobayashi Maru and Arena of Sompek TFO Updates:

Each have a fixed duration during this Event.

Prior to the designated ending point, neither can be failed.

During this Event, the Untimed/Infinite versions of these TFOs will be temporarily disabled.
Each completion will reward a Choice of All Marks (replacing the usual Mark rewards).
Both TFOs have had their Cooldown Timers temporarily disabled.

Rewards:

Players will be able to earn their Daily Progress once every 20 hours.
Accruing a total of 14 days' worth of Daily Progress will allow you to claim all of these rewards:

Kit Module – Sompek Energy Rebounder (Account-Wide Reward)
25,000 Dilithium Ore (once only).
3x Featured TFO Reward Boxes (once only).

Each gives a choice of 1x Specialization Point or an Enhanced Universal Tech Upgrade.

Bonus Rewards:

After claiming the Grand Prize, you will unlock the option of earning additional Dilithium Ore each day, beginning at 8,000 Dilithium Ore for the first day's completion, and increasing for subsequent days.

Zen Buyout Option:

For players interested in instantly completing the No Win Scenario Event, we will be offering the option to purchase the remaining progress of this event at a scaling amount of Zen, as with other recent events.

A Second Chance:

Progress after the Event has ended will remain in an all new Second Chance interface, allowing the option to buyout rewards long after the Event has expired.
For more information, please visit the "Do you Believe in a No Win Scenario?" blog at: https://www.arcgames.com/en/games/star-trek-online/news/detail/11522983-do-you-believe-in-a-no-win-scenario%3F
General:
Resolved an issue where the "Pirate" Trait was incorrectly granting Stealth instead of Perception.

Also reduced the value from +150 skill to +50 skill.

Gravity Wells enhanced by the "Temporal Anchor" Starship Trait now only have a 2% per second to add 2 seconds to enemy ability recharge times (instead of 20% chance of +1 second).

When used against a Player, this penalty now only affects Bridge Officer Abilities, instead of all abilities and weapons.

Resolved an issue where Attack Pattern Lambda was giving the same self-buff values at all ranks.

Ranks II and III now correctly scale to higher values, matching the debuff values.

Resolved an issue that was causing the "Skirt – Formal" outfit to not display properly when equipped in the Tailor.
Resolved an issue that was causing various hairstyles to not display properly on Catian/Ferasan Captains.