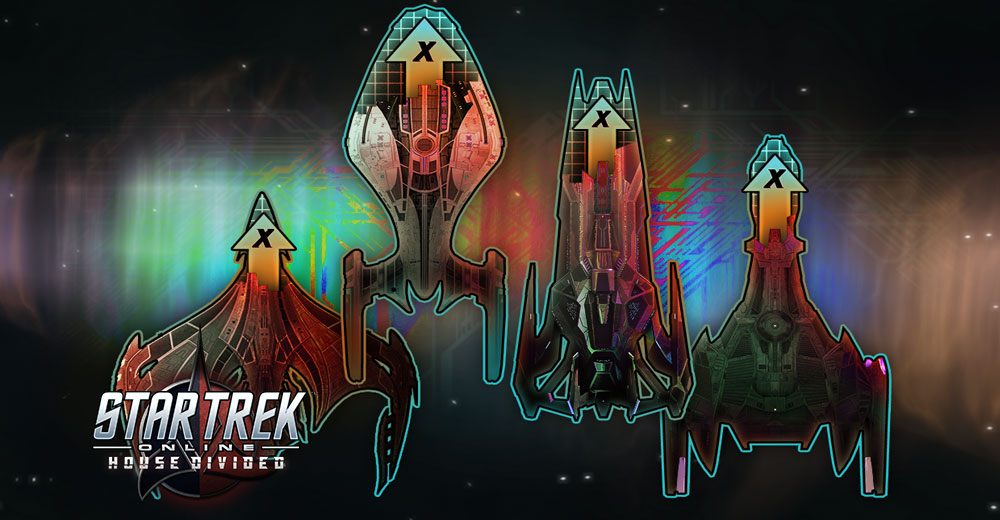 Very soon on PC, (and quickly after on Xbox One and Playstation 4) we will be introducing a new Starship feature that will allow captains to apply additional capabilities to their favorite starships, pushing their performance to new heights. This system, called "Experimental Upgrades" will allow T6 and T5-U Starships to be upgraded beyond their current limits, adding new equipment slots and other options to any upgraded ship that you take into battle.
Experimental Upgrades can be applied by visiting any Ship Selector location, which are found in most starbases and social zones, and will make use of a new token called "Experimental Starship Upgrade Tokens." These tokens will be found in numerous places throughout Star Trek Online, allowing captains multiple methods of obtaining the materials they need to push their starships' performance capabilities beyond the stars. From October 6th to November 5th, anyone can claim one of these tokens per account in the Space Items section of the Zen Store for free!
New Capabilities
The Experimental Upgrade unlocks several new options for your favorite starships. Let's take a look at how:
Upon application of an Experimental Upgrade to the T6 or T5-U starship of your choice, that starship class will receive the following additional capabilities:
· +1 Device Slot
· +1 Universal Console Slot
· +1 Starship Trait Slot (only active on ships that have had an Experimental Prototype Upgrade applied)
A cosmetic upgrade will also occur, altering the name of your ship's class to append a "-X" designation to its current class name, indicating that an eXperimental upgrade has been applied to that ship's class.
Account-Wide Upgrades
Much as it has always been when upgrading any T5 Ship to T5-U, Experimental Upgrades are not limited to a single character when applied. Each time you apply an Experimental Upgrade to a ship on your account, that Ship Class will then be free to upgrade on other characters across your entire account.
Acquiring Tokens
As a special promotional event rolling out with our next major story update all players who log in during the first 30 days of the release of these new items (October 6th thru November 5th) will receive one free Experimental Starship Upgrade Token to use as they like. Visit the "Space Items" tab of the Zen Store to claim yours! (Limit one free claim per account. Token is Bound to Account.)
Additional tokens will also be made available in the Phoenix Reclamation Store at the Ultra Rare tier. the next major story update will mark the re-release of special limited-time events associated with the Phoenix Prize Pack, where all players may claim one free pack each day. Experimental Starship Upgrade Tokens will be available on the Phoenix Reclamation Store only during these special events, the first of which will be scheduled to run until October 12th, 2020. Purchase a bundle of two of these tokens in exchange for one Ultra Rare Prize Token.
We'll be adding more ways to acquire these tokens through gameplay, so keep an eye out for future events and promotions that also reward one or more of these tokens! They could be coming soon to Events, Giveaways, Bundles, Promotional Offers, and more!
And in addition to these possible in-game methods of acquisition, players will also have the option to purchase Experimental Starship Upgrade Tokens directly from the Zen Store, in singles or in a bundle.
· 1x Experimental Starship Upgrade Token for 1000z
· Bundle of 3x Experimental Starship Upgrade Tokens for 2000z
Both offerings will enjoy discounted prices upon their initial release, dropping them by 20% OFF for the first week they are available (promotion ends October 12th, 2020). Tokens purchased from the Zen Store may be freely traded to other players, and even listed on the Exchange.
Console Availability
This new feature and all associated promotions will also appear on Xbox One and Playstation4, to coincide with the release of our next major story update on those platforms. Stay tuned for further announcements as to the date of that release!
FREQUENTLY ASKED QUESTIONS
Can you apply this upgrade to any ship?
You can use an Experimental Upgrade Token on any T5-U or T6 ship. This includes: Fleet ships, Legendary Ships, Ships obtained from lockboxes and infinity promotions.
What "class" does the Upgrade affect?
When you upgrade a ship, the upgrade is applied to any ships of that exact type on your account. This means that applying it to a Legendary Pilot Defiant will upgrade that ship on all characters on your account, but will not upgrade a Tier 5 Defiant, for example.
Do you have to choose one of the three options?
No. Upgrading a ship grants you the Console Slot, Trait Slot, and Device Slot. All three.
Will the trait slot unlock for my character?
No - the trait slot is specific to any ship you've applied an upgrade to. You will have access to an extra trait slot while commanding any ship that has had an Experimental Prototype Upgrade applied.
Will Fleet ships automatically upgrade?
Applying the upgrade to a non-fleet version of a ship will not automatically upgrade a fleet version of the ship.
Will some ships automatically be upgraded, like they were for T5-U?
No - any ship that you would like to upgrade will require an Experimental Upgrade Token.
How will this affect character bound ships?
The upgrade will still affect all ships of that type on your account. So, for example, if you obtained the Tzenkethi Dreadnought on two of your characters, you would only need to upgrade the ship once, on one character, to unlock the extra slots on both ships.