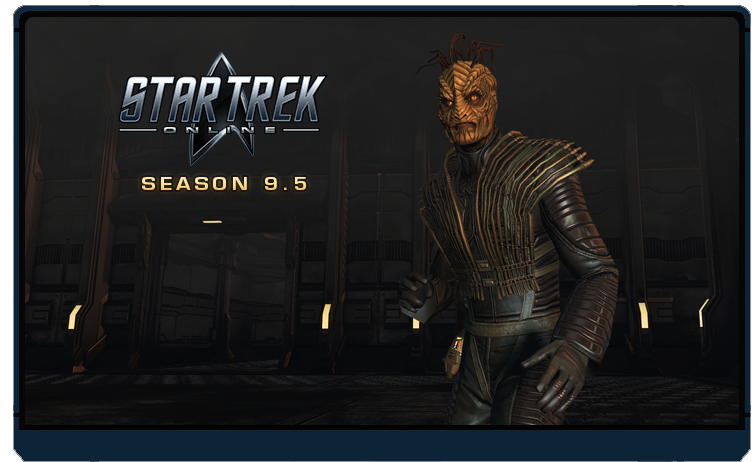 Our mid-season update, Season 9.5, is now live on Holodeck! Read on to learn about the updates you will experience in this update. You can also check out the full Release Notes here.

---

Season 9.5 is now available! In our latest update, Captains will be able to experience new and exciting gameplay. Season 9.5 offers an expansive Research and Development system, featuring multiple schools and tons of rewards waiting for you. Captains will be able to craft the latest and greatest!
In the continued fight against the Undine, the Xindi have offered their support in the form of our latest Lock Box. Pilot the sleek Narcine Dreadnought Carrier or fight beside your very own Xindi Bridge Officer. This Lock Box has it all!
For information about all of Season 9.5's features, check out this Dev Blog index.
We've revamped crafting to offer Captains a whole new experience. This brand new system offers opportunities to get the newest gear available! (More Info...)

Featuring multiple schools from Cannons to Shields, Captains can specialize their crafting to earn high tier gear of their preference. (More Info...)

New materials are scattered around the Galaxy just waiting to be found! Keep an eye on these new rare materials. (More Info...)
The newest Lock Box features the Xindi! This collection of species come bearing exciting and new experimental technology. (More Info...)

With elegant warships such as the Xindi-Aquatic Narcine Dreadnought Carrier or the Contortix Escort, these new ships are formidable vessels for any Captain! (More Info...)

Captains may requisition a Xindi Reptillian Bridge Officer! The Xindi-Reptilians have earned a reputation for their cunning tactics and vicious tenacity in the face of conflict. (More Info...)
Starfleet has a brand new look! Starfleet regulation is outfitting all officers with the Odyssey Uniform set! The Odyssey update also features new unlocks like the Tactical and Dress Jacket style. (More Info...)

Along with the Odyssey Uniforms, the Klingon Defense Force has modernized their uniforms with the new Bortasqu' set! Along with the Standard Bortasqu' Warrior, enjoy the Ceremonial, Guardian, and Operative uniforms. (More Info...)
Enjoy all these features and more in Season 9.5, Captains!

Discuss in the forums