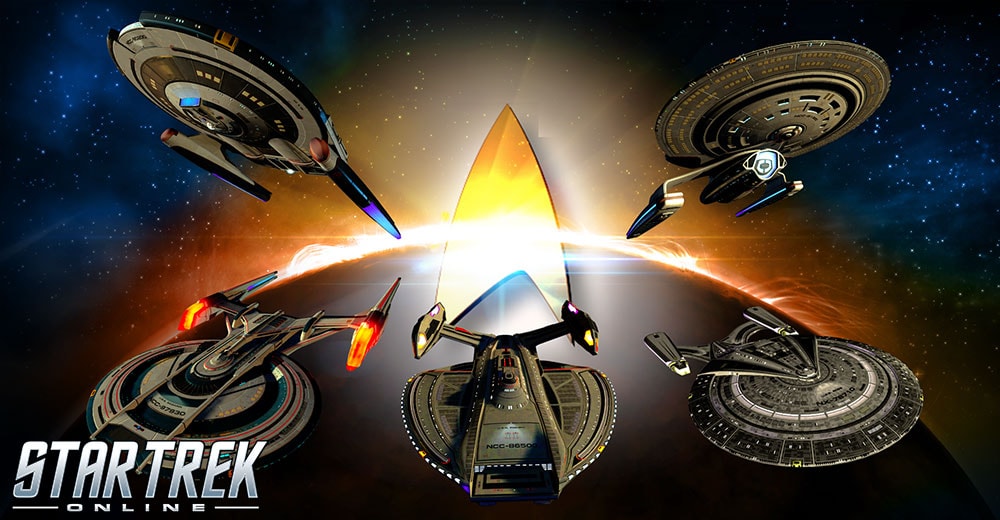 The Countdown to Canon is complete. As of this morning at midnight, four Star Trek Online ships have appeared in Star Trek Picard, officially making them canon vessels. And we want to celebrate with you. Right now, get a chance to save on all of these ships, and grab the Inquiry for Lobi for the first time! All of these sales last from March 17th at 8am PT to March 24th at 10am PT.
Before we get into the nitty gritty of the individual sales, we want to take a moment to say thank you. This is a monumental moment for for the team of Star Trek Online. While we've had crossovers, brushes with canon, and even shoutouts before, this is the first time something explicitly made for our game has crossed over and officially become part of canon on a Star Trek TV show. It's an overwhelming and exciting feeling, and the reason we got here is because of you. STO's Captains have supported us for twelve years, helping us to tell stories of the Final Frontier in an era that, until very recently, had never been touched. Without you, none of this could have happened. Thank you so much.
First of all, the Inquiry Class is flying out of the Infinity Research and Development packs and into the Lobi Store for the first time! She'll be available for 1200 Lobi for the entirety of this special event. But that's not all - during this week-long celebration, we're also doing a 20% Lobi Store Sale! That means you can grab the Inquiry for 960 Lobi, along with saving on anything in the store your heart desires.
Then there are the three Zen Store ships that are being canonized, the Gagarin, the Reliant, and the Sutherland. These three ships will be on sale for 30% off! If you liked what you saw on screen, don't hesitate to fly it for yourself in the game!
Finally, there's the Ross. This beautiful ship is part of the 10th Anniversary 10 Ship Legendary Bundle, and that bundle is returning for purchase during this event! But not just returning, it'll be 35% off! Grab ten of the most iconic ships in Star Trek history, along with every console, trait and look from nearly every iteration of those ships, and special exclusive skins for each one, like the Ross. You can find this bundle in the Zen Store!
And that's not all! The 2399 Picard Uniform is returning to the Zen Store during this special event! And, save 75% on everything in Mudd's Market (excluding the bundles).
This is a momumentous moment in STO's history, and we're so grateful to all of you who have taken the journey with us over the past 12 years. Look for more about this crossover to come, including media interviews, and our own documentary. We'll see you in the stars, Captains, with four newly canonized ships to get us there.