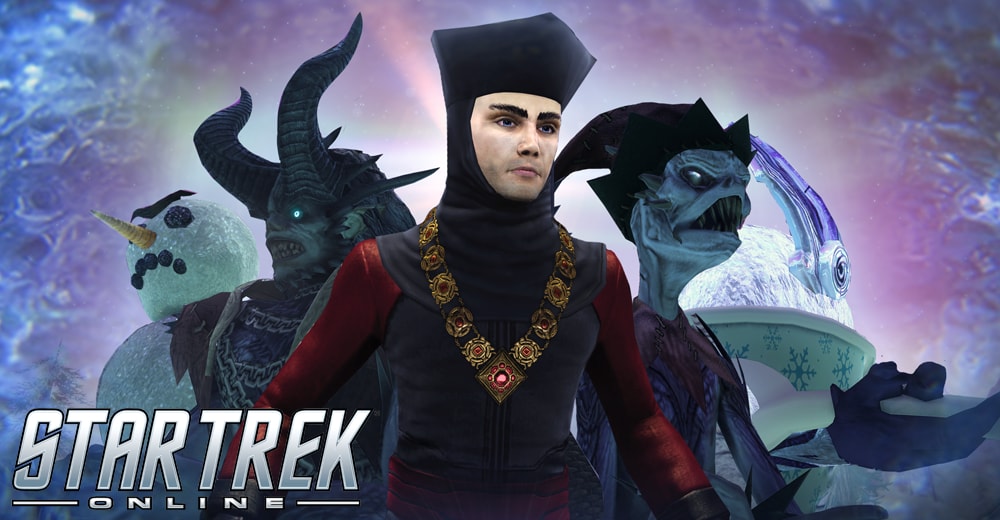 The seasonal favorite from years past is returning once more to Star Trek Online! Q proudly invites personnel of all ranks, allegiances, species, cosmological variances, and molecular stabilities (or lack thereof) to ring in the holiday season, and visit his Winter Wonderland for fun, frivolity, and prizes!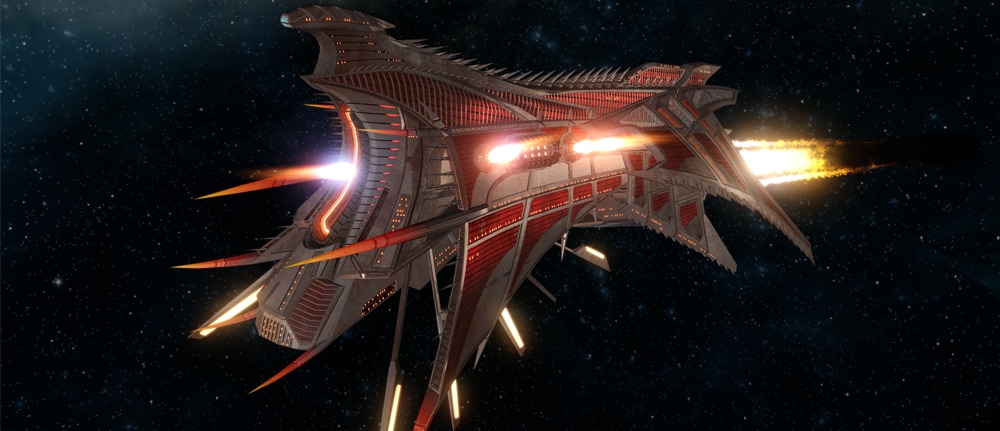 Participate in your choice of Winter Wonderland Activities to work your way toward obtaining the fabulous new Fek'Ihri Gok'tad Carrier [T6]! Complete details of this ship's capabilities will be obtained in a separate Dev Blog.
Like last year, this year's festivities will be integrated into our recently released Event Interface, as part of your Mission Journal. This means that, just like last year: Daily Progress toward earning your new starship can be obtained by participating in any of the following activities:
Fastest Game on Ice
Klingon Ice Fishing
Tides of Ice
The Fast and the Flurrious
Cones of Conduct
The Kramp'Ihri
The first completion of any of the above activities will fulfill your Daily Requirement for your entire account, allowing you to pick and choose how you earn your way to a new starship. Play whichever activity you enjoy most, or change it up each day for greater variety!
The Event System will also offer instant and immediate access to visit the Winter Wonderland from most non-combat maps in the game, simply by pressing the "Transwarp" button on the Event interface. You don't even have to talk to Q to get there – he's allowed us to bring the Wonderland to YOU.
Each of the above activities, as well as others you can participate in during the Winter Event, will still reward you with the various Holiday Ornaments which can be used in different denominations to purchase yourself a variety of rewards from years past, as well as a number of new additions that will arrive with the re-launch of the Event this year!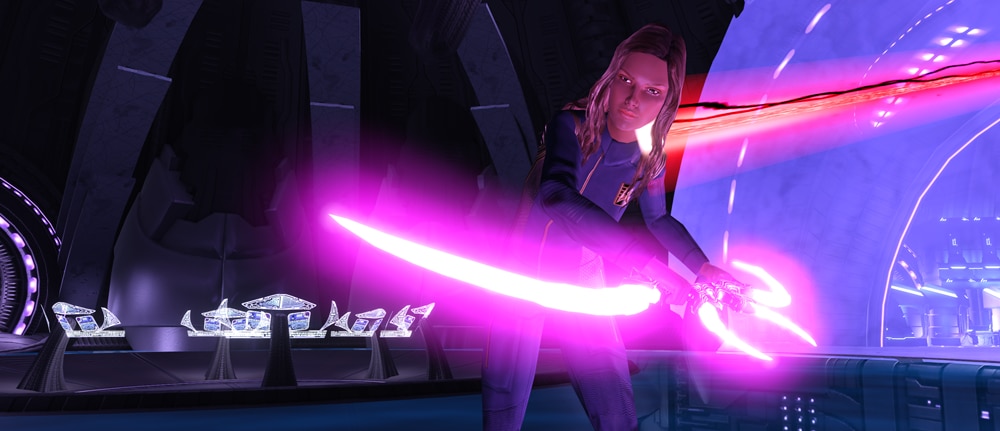 Purple Nanopulse Discovery-Era Bat'leth
Light up the holiday night with a beautiful sight - oh god, I'm speaking in rhyme - the Purple Nanopulse Discovery-Era Bat'leth. Combining the unique asthetics of the Discovery-era Bat'leth with glowing purple nanopulse energy, this exciting weapon will be available from the Winter Event this year.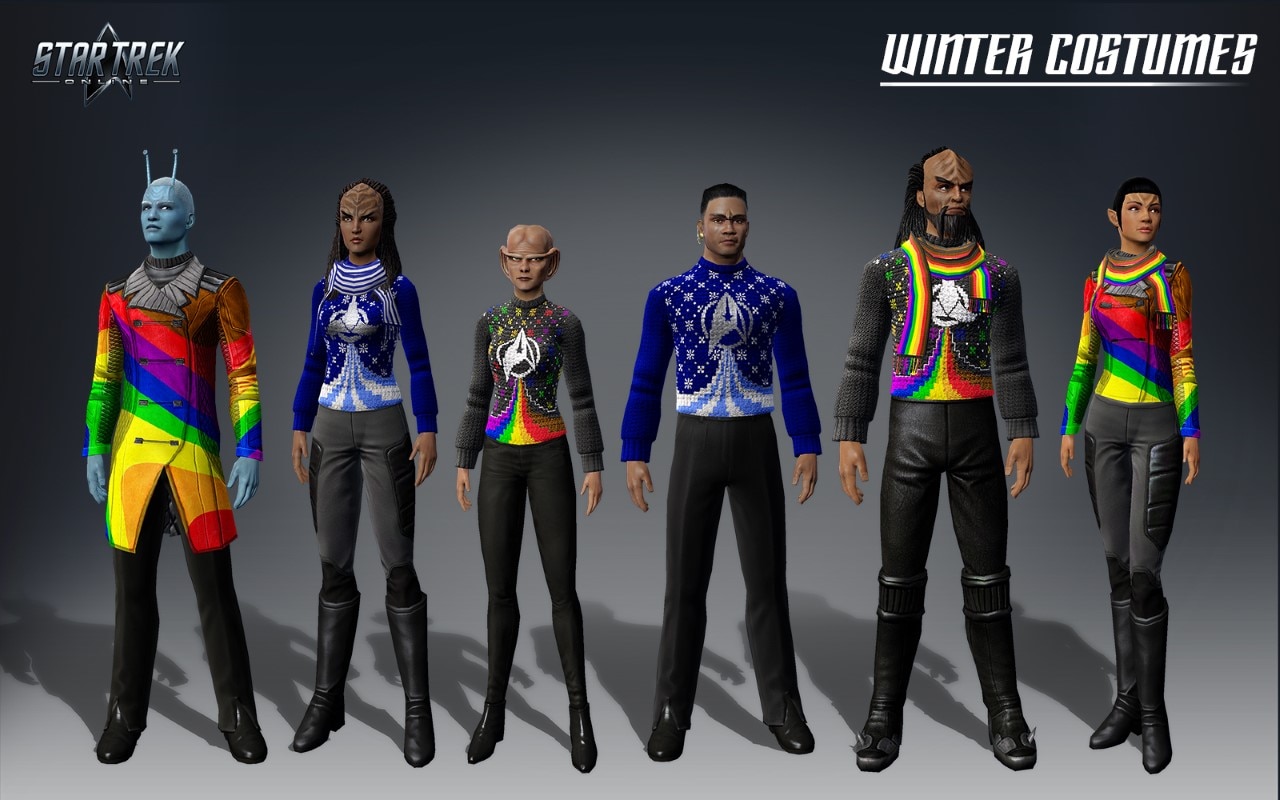 Rainbow Sweaters
Continuing the theme from Risa this year, be proud and deck yourself in warm and fuzzy rainbow gear!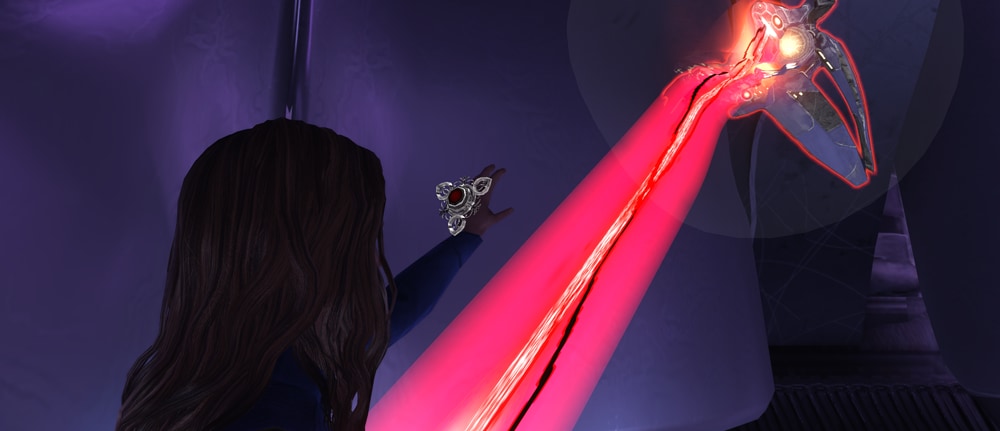 Grethor-Themed Bridge Officer Training Manuals and Kit Modules
The Fek'Ihri magic dragged into the Winter Wonderland by the Kramp'Ihri every year has been harnessed into new kits and manuals for you and your bridge officers! There's one for each career path:
Engineering - Anchor of Grethor


The Anchor of Grethor will drag up to five enemies into a localized area, doing damae over time and making them more susceptible to fire damage.

Tactical - Grethor's Chains


A mystical chain from the Klingon underworld will drag two of your enemies together, while doing fire damage to them.

Science - Cryothermic Armor


Encase your allies in spectral ice, granting them temporary hit points and healing over time.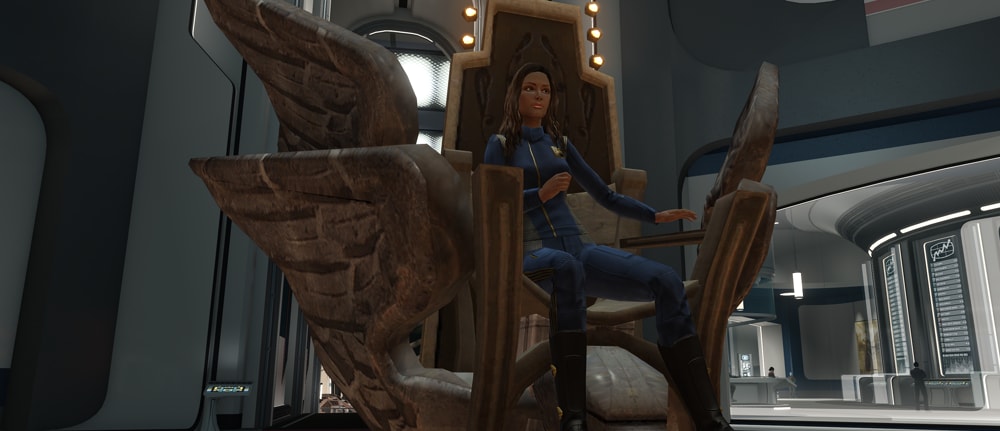 Q's Chair Consumable Item
Even in a world he created, Q can sometimes be grifted. In this case, the Kramp'Ihri's elves have stolen and copied Q's chair, and are now selling it to you. Activate this item to sit in judgement on humanity, or whatever else is in front of you. The chair has five charges per item.

Rescue St. Bernard Pet
Adorable and helpful, this St. Bernard has come to Q's Winter Wonderland to keep you out of trouble. You can find him with the Federation or Klingon Empire logo on his tiny little barrel.
Q's Winter Wonderland will be available from December 8th, 2020 to January 7th, 2021. This event will run simultaneously across all platforms (PC and Console). Join us to celebrate this festive season, and ring in the new year!