The Legendary Temporal Operative Escort continues a legacy of discovery and vigilance over two centuries long. Inspired by modifications made to the NX-01 Enterprise by Chief Engineer Charles Tucker III, the Legendary Temporal Operative Escort is equipped to face challenges beyond space and time. Five forward weapons, an experimental weapon slot and the Molecular Reconstruction Array combine with the Grappler and Point Defense Bombardment Warhead Consoles to create an escort that can face the dangers of the final frontier with confidence.
Legendary Temporal Operative Escort Stats
Tier: 6
Faction: Federation and Federation Aligned
Hull Modifier: 1.2
Shield Modifier: 1.075
Fore Weapons: 5
Aft Weapons: 2
Experimental Weapon Slot
Device Slots: 3
Bridge Officer Stations:Lieutenant Commander Tactical,
Commander Tactical/Temporal Operative,Lieutenant Engineering,
Lieutenant Commander Science/Temporal Operative, Ensign Universal
Consoles: 5 Tactical, 2 Engineering, 4 Science
Base Turn Rate: 14
Impulse Modifier: .2
Inertia: 60
+15 Weapons Power, +5 Auxiliary Power
Can equip dual cannons
Console - Universal - Grappler
Console - Universal - Point Defense Bombardment Warhead
Molecular Reconstruction
Starship Mastery Package (Escort)

Precise Weapon Systems (+Accuracy)
Tactical Maneuvering (+Defense)
Enhanced Weapon Systems (+All Damage)
Devastating Weaponry (+Crit Chance)
Preferential Targeting (Starship Trait)
NEW:Field-Modified Overload Support (Account-Unlocked Starship Trait)
Activating Hull Heals recharges Beam Overload and Emergency Power to Weapons.
This does not bypass their minimum cooldowns.

Admiralty Stats

Eng: 18
Sci: 37
Tac: 61
Special: +10 Tac per SciShip
New Visual Variant: Columbia Class Light Escort
The Legendary Temporal Operative Escort includes a brand-new visual variant: The Columbia Class Light Escort. This brand-new design is a re-interpretation of the light escort as it might appear in the 2280s, around the time of Star Trek: VI: The Undiscovered Country.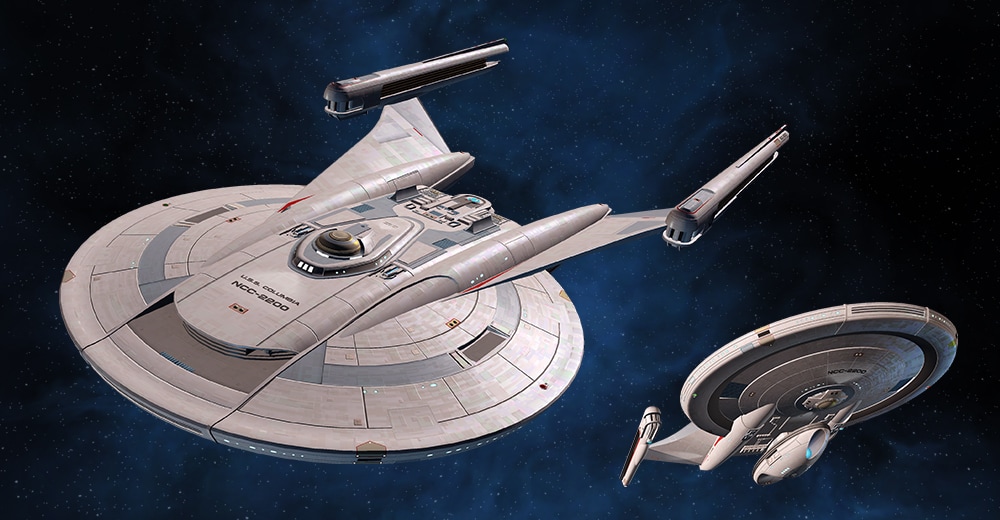 Other Included Variants
In addition to the brand-new parts, the Legendary Temporal Operative Escort includes all of the following starship visual variants: