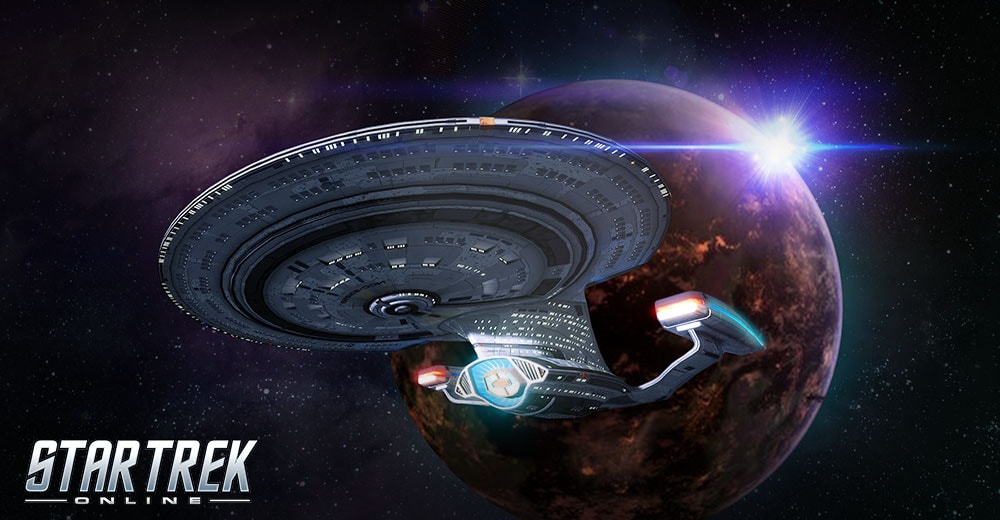 Captains, the time to explore has come. For the next twenty four hours, from 9:00 AM PST on 3/21, to 9:00 AM PST on 3/22, we've calibrated the C-store to make the T6 Andromeda 50% off on all three platforms. The Andromeda class, of course, if named after a distant galaxy, and you can assume control of this powerful ship to find your path in Star Trek Online. And whether you're a Commander or a Captain, you should be careful. This might be your favorite ship in the galaxy.
Here's all the details on the Andromeda Class: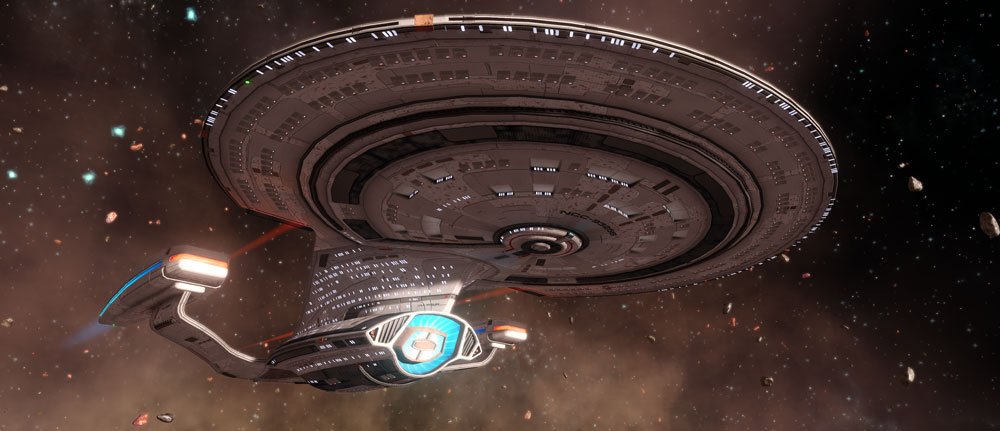 Ship Details
Tier: 6
Faction: Starfleet
Required Rank: Vice Admiral
Hull Strength: 45,885 at level 50 and 53,200 at level 60
Shield Modifier: 1
Crew: 1000
Fore Weapons: 4
Aft Weapons: 4
Device Slots: 4
Bridge Officer Stations: 1 Lieutenant Commander Tactical, 1 Lieutenant Commander Engineering/Command, 1 Commander Engineering, 1 Lieutenant Science, 1 Ensign Universal
Console Modifications: 3 Tactical, 4 Engineering, 3 Science
Base Turn Rate: 6 degrees/second
Impulse Modifier: 0.15
Friction/Traction: 25
+5 to all power levels
Console – Universal – Molecular Cohesion Nullifier Field
Starship Ability Package (Cruiser)

Absorptive Plating
Rapid Repairs
Enhanced Plating
Armored Hull
Explosive Polarity Shift (Starship Trait)

Cruiser Command Array

Command – Strategic Maneuvering
Command – Shield Frequency Modulation
Command – Weapon System Efficiency
Command – Attract Fire
Enhanced Engineering Systems Set
Equipping multiple consoles from the Exploration Cruiser Refit, Exploration Cruiser Retrofit and Exploration Cruiser [T6] will bestow set bonuses to your starship.
Consoles in this set:
Console – Universal – Antimatter Spread
Console – Universal – Saucer Separation
Console – Universal – Molecular Cohesion Nullifier
Set Bonuses:
Enhanced Structural Systems (2pc) - Passive

+All Damage Resistance
+Turn Rate
+Engine Power

Reinforced Shielding (3pc) – Passive

+Maximum Shield Capacity
+Shield Regeneration
Reduces energy damage to shields
Explosive Polarity Shift (Starship Trait)
After achieving level 5 in your Andromeda Class Exploration Cruiser [T6], Negh'Tev Heavy Battlecruiser [T6] or D'Khellra Warbird Battlecruiser [T6] Starship Mastery, you will unlock the Explosive Polarity Shift starship trait. While this trait is slotted Reverse Shield Polarity will absorb incoming damage and convert it into a kinetic blast upon expiration.