From 12/18 – 1/3, charge or spend Gold in PWI and receive awesome rewards! Check out the Rewards page here:
http://www.arcgames.com/en/games/pwi/rewards
---
Start: 12/18/2020 @ 9:00AM PT (18:00 CET)
Point Accrual Ends: 1/3/2021 @ 11:59PM PT (1/4/2021, 08:59 CET)
Points Expire: 1/5/2021 @ 11:59PM PT (1/6/2021, 08:59 CET)
---
***** Treasure Seeking Bonus Event Now Active! *****
Start: 12/18/2020 1:00AM PT (10:00 CET)
End: 1/3/2021 1:00AM PT (10:00 CET)
How it works:
When the Bonus Floor is active, a counter will appear on the right-hand side of the Treasures window.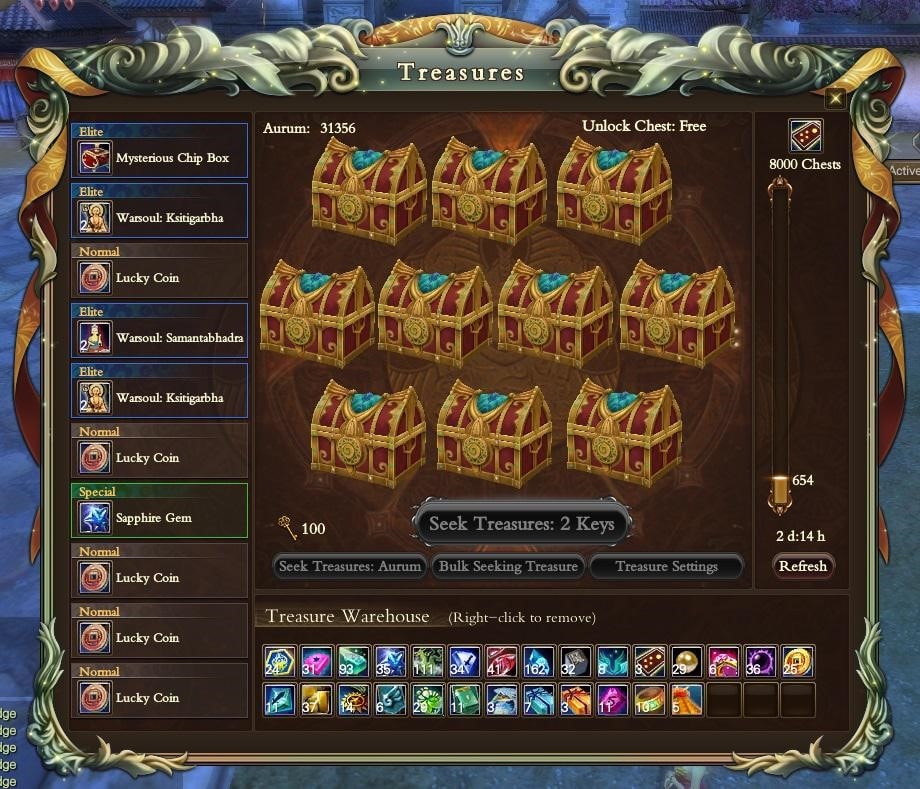 This counter tracks all chests opened by all players across the entire server.
At the top of the counter is a number, and a prize.
Whoever opens the final chest of the counter will receive that prize:
Every 4000: Diamond of Dragon x1 and Diamond of Tiger x1
Good luck to all the treasure hunters out there!
---
Charge & Spending Rewards
Here's how it works:
It's simple! Earn Reward Points by charging Gold to your account. Use Reward Points in the Rewards page to redeem bonus items!
Bonus:
Earn additional Reward Points by spending Gold in game for the entire duration of the promotion!
1 Gold Spent = 100 Silver = 100 RP

Reward Distribution:
All items will be sent to your in-game mailbox.
Reward items will be sent within a few minutes to hours following the completion of the condition.
All items acquired will be bound.
Items will be sent to the character of your choice on the purchasing account.
Please make sure you have space in your in-game mailbox to receive your rewards.
Special Deals (Limited Redeems)
Don't miss out on these select Charge Reward items at an amazing discount!*
*Each item in the special deals is limited to one redeem per account.
| Item Name | Quantity | Description | Cost |
| --- | --- | --- | --- |
| Identity Stone | 1 | Use to change your character's name. Good for one use! | 2,000 |
| Ancient Gift | 10 | Buff that gives EXP and increased Vitae | 100 |
| Glyph Pack LV4 | 1 | Right-click to obtain a random LV4 Glyph. | 500 |
| Petaldream Crstal | 50 | Chance pack! | 1,250 |
| War Avatar Pack: S | 3 | Gain a random War Avatar from level B to S. EXP increased after being consumed: 7 | 2,500 |
| Astrobana Pearl Lv1 | 15 | Star Chart item for Astral Infusion | 500 |
| Astrobana Pearl Lv2 | 10 | Star Chart item for Astral Infusion | 500 |
| Dragon Orb Ocean | 1 | Gain a Dragon Orb Flame which has 100% chance to increase item refinement level by 1. Max level 10. | 1,000 |
| Dragon Orb Mirage | 1 | Gain a Dragon Orb Flame which has 100% chance to increase item refinement level by 1. Max level 11. | 3,000 |
| Dragon Orb Flame | 1 | Gain a Dragon Orb Flame which has 100% chance to increase item refinement level by 1. Max level 12. | 5,000 |
| War Avatar Chest: S | 1 | Contains a random S-grade War Avatar. | 20,000 |
| Ultimate War Avatar S Chest | 1 | Contains your choice of one of the six types of Avatar S Chests. | 50,000 |
| Nuema Portal Avatar Chest | 1 | Contains your choice of one of the six S-Class Nuema Portal War Avatar Cards. | 75,000 |
Dark Jade Soulstone (Limited to 10 Redeems per account)
| Item Name | Quantity | Description | Cost |
| --- | --- | --- | --- |
| Dark Jade Soulstone | 1 | Required item to enter Icebound Underworld. | 10 |
| Dark Jade Soulstone | 1 | Required item to enter Icebound Underworld. | 75 |
Charge Reward Store (Unlimited Redeems)
Item Name

Quantity

Description

Cost (RP)

Glyph Pack LV4

1

Right-click to obtain a random LV4 Glyph.

2,000

Ancient Gift

5

Buff that gives EXP and increased Vitae

2,000

Primordial Blood

5

Used for skills in Primal World

2,000

Barbaric Blood

5

Used for skills in Primal World

2,000

Soulgem Pack Coupon

1

Grants Advanced Soulgem

2,000

Dreamchaser Pack Ticket

1

Get weapons, armor, flyers, and more for your Lv1-40 character. (Note: items will be bound to your character

1,000

Astrobana Pearl Lv1

15

Star Chart item for Astral Infusion

2,000

Astrobana Pearl Lv2

10

Star Chart item for Astral Infusion

2,000

Nebula Dust Orb (No Astral Energy)

10

Star Chart item for Horoscopes. Does not contain Astral Energy

2,000

Crimson Fox Token

1

Gives a Crimson Fox mount

2,000

Shadow Fox Token

1

Gives a Shadow Fox mount

2,000

"Skyblaze Dragon" Mount Ticket

1

Grants Skyblaze Dragon Mount Egg

5,000

Inferno Lionlord Ticket

1

Gives an Inferno Lionlord mount

5,000

Red Machinated Terror

1

Gives Red Machinated Terror

5,000

Black Machinated Terror

1

Gives Black Machinated Terror

5,000

Professional Designgraph

1

Grants random Grade 2-6 Homestead Item Designgraph based on Mastery

2,000

War Avatar Chest: B

10

Contains B-grade War Avatar

2,000

War Avatar Chest: A

1

This chest will grant you one A grade War Avatar. 100% success!

3,000

5

14,000

10

25,000

Petaldream Crystal

1

Chance pack!

50

10

450

20

850

50

2,000

100

3,750

War Avatar Pack: S

1

Gain a random War Avatar from level B to S. EXP increased after being consumed: 7

3,750

3

10,000

10

30,000

Dragon Orb Ocean

1

Gain a Dragon Orb Ocean which has 100% chance to increase item refinement level by 1. Max level 10.

4,000

Dragon Orb Mirage

1

Gain a Dragon Orb Mirage which has 100% chance to increase item refinement level by 1. Max level 11.

12,500

Dragon Orb Flame

1

Gain a Dragon Orb Flame which has 100% chance to increase item refinement level by 1. Max level 12.

17,500

Drakeflame Stone Exchange

1

Grants gem that can be fused into Lv12+ gear

2,500

Diamond of Dragon Ticket

1

Socketable jewel that increases Defense Level

10,000

Deity Code

1

[ATK] A gem filled with spiritual powers that can be fused with LV 13+ gear.

20,000

Jade of Steady Defense Exchange

1

[DEF] Grants gem that can be fused into Lv13+ gear.

20,000

War Avatar Chest: S

1

Contains a random S-grade War Avatar.

40,000

Ultimate War Avatar S Chest

1

Contains your choice of one of the six types of Avatar S Chests.

90,000