Tiamat: the Queen of Evil Dragons has been a Dungeons and Dragons staple since the 70's. Don't let her age fool you, she's as powerful as ever and she's not going anywhere. She's an integral part of the Tyranny of Dragons campaign in Dungeons and Dragons and she's also the newest and most challenging boss in Neverwinter!
Not only does Tiamat pose a challenge to those brave (or foolish) enough to face her, she also proved an interesting challenge for the Cryptic Developers. Tiamat is, by far, the largest enemy in Neverwinter to date and posed a unique set of questions to be answered by our developers.

The first (and most important question) was: how big should Tiamat be in comparison to players' characters? Obviously, an epic battle with a pinkie-toe doesn't feel all that epic. To strike a balance, Tiamat's lair was designed to include cliffs leading up to Tiamat's various heads. This allowed Tiamat to still be large and imposing, but would also allow players the chance to fight her face-to-face.
Another important question to answer was how to distinguish the battle with Tiamat from other boss battles in Neverwinter. Tiamat isn't just any dragon – she's a goddess who also happens to be the queen of all evil dragons. This meant that the fight not only needed to be challenging, but also feel different from the boss battles we've seen in the past. The battle with Tiamat brings a lot of new combat elements to Neverwinter, the most obvious of which is that the fight requires 25 players. Similar to Heroic Encounters introduced in Module 3: Curse of Icewind Dale, the fight brings together multiple groups of players without the need for a queue. The battle with Tiamat also includes 3 phases, each with its own set of objectives and significance in Rise of Tiamat's storyline. This feature makes each step leading to the ultimate battle with the Dragon Queen feel much more meaningful and climactic.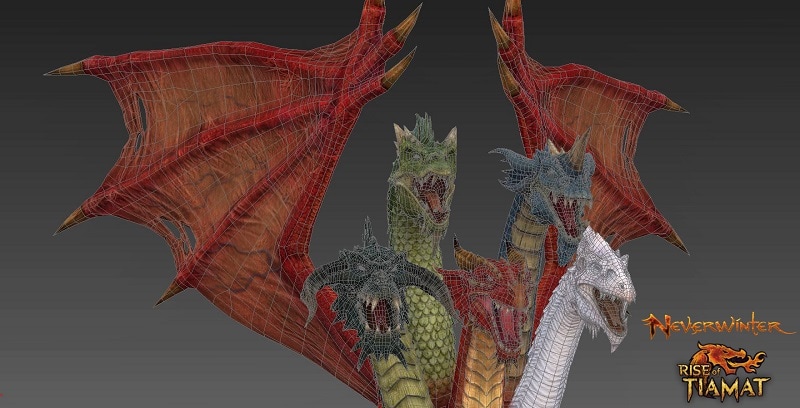 How the element of teamwork would factor into the battle was another question that needed to be addressed. The storyline of Tyranny of Dragons centers around seemingly disparate factions coming together to defeat a greater threat. This sentiment is echoed in the battle with Tiamat. Having only 2 minutes to defeat all of Tiamat's five heads after they've been weakened, players will need to coordinate with each other to bring down all of Tiamat's heads at once. If the players are unsuccessful in doing this within the time limit, they will have to try again after her heads have regained some health. Players will also need to coordinate using the Dragon Soul Crystals obtained during the battle to counteract the devastating effects of Tiamat's five different breath weapons. Lastly, the whole fight with Tiamat has a time limit, meaning that if the players don't rally and defeat her in time, they will have to wait for another chance to fight her again. Needless to say, teamwork isn't just important in this fight – it's your lifeline.
We're counting the days until Tiamat's arrival on December 5th that will mark her addition to the menagerie of monsters facing adventurers in Neverwinter. Her inevitable defeat at the hands of Neverwinter's saviors will no doubt be a fitting climax to the Season of Dragons and the Tyranny of Dragons storyline.
Long live the Queen of Dragons!
Click here to register for Neverwinter, the Dungeons & Dragons action MMORPG. The best part about Neverwinter: it's free to play! Get a head start in-game by purchasing Neverwinter item packs which include unique companions, mounts, boosts, and exclusive benefits!

Want more game details, screens, and videos? Like Neverwinter on Facebook for more fan-exclusive content and follow us on Twitter – tweet us your questions! And, subscribe to our YouTube channel for the latest Neverwinter videos.