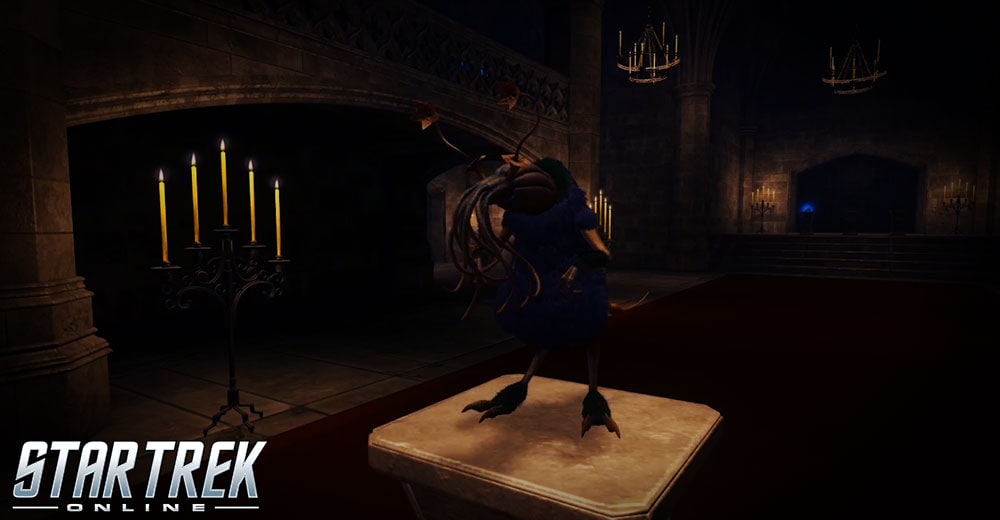 The extragalactic beings known as the Old Ones are back, and in big trouble! Supernatural forces have invaded their mysterious castle and taken several of the strange visitors from another galaxy prisoner. Their goal to gain possession of a powerful device known as -- the Transmuter!
Yes, the time for spooky adventure has returned - it's time for STO's Halloween Event! This three-week event, from October 13th at 8am PT to November 3rd at 11am PT, has been expanded to include two new Patrols, in addition to "Cat's Tale," the Task Force Operation from the previous event.
Heed my words! Where "Cat's Tale" is a group effort, the Halloween Patrols are meant to test a single Captain's mettle! Are you prepared to boldly go within the walls of Castle Pyris, there to face the terrible creatures that prowl within its shadowy depths?
Event Progress
Participating in this event grants daily progress towards the Grand Prize: Sylvia's Feline Charm and the Transmorphic Containment Universal Console. Additionally, the first character on your account that claims this reward will also receive 25,000 Dilithium Ore, and 3 Featured Episode Reward Boxes.
Obtaining the Grand Prize requires 14 daily progress. Captains can earn one daily progress per account per day by playing the brand-new Patrols "Skeleton Crew" and "Witches Brew", along with the Halloween Task Force Operation "Cat's Tale"!
Once Captains have obtained 14 daily progress on their account, they can claim the Grand Prize. After that, the event will still be playable, granting a scaling Dilithium reward that begins at 8,000 Dilithium Ore and scales by 1,000 Dilithium Ore for every day you participate in the event, up to a cap of 50,000 Dilithium Ore per day.
Captains will also have the option to purchase their remaining progress in the event with Zen. The price for this buyout will prorate, based on the amount of progress a Captain has completed.

Sylvia's Feline Charm
By the power of the Old Ones and their unique Sympathetic Magic, many transformations are possible. Sylvia's Feline Transmorphic Charm is an item imbued with the Sympathetic Magic of the Old Ones.
Activating this unique equipment item turns you into a Transmorphic Cat. Having this item in your Backpack allows activation without needing a Kit or Device Slot. This transformation is removed when entering Combat.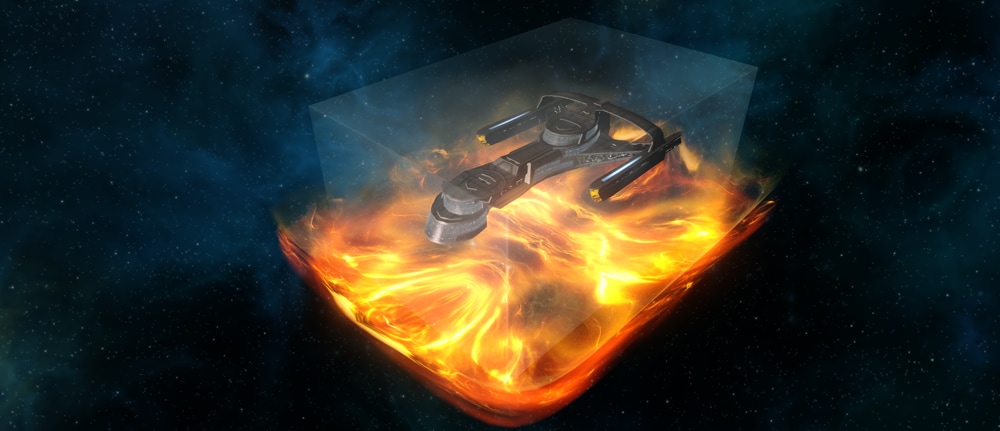 Console - Universal - Transphasic Containment
This Console's active ability utilizes the magic of the Old One to encase your Foes by means of Transmorphic Containment, immobilizing them and giving Fire Damage. Equipping this console also grants you a bonus to Starship Control Experitise, Flight Turn Rate, and Auxiliary Power.
This is a special event for the month of October and is not part of an Event Campaign. You'll be able to try out this content on October 13th – on PC, Xbox, and Playstation! We do hope you'll enjoy this spooky event, Captains… if you dare!