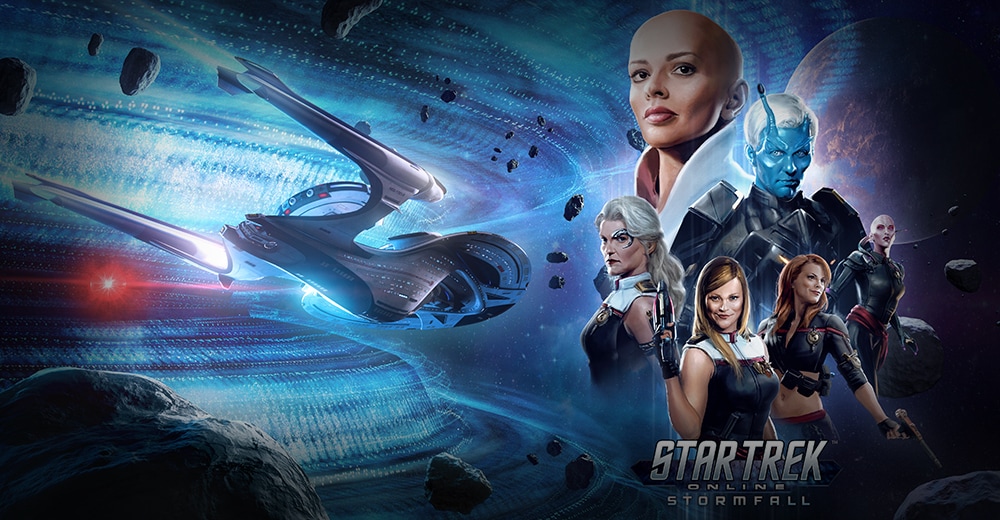 You've stepped through the Mirror and back, Captains, just barely escaping with your lives. If you venture in again, will it be for the last time? Join one of our most star studded casts in Stormfall, the latest Star Trek Online story update. Kate Mulgrew returns as both Admiral Janeway from the Prime Star Trek Universe, and her dastardly, Borg afflicted Mirror Counterpart. Joining her are Mary Wiseman as Sylvia "Killy" Tilly, the unhinged, murderous version of Tilly from Star Trek Discovery. Chase Masterson joins us to reprise the role she created just for Star Trek Online, Admiral Leeta, the true antithesis of everything her character stood for in Star Trek: Deep Space Nine. Kipleigh Brown brings us a version of Kuumaarke like we've never seen before. And finally, for the first time, Noah Averbach-Katz (Ryn, from Star Trek: Discovery) will step out from behind the streaming desk and step into the game, playing Rae-yeet, a Mirror Universe inhabitant who rebels against the evil Terran Empire. You'll stand alongside and against all of these forces, including your own dark reflection.
This story plays out in two brand new episodes, "Blue Shift," and "The Calling." In addition, you'll find we've reworked the Task Force Operation "Assault on Terek Nor" into the completely redone "Forged in Fire." Finally, you can oppose the Terran Empire in the updated, screen accurate map of Deep Space Nine, with brand new cutscenes, enemies, and boss mechanics. You can play all of that, and more, in the Heart of the Storm event, to unlock a powerful new ground set based around Mirror Kuumaarke. And if you're brand new or just want to see it all again, the 2409-era Federation Tutorial has received a long needed update, adding more depth, better environments and cutscenes, more streamlined content and interactions with Admiral Janeway herself, as well as Aron Eisenberg as Captain Nog.
Lower Decks has been one of our favorite new additions to the Star Trek canon, and we're adding the California Class, the flagship of that show, into the Infinity Lock Box starting today. In addition, several awesome items from the show like the Mandatory Medical Treatment rifle and the Scorpion Cube have been added to the Lobi store. It's an exciting time to be a Star Trek Online fan, and we're so pleased to have you with us, Captains. Stormfall will be live after maintenance today. We'll see you in the Final Frontier.