Everyone loves TNG! I refer, of course, my friends and best customers, to The Nexus Gambit, my brand new game of chance, available in the casino outside! Yes, it is certainly one of the most popular games in my collection. I thought when I made The Othello System, I would just make that one and be done, but fans demanded a sequel, and The Nexus Gambit is it! Of course, you still hear customers arguing over which is best: The Nexus Gambit, Delta Squadron 9, or…Voyager.
But that's not why you're here, friends! Yes, here at Mudd's Market we have brand new offerings on sale! We've gathered a collection of starships based on the beloved TNG, and you can take them home today – yes, today, sir! Now, if you'll all just step this way…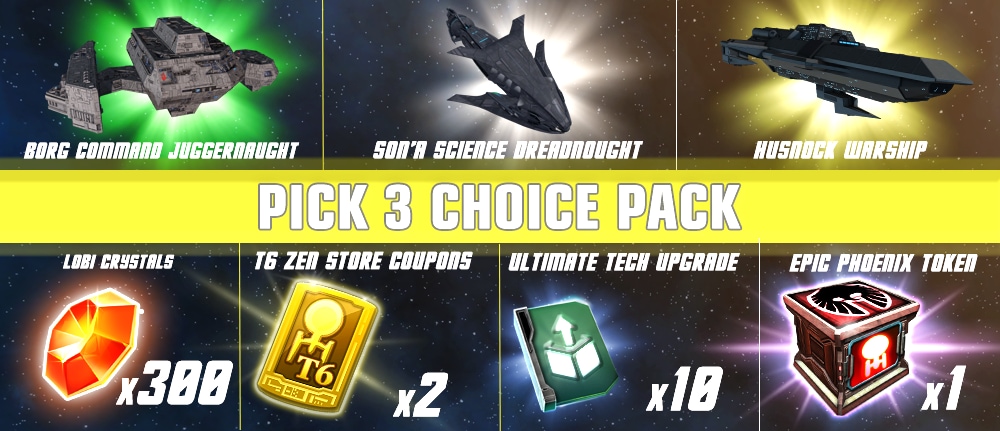 Mudd is opening the doors on a new Choice Pack on May 25nd, this one celebrating the Star Trek: The Next Generation! Purchase the Mudd's As Seen on TNG Choice Pack for 29500 Zen, and choose any three of the above options! But that's not all - this pack will be 50% off from 5/25 @ 8am PT – 6/8 @ 12pm PT. Choose from the following options:
Liberated Borg Command Juggernaut [T6]
Son'a Collector Science Dreadnought [T6]
Husnock Warship [T6]
[2x Pack] T6 Ship Coupon - 100% Off
[1x] Epic Prize Token – Phoenix Prize Pack
[300x Pack] Lobi Crystals
10x Ultimate Tech Upgrades

We're adding a special version of the pack! The Mudd's MEGA As Seen on TNG Bundle is a one stop purchase to obtain all eight items in the pack at once! The pack contains all seven items, no choices needed. It will also launch on 5/2, for 60000 Zen, but will be 50% off until 6/8 at 12pm PT. Here's how it works:
The MEGA As Seen on TNG Bundle will appear in Mudd's Market at the same time as the As Seen on TNG Choice Pack. This is a once per account purchase. When purchased, it will disappear from the store. If you'd like, you can still purchase the As Seen on TNG Pack for more of the non-ship items.
Purchasing the MEGA As Seen on TNG Bundle will drop an item in your inventory, that you can unpack to receive the items.

If you wish to buy both the MEGA As Seen on TNG Bundle and the As Seen on TNG Choice Pack, you must purchase the bundle first. Any purchase of the Choice Pack will cause the Bundle to disappear from the store.
Never seen one of these packs before? Seen them all but still unsure how they work? Here's an FAQ just for you:
Each time I buy this pack, I get to choose any three items?
Yes! Even if you only purchase it once, the Mudd's As Seen on TNG Choice Pack allows you to choose any three of the above ships, upgrades and more. You can choose multiples of the same item, as long as its not a ship.
Are the ships bound to the character that buys them?
Nope! The ships are account unlocks, like everything in the Zen Store. Once you purchase the bundle and choose any of the ships, you unlock that ship for all your characters, immediately, and all future characters.
Can I claim a second ship of the same type?
Also no. Because the ships are unlocked for your entire account, you only need to choose each ship once. Therefore, should you purchase a bundle and choose the Husnock Warship and two non-ship items, if you purchase a second bundle, you won't be able to choose the Husnock Warship again.
But I can choose the non-ship items again?
You sure can. You can choose anything that's not a ship up to three times each, per purchase of the bundle.
Even within the same purchase?
That's right. If you only want Upgrades, you can purchase this bundle once, choose the Upgrades three times, and get 30 Upgrades. It's up to you!
Do I have to purchase more than one bundle to get all the items?
Yes, unless you buy the MEGA Bundle.
Do I have to purchase more than one bundle?
No! If you just want three of the ships, or any other combination, just purchase it once, claim the three items you want, and never think of it again.
Do I have to purchase this bundle?
That's really up to you, friend.
Will this pack change my taste in tea?
Absolutely. Be prepared to only love Earl Grey, Hot.
By the way, everything in Mudd's Market that isn't a Bundle is on sale for 75% off from May 25th at 8am PT to May 29th at 12pm PT! Grab more for your Zen!