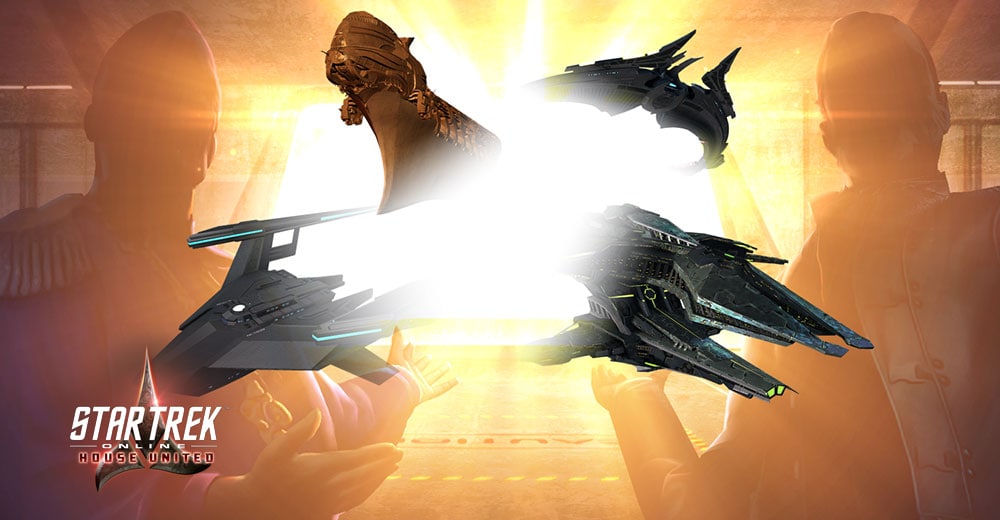 I hear you, my friends. "Why, Harry Mudd, greatest proprieter of business in the galaxy, have you asked us to meet here? In this dingy, out of the way moon, and why are you having us talk to you literally under this table?" It is not because I am on the run from the Orion Syndicate, friends, that would be -bzzt- ridiculous. No, we are here in this safe and secure location, because I come to you with secrets I have stolen from the highest powers. Even, yes, from that most well known of secretive organizations in the Federation, Section 31. Sir! I will ask you to please not gasp so loud! Yes, one of Section 31's powerful, secretive ships is now available to you, and the model I got is -bzzt- brand new, fresh off the line. I would never sell you centuries old merchandise, my friend. But that is not all. I have stolen secretive ships from the Klingon Empire - Sir! Stop gasping or the Orions will hear you! - the Elachi, and the Son'a as well! All of these could be yours, gentlepeople, if you would only crawl this way...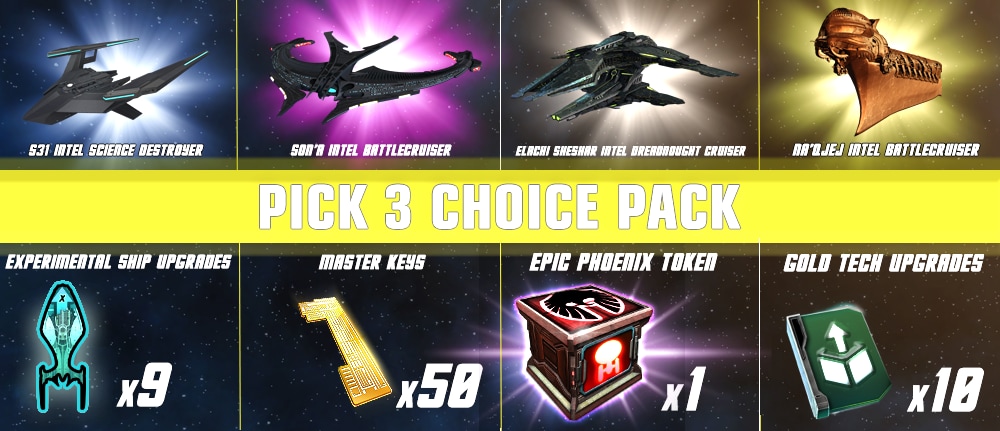 Mudd is opening the doors on a new Choice Pack on December 22nd! Purchase the Mudd's Secret Intel Choice Pack for 29500 Zen, and choose any three of the above options! But that's not all - this pack will be 50% off from 12/22 @ 8am PT (17:00 CET) - 1/5 @ 10am PT (19:00 CET). Choose from the following options:
Section 31 Intel Science Destroyer

Son'a Intel Battlecruiser

Elachi Sheshar Intel Dreadnought Cruiser

Na'Qjej Intel Battlecruiser

50x Master Keys
1 Epic Phoenix Box Token
9x T6x Upgrade Tokens
10x Gold Tech Upgrades
We're adding a special version of the pack on all platforms! The Mudd's MEGA Secret Intel Bundle is a one stop purchase to obtain all eight items in the pack at once! The pack contains all eight items, no choices needed. It will also launch on 12/22, for 60000 Zen, but will be 50% off until 1/5 at 10am PT (19:00 CET). Here's how it works:
The MEGA Secret Intel Bundle will appear in Mudd's Market at the same time as the Secret Intel Choice Pack
This is a once per account purchase. When purchased, it will disappear from the store. If you'd like, you can still purchase the Secret Intel Choice Pack for more of the non-ship items.
Purchasing the MEGA Secret Intel Bundle will drop an item in your inventory, that you can unpack to receive the items.
If you wish to buy both the MEGA Secret Intel Bundle and the Secret Intel Choice Pack, you must purchase the bundle first. Any purchase of the Choice Pack will cause the Bundle to disappear from the store.
Never seen one of these packs before? Seen them all but still unsure how they work? Here's an FAQ just for you:
Each time I buy this pack, I get to choose any three items?
Yes! Even if you only purchase it once, the Mudd's Secret Intel Choice Pack allows you to choose any three of the above ships, keys, tokens or upgrades. You can choose multiples of the same item, as long as it's not a ship. Some of the possibilities include:
Three of the four ships
The Section 31 ship, and two Experimental Ship Upgrade Token sets, totalling 18 Captain Upgrade Tokens
Three Epic Phoenix Tokens
And more!
Are the ships bound to the character that buys them?
Nope! The ships are account unlocks, like everything in the Zen Store. Once you purchase the bundle and choose any of the ships, you unlock that ship for all your characters, immediately, and all future characters.
Can I claim a second ship of the same type?
Also no. Because the ships are unlocked for your entire account, you only need to choose each ship once. Therefore, should you purchase a bundle and choose the Vulcan Scout Vessel and two non-ship items, if you purchase a second bundle, you won't be able to choose the Vulcan Scout Vessel again.
But I can choose the non-ship items again?
You sure can. You can choose anything that's not a ship up to three times each, per purchase of the bundle.
Even within the same purchase?
That's right. If you only want Experimental Ship Upgrades, you can purchase this bundle once, choose the Experimental Ship Upgrades three times, and receive 27 tokens. It's up to you!
Do I have to purchase more than one bundle to get all the items?
Yes, unless you buy the MEGA bundle.
Do I have to purchase more than one bundle?
No! If you just want the ships, or any other combination, just purchase it once, claim the three items you want, and never think of it again.
Do I have to purchase this bundle?
That's really up to you, friend.
How does Mudd keep getting all this stuff?
Well, he - what on earth can that be? (Quick, run away!)