W trakcie jednej z podróży po rozległych terenach Neverwinter, zostaliśmy zaatakowani przez czarnego smoka z bagien. Nie mając wystarczająco dużo czasu na reakcję, byliśmy pewni, że paszcza smoka będzie ostatnią rzeczą, którą przyjdzie nam zobaczyć – i poczuć – na tym świecie. Gdy już mieliśmy zostać pożarci przez smoka, nagle znikąd pojawiła się strzała, która trafiła potwora prosto w jedno z jego wyłupiastych oczu, skutecznie go oślepiając. Gdy osłabiony smok zaczął się wycofywać, łucznik, będący człekokształtnym o wyglądzie ptaka rzucił się do ataku by wystrzelić jeszcze kilka pocisków w odlatującego smoka. Podeszliśmy do tego stworzenia by podziękować za ocalenie naszych żyć. Wszystko, czego chciał w zamian to kilka złotych monet.
Przez ograniczony czas, w sklepie Zen dostępny będzie zupełnie nowy Pakiet Towarzysza Łucznika Kenku zawierający Łucznika Kenku epickiej jakości i cały potrzebny mu ekwipunek!
Początek: czwartek 14 maja o 19:00
Koniec: czwartek 21 maja o 19:00
Pakiet Łucznika Kenku:
Łucznik Kenku
3 x Pomniejszy Kamień Runiczny Spajania
2 x Pas Drobiazgów (Pas Towarzysza)
Oko Quorlinna (Naszyjnik Towarzysza)
12 x Kodeks Doświadczenia Towarzysza
Łucznik Kenku: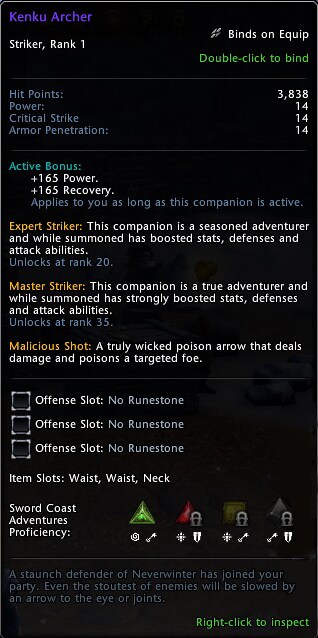 Zagorzały obrońca Neverwinter dołączył do twojej drużyny. Dobrze wycelowana strzała spowolni nawet najgroźniejszego przeciwnika, gdy trafi go w oko lub jeden ze stawów. Kenku zajmują się zwykle prowadzeniem nielegalnych interesów w dużych miastach, gdzie łatwiej przychodzi im gromadzenie bogactw poprzez kradzieże i rabunki. Nie są oni szczególnie silni, jednak radzą sobie przy pomocy swojego rozumu, a nie brutalnej siły. Wielu Kenku czci Quorlinna, boga zamaskowanych, oszustów i złodziei.
Łucznik Kenku z zestawu to towarzysz fioletowej jakości z podstawowymi statystykami w mocy, trafieniu krytycznym i przebiciu pancerza. Jego aktywna premia zapewnia właścicielowi +165 mocy i ozdrowienia.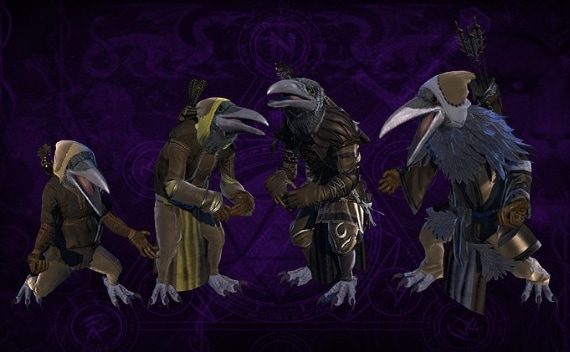 Po zakończeniu wydarzenia, Łucznik Kenku będzie dostępny w Sklepie Zen do indywidualnego zakupu.
Zapraszamy do skorzystania z tej limitowanej czasowo oferty! Być może nadejdzie taki dzień, gdy celna strzała uratuje życie również i wam.
Kliknij tutaj, by zarejestrować się do Neverwinter, MMORPG akcji Dungeons & Dragons. Najlepsze w Neverwinter jest to, że jest całkowicie za darmo! Jednak, pakiety przedmiotów Neverwinter mogą ułatwić pierwsze chwile twojej podróży. Znajdziesz w nich wyjątkowych towarzyszy, wierzchowce, wzmocnienia i ekskluzywne korzyści!