Looking to show your devotion to the great platinum dragon Bahamut? The Metallic Dragonborn Race Reroll Bundle is available in the Zen Market for a limited time!
Bundle up starting Thursday, March 4 at 7am PT (16:00 CET)
Bundle down on Thursday, March 11 at 7am PT (16:00 CET)
The bundle includes:
Sigil of the Metallic Ancestry Dragonborn – Unlocks the Metallic Dragonborn Race. The sigil is tradeable.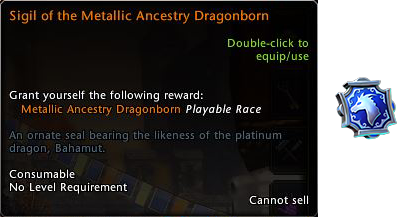 Race Reroll Token – Allows players to change their race. This token is applied to the account on purchase so it is not tradeable.