Greetings Adventurers!
Starting Tuesday, December 8, the new Forsaken Lockbox will become available on all platforms! With this lockbox, adventurers will have a chance to obtain a new mythic mount!
Note: The Redeemed Lockbox (with the Mythic King of Spines mount) will no longer be available starting December 8.
The Forsaken Lockbox will require an Enchanted key top open and will be available as a drop in the world and in the Wondrous Bazaar.
Some of the treasures you can obtain in this lockbox are:
Mythic Mount – Polar Siege Bear (Account Wide Claim)
Note: tooltip displays max possible stats when a player has 10+ Mythic mounts in their stable.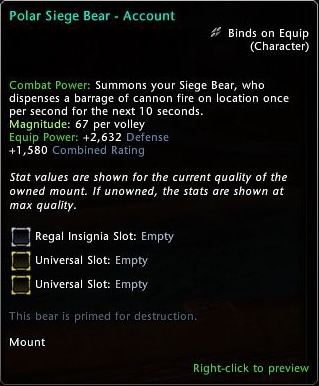 Legendary Brown Siege Bear (Account Wide Claim)

An Epic Companion Pack which includes a choice of one of the following companions:
Bulette Pup
Deepcrow Hatchling
Hell Hound
In addition to these packs, the Forsaken Lockbox will have a chance at rewards such as Refinement items and gems, insignias, mount upgrade tokens, and up to 1000 Tarmalune Trade Bars.