Tief im Herzen der Dschungel von Chult ruft eine finstere und rätselhafte Macht Abenteurer dazu auf, den geheimen Zugang zur letzten Ruhestätte der Neun Trickstergötter von Omu zu entdecken. Doch diejenigen, die dieser Aufforderung Folge leisten, sind sich nicht bewusst, dass dieses Grab in Wirklichkeit eine Todesfalle des Erzliches Acererak ist, deren Zweck einzig darin besteht, die tapfersten und stärksten Abenteurer in ihr Verderben zu locken. Keinem, der die Pforten dieses Gewölbes überschritten hat, ist es je gelungen, lebend daraus zurückzukehren und anderen von seinen Erlebnissen zu berichten, sodass die Lage, die Fallen und die Schätze des Grabes bis zum heutigen Tag ein Geheimnis geblieben sind. Schwache, andersweltliche Schreie, die manchmal in den dunkelsten Winkeln des Dschungels aus dem Untergrund zu ertönen scheinen, sind der einzige Hinweis darauf, dass sich in den Tiefen dieses Grabes etwas Unheilvolles abspielt. Es ist jedoch völlig ungewiss, ob diese Schreie von jenen stammen, die den Schrecken des Gewölbes zum Opfer gefallen sind, oder ob sie einem der mutmaßlichen Bewohner des Grabes zuzurechnen sind.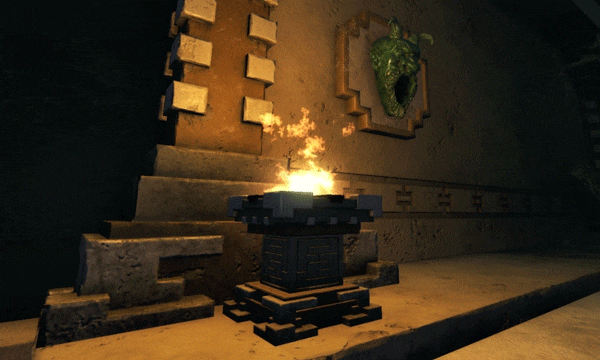 Das Grab der Neun Götter ist ein neues episches Gewölbe, das ab dem Start der Erweiterung "Neverwinter: Tomb of Annihilation" verfügbar sein wird. Es erfordert eine weitaus höhere Gruppenkoordination als jedes vorhergehende Gewölbe, um die Bosskämpfe siegreich abzuschließen und die zahlreichen Fallen darin zu überleben. Acererak ist eine ständige Präsenz in dem Gewölbe und wird euch verhöhnen und tadeln, um euch noch tiefer in das Gewölbe zu locken, wo immer gefährlichere Herausforderungen auf euch warten.
Um Zugang zu diesem Gewölbe zu erhalten, müsst ihr zunächst die Aufgabe "Segen des Ubtao" abschließen, die Teil der neuen Kampagne "Jungles of Chult" ist. Zudem muss euer Charakter eine Gegenstandsstufe von mindestens 12.000 aufweisen. Wer diese beiden Anforderungen erfüllt und das Gewölbe bewältigt, darf mit wertvollen Belohnungen rechnen, zu denen unter anderem auch Siegel des Tapferen zählen. Diese Siegel könnt ihr beim Siegelhändler in der Protector's Enclave oder in Port Nyanzaru gegen die mächtige Urzeitliche Rüstung oder gegen andere Waren von hoher Qualität eintauschen.
Charles Gray
Senior Content Designer