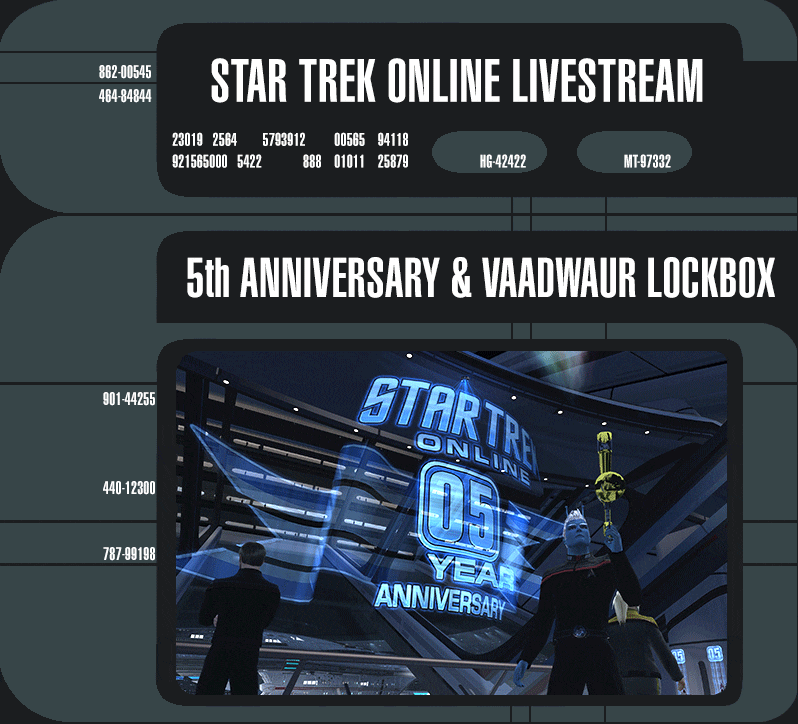 We are celebrating 5 years of STO and we want you to join us!
Star Trek Online is happy to have shared these last 5 years with all of our fellow Trek fans, and today is the launch of our Anniversary Event featuring so much win we want to share the winning with you!
During today's Livestream that starts at 2PM PDT (click here for your local timezone), we will be bringing you a tour of the newest ships, and a demo of the latest gear to hit the Holodeck server! Come see all that the Vaadwaur Lockbox has to offer you, with a look at the main lockbox ship reward, as well as the Lobi Store counterparts available for purchase. We will take a look at the ground and space gear, along with the latest in Vaadwaur fashion items from your local Ferengi Lobi Crystal Consortium salesman. Not to mention a look at the massive APU crusier!
But wait, there's more!
We will board the Kobali vessel available to all for only a few stacks of Qmendations from everyone's favorite most handsome Omnipotent gift giver, Q! We will take a look at the ship itself, all it's features, and you can join us for a party popper party on the bridge! Bring all your previous years festive horns to add to the ambiance.
Vaadwaur LockBox Item Giveaway!

We will also be granting 10 lucky viewers the content from 10 Vaadwaur Lockboxes opened Live during the show! We will pick winners at random, and open each box one at a time and hand the rewards over to the winners. All bound Lobi earned will go toward the purchase of an item (or items) from the Lobi Store to raffle off as well!
Join us on TwitchTV for the show, and refer back to the recorded versions for instructions on the new mini-games, Anniversary mission rewards, new system mechanics and more!
Make sure you've read up on our Anniversary details listed here:
We have a thrilling year in store for you, so join us today and get your first glimpse into what's coming at you in Star Trek Online, and we will see you in-game!
Link to our STO TwitchTV Channel
CaptainSmirk
Community Manager
Star Trek Online