My Account | Billing | Customer Support

Hey all,
We're super excited to announce Arc Defender, our newest system that will help make securing your account even easier! Arc Defender is a security module that will help protect your account from phishing and hacking attempts. It works by emailing you a pin number that you use to verify ownership of the account if the system detects that you are logging in from an unknown location. Below we will go into detail on how it works on multiple fronts.
General Overview
Account Creation - If you are new to Arc, or simply making a new account, your computer will be saved and allow access to your account unless you the user, choose to remove it through the account management tool.
Accessing Accounts With Arc Defender - If your computer was already saved, you will be automatically logged in. If it was not, you will be prompted to add your machine to the Arc saved PC list.
First Launch - Upon first launch, the Arc client will attempt to save the user's computer profile/machine ID. Here you can change the name of the computer you are saving, up to a 15 character limit.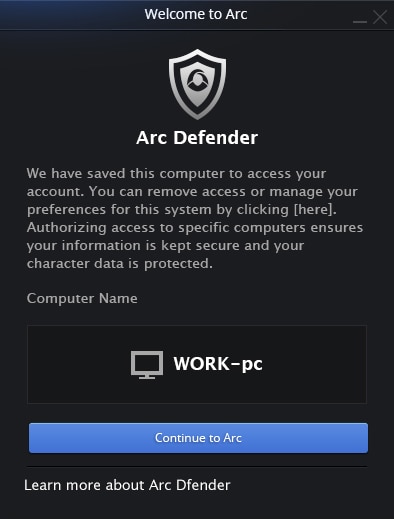 (Welcome Screen)
PINs - PINs are automatically generated any time you log in from an unknown computer and are emailed to you. When you get your PIN, you will need to input it in order to regain access to your account. You are given 5 attempts to successfully input your PIN. Upon the 5th failure, you will receive a 24 hour ban from that PC, along with an email informing the account holder of suspicious activity. Be sure to use your PIN within 1 hour, as they will no longer be valid after that.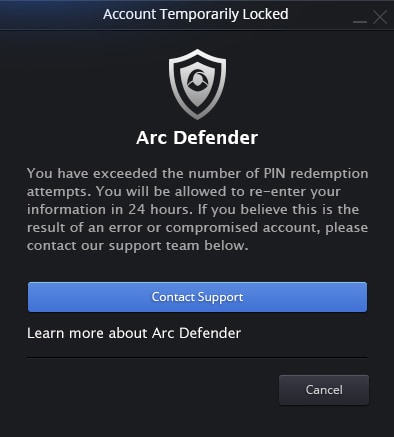 (Failed PIN Entry)
Logging In From a New Computer - Attempting to log in from an unrecognized/additional computer will prompt the PIN entry criteria. You will receive an email with your PIN, that you must enter in order to regain access to your account on this additional computer. You will also have the option to save the additional computer, so that you will not need to re-enter a PIN in the future.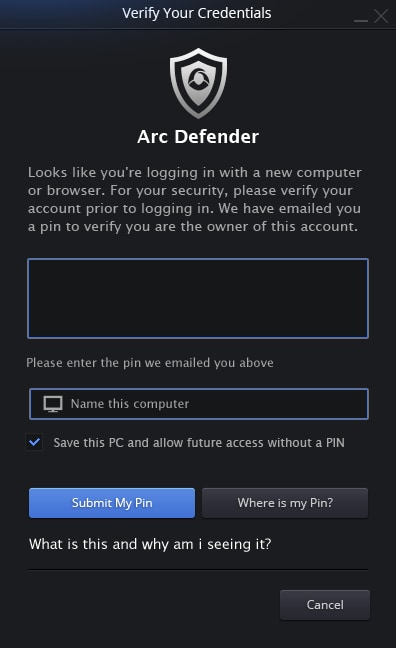 (New Computer Log In)
Where Is My PIN? - In the off chance that you do not receive your PIN, click the "Where is my PIN" button in order to have it re-sent to your email. You will be limited to 5 PIN requests, so make sure to check your spam folders in case they were sent there instead. For your protection, upon the 6th PIN request your account will be locked until you contact support.
Loading Errors - If for any reason an error occurs, you will be taken back to the input screen. If successful however, you will automatically be logged in.
Disabling Arc Defender - You will have the option to disable this feature completely. In order to do so, you will have to re-input your password and disable it through the Arc settings panel.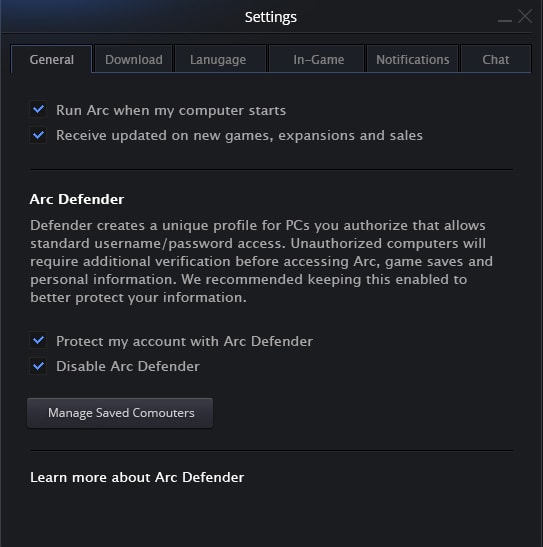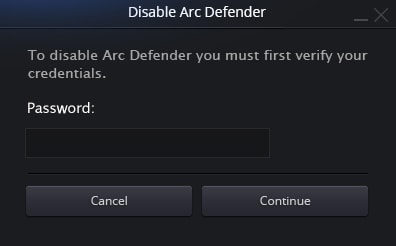 (Input Password here)
Managing Arc Defender - The Arc Defender web manager will allow you to view all PCs that have accessed your account, and delete them if you choose. You can access this by navigating to "My Account>Settings>Security"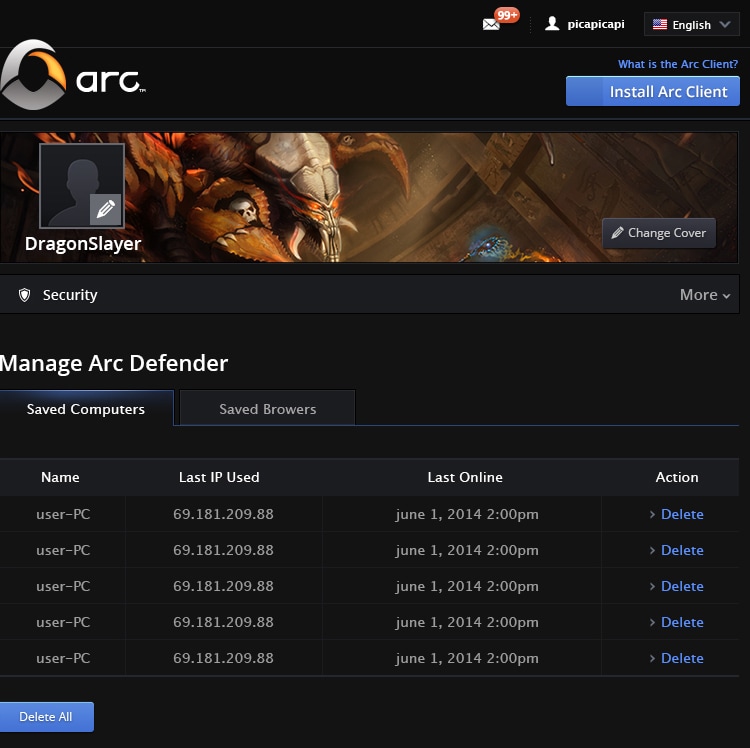 (Arc Defender Manager)
We hope this post was informative and makes it easier for you to add an extra layer of security to your account. If for any reason you are having trouble with Arc Defender, please contact us via our support site so that we may assist you in any issue you may encounter. Arc Support
If you have any feedback or suggestions, drop us a line at feedback@arcgames.com
Sincerely,
Sparkiesoft and the Arc Team