Hey all!
We would like to give you a heads up that all Perfect World games now utilize Arc! You will still have access to everything you did before, however Arc provides a streamlined centralized place for all your favorite game's news, events and updates. Arc provides better access to news, promotions, ZEN purchasing, support and much more.
We would like to thank each and every one of you for all the valuable feedback you have given us. To show you our appreciation, we are kicking this off with our second round of free gifts! That's right, below you will find codes that you can use through Arc to redeem more cool stuff!

Don't forget, if you haven't redeemed your code for our first round of Arc Games gift giveaway, you can still do so in conjunction with these codes and stack your epic loot!

What is Arc?
Arc brings your favorite games, communities, and entertainment together onto one easy-to-use platform. Manage your worlds by seamlessly installing games all in one place, connect with friends with Arc's built in messenger, purchase and transfer Zen, and much more! Still have a few questions? No problem! Come check out the previous blogs here: Arc News

Why should I download Arc?
We are committed to bringing you the best online experience we have to offer. That means being able to play your favorite games such as Neverwinter or Star Trek Online without ever having to log into them directly. With Arc, you simply log in with your Perfect World account and click "Play". No longer do you need to type in your account information for each game you want to play. That's not all we have to offer, and we look forward to revealing more as the time comes.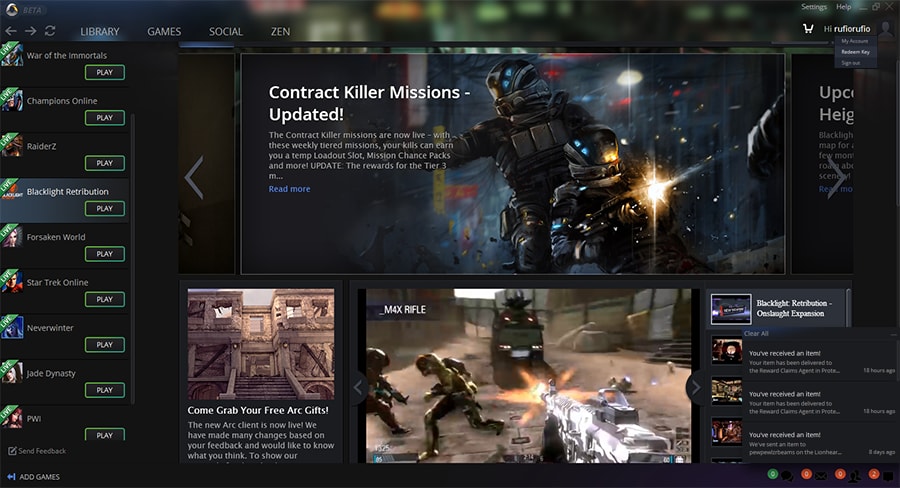 Getting Started
Downloading and installing Arc is extremely easy! Open your world up to endless games and entertainment by clicking the install button below. You can even get more information about Arc by selecing the "Learn more about Arc" text below.

Redeem Codes
Game
Redeem Code
Items
Champions Online

uwAzrxZy

Hi-Tech Cave and Druidic Sanctum hideouts.

Jade Dynasty

P9IICL9Y

10x Jar of Taichi Pills
3x 1-day, level 150 pets
999x Chroma Beads

Forsaken World

O0bwqU2l

World Flute x50
Lucky Top x5
Battlefield Card (7-Day)
Star Crystal

War of the Immortals

7S10tSRR

Pet EXP Card Lv3 x30 (Must be Lv60 to open)

Battle of the Immortals

Gg0v9NB7

Gold Gem Coin Pack (Contains a Random Gem Coin which can be traded at the Gem Coin Dealers in Atlantis)

Blacklight Retribution

xARye7pn

Arc Camo Pack- Contains a random Hardsuit Camo

Neverwinter

PD9CcZ0Z

< Thayan Revolutionary > title
Wayfarer's XP Booster
5x Rank 4 Enchantments
3x Refining Stones
5x Injury Kit (based on your level)
5x Healing Potion (based on your level)

Star Trek Online
On-Login

Special Ferengi Na'Far Shuttle and 20 Lobi Crystals.
Redeem these new codes via the client by clicking the "Redeem Key" button: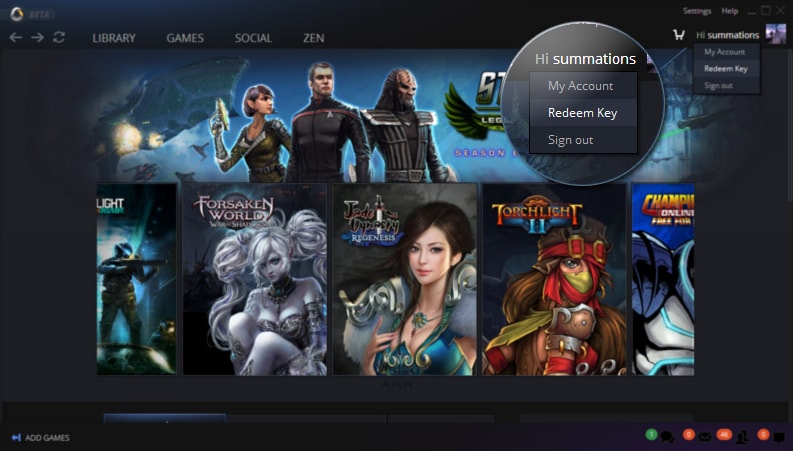 Where are My Items?
STO
Claiming your shuttle and Lobi Crystals is easy! Simply log into Star Trek Online via the Arc client on the character you'd like to obtain these items on and they will be waiting for you in your inventory, in addition to a "thank you" message from the STO team in your mailbox. Note: While this offer is limited to once per account (the first character you sign into STO with via Arc as of today), the shuttle and the Lobi are account bound and can be traded to another one of your characters via the account shared bank (if you have one available to you). If your inventory is full, the items will be placed into your overflow bag.
This specific promotion* warps away on Monday. March 31st, 2014.
PWI, Forsaken World, and Jade Dynasty
Log into your Perfect World account through Arc. Once in-game, visit your local mailbox to redeem your prizes.
Neverwinter
Log into your Perfect World account through Arc. Once in-game, head over to the Rewards Claim Agent in Protector's Enclave to receive your free Neverwinter gifts! For a more detailed guide, click here.
Champions Online
Log into your Perfect World account through Arc. Once the code has been redeemed, go in-game and open the C-Store. Scroll to the Bonus tab and claim the items in the window. Both of the hideouts will automatically be unlocked after you claim them.
Battle of the Immortals and War of the Immortals
Log into your Perfect World account through Arc. Once the code has been redeemed, you will receive a mail notification. Simply click on your mail icon to open your mail, and receive the items.

Blacklight Retribution
Log into your Perfect World account through Arc. Once your code has been redeemed, log in-game and navigate to your mail. From here select it to have it sent your inventory. All you have to do from here is activate it and you will now have your random Hardsuit Camo.
Where are we going from here?
We here at Perfect World always strive for the best. While the client is live, that does not mean we will stop working on it. We value your feedback and want to make the Arc experience the very best you can possibly have. We will continue to iron out all the kinks, and improve on our features. We will also be adding in a lot more functionality than what you currently see. This is just the very beginning of Arc and we're happy to have you all on board.

If you have any input, please let us know here feedback@arcgames.com.

Sincerely,
Sparkiesoft and the Arc Team