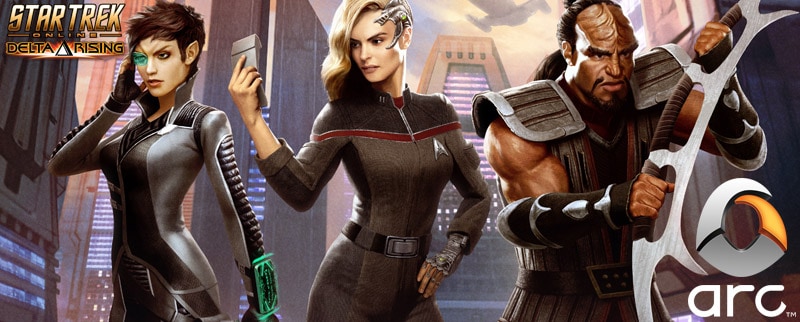 Hey STO fans,
Just recently we introduced a new social system to Arc that allows users to upload their favorite images, GIFs, and videos! We've enjoyed putting our own images on there, but now we would like to see what you, the community, can do!
The contest is very simple. Upload your favorite Image, video, GIF, to the Star Trek Online page, and vote for your favorite one! At the end of the week, the user submission with the most votes/likes wins a Delta Rising Pack!
Contest Dates
10/14/14 - 10/17/14
Winner will be picked at the end of the week on Friday.
Rules
The submission must be submitted under STO, under the games category. Anywhere else, and it won't be counted.
All submissions must be PG-13 or less. Anything else will be disqualified. Keep it clean folks!
In the description, please put your character name/server name (if applicable) so we know who to send the pack to if you should win. Failure to do so, will result in the next highest submission to win.
The submissions can be submitted through either the Arc client or the web. You do not need to have the client installed to do so, but you will need an Arc account.
How to Submit
There are two ways to submit your content. You may do so through the web or the client. Both ways are exactly the same, but if you do not have the Arc client installed, you can still do it via the website!
See an Innapropriate Post?
If you see an innappropriate post, you can flag it! Get enough flags, and it will remove the content from the page. Keep in mind, that we will be checking the flagged posts, and will add them back in if there is nothing wrong.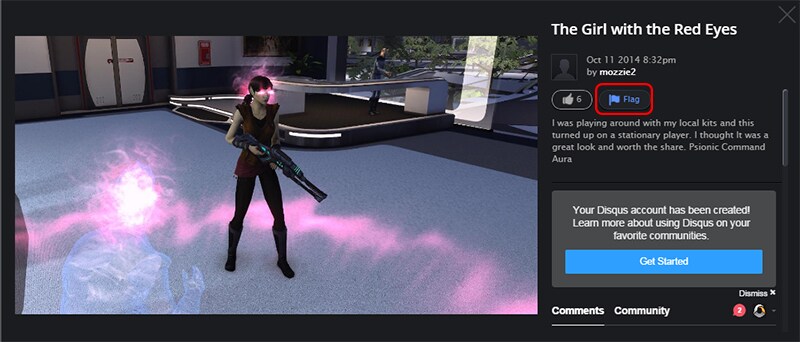 Here is where you do all your uploading!
Make sure to pick a submission title, and to change the game from the dropdown to STO. (Set to Battle of the Immortals by default) If you have an image or GIF, select browse and upload your image from wherever you have it saved. If you have a video, check the "Video URL - Youtube" link and copy+paste the URL of your video.
Add in your description, however make sure to include your character name and server, if applicable.
Once you have done that, click to submit!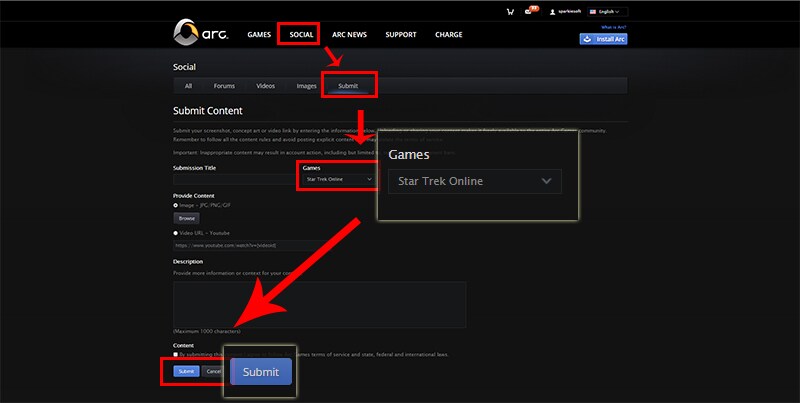 That's all there is to it. As mentioned before, the contest will end this week, 10/17/14 and a winner will be chosen to win a Delta Rising Pack if they have the most votes!
Winner: 5of12 from the Holodeck Server!
-Sparkiesoft and the Arc Team