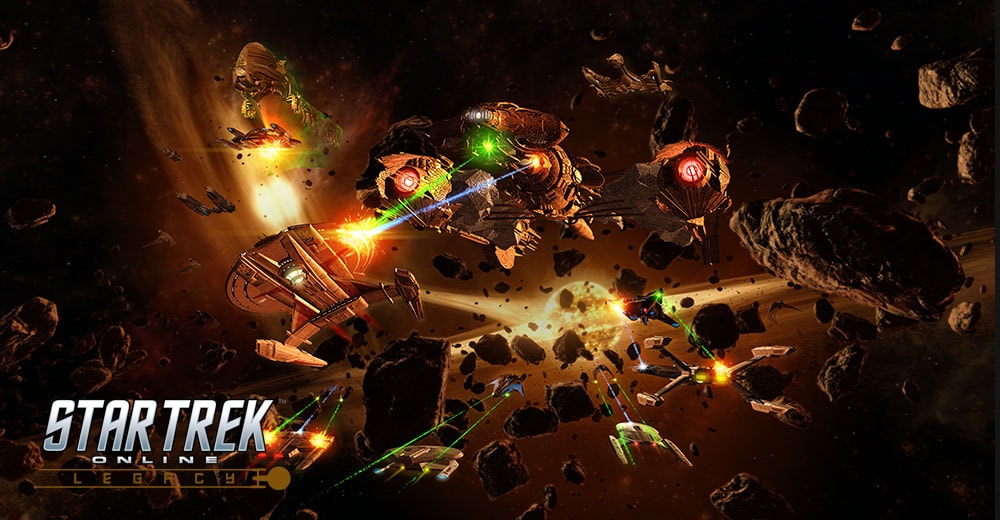 Return and Re-Enact!
Beginning on October 13th, 2020, captains from all factions will be invited to participate in a Featured Event version of this re-enactment of a pivotal military conflict in the histories of both the Federation and the Klingon Empires. While the Event version of the Battle at the Binary Stars TFO is available, Captains may participate daily to earn progress towards brand new Featured Event rewards, as well as earning progress in our next Event Campaign.
Continue reading for full details!
Event Campaign – Part II
This Featured Event will be part of a series of Events that will participate in the second installment of our multi-event system known as an Event Campaign. For Event Campaign II, a few changes have been made.
More Events!
Event Campaign II spans a total of FOUR separate Featured Events, spanning the majority of the upcoming year of PC releases. As a result of this increase in length, the requirements for receiving the Campaign Grand Prize have been increased from 2,100 Progress to 2,800 Progress.
More Prizes!
The Grand Prize for Event Campaign II will offer players a choice as to what they receive, between the two following options:
Option 1:
Z-Store Coupon for 100% Off a single Tier-6 Starship
200 Lobi Crystals
Option 2:
This choice is only made once per Account, upon claiming the prize.
The core gameplay of this Event Campaign remains the same as the previous one: Participate in multiple Events scheduled over the next several months, to earn progress towards an extremely valuable prize. All of the following aspects of this system remain unchanged:
Players may earn 50 Event Campaign Progress for each day they participate in an eligible event.
Buying out an eligible event will include up to 700 Event Campaign Progress.

Each event's buyout only grants as much Event Campaign Progress as is relative to the amount paid, after pro-rated discounts are applied. This means that paying half price, (because you participated in 7 out of 14 of the required days so far) will grant you 350 Event Campaign Progress. Essentially, you get what you pay for.
Binary Features
The Event version of the Battle at the Binary Stars TFO will see a few small changes, to account for its placement as a Featured Event.
TFO Rewards include a Choice of All Marks (instead of only including Discovery Marks)
There is no Cooldown – play it as frequently as you like!
Temporarily removed from "Random TFO" selection.
Normal, Advanced, and Elite versions all offer Event Daily Progress upon first completion, once per day per account.
Players must have completed their faction's Tutorial, and chosen a primary Allegiance (if applicable) before being able to participate in the Event version of this content. Advanced and Elite versions also have level requirements of 50 and 60, respectively.
Rewards
Accruing a total of 14 Days' worth of Daily Progress will allow you to claim the Grand Prize of this Event. This reward includes all of the following:
3x Featured TFO Reward Boxes
Each gives a choice of 1x Specialization Point or an Enhanced Universal Tech Upgrade
25,000 Dilithium Ore
Issued immediately for use as you see fit!
(Note: The Featured TFO Boxes and Dilithium Ore are only rewarded once, to the first character on your account that claims the Grand Prize.)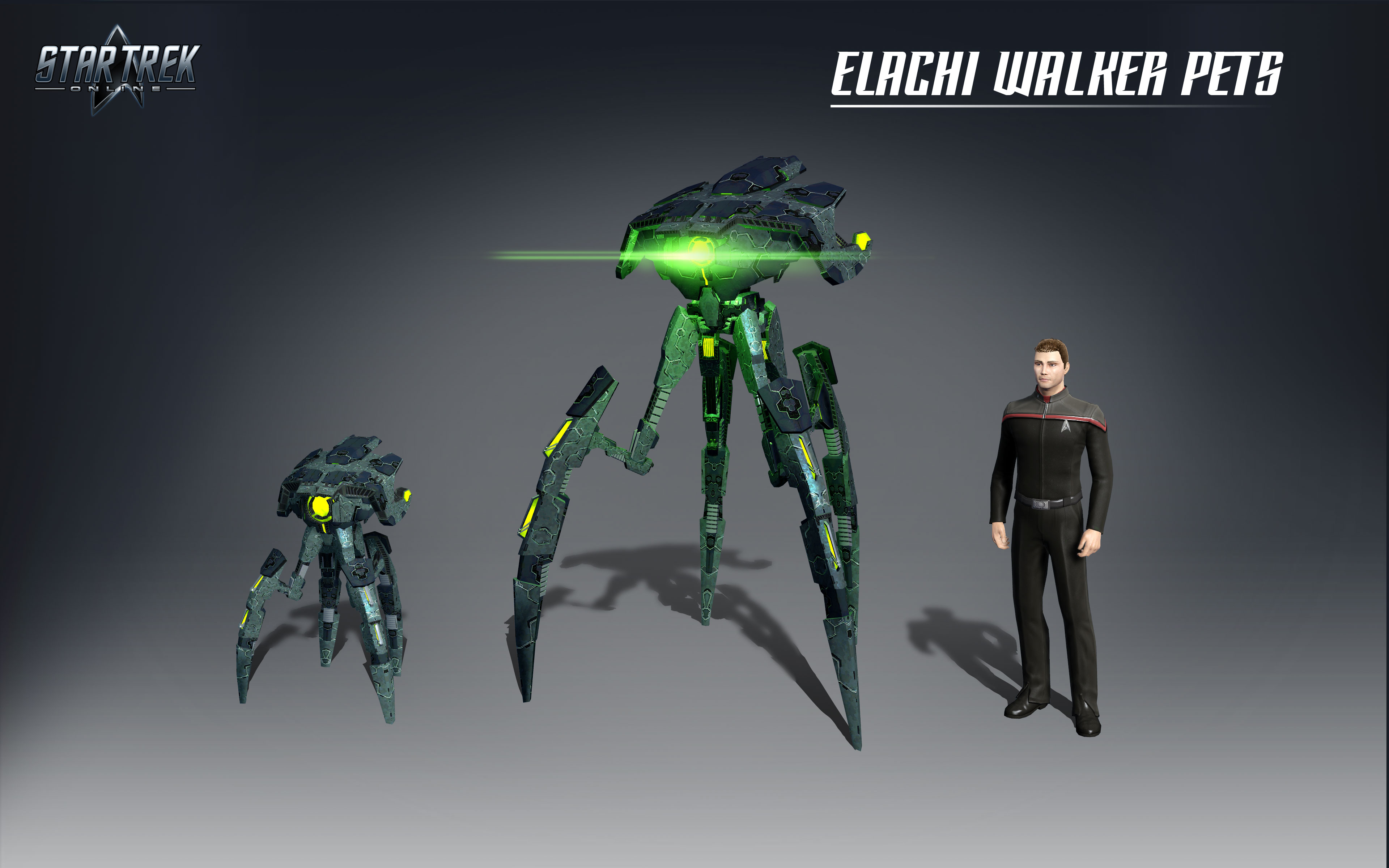 Miniaturized Elachi Walker (Combat Pet)
Elachi technology is often unsettling in physical form, perhaps none moreso than the vaguely arachnoid walkers they employ. Some are large enough to threaten starships and tower above cities, others are human-sized. This model, after a fashion, is both.

Recovered from captured designs and scaled down for practicality, this approximately Gorn-sized model is the same core design as the gigantic walkers. It is a heavy assault and fire support unit, armed with the Elachi's signature crescent disruptor weapon along with a massive disruptor beam array. While the beam array lacks the precision to strike individual foes, it is powerful enough to cause a persistent cascade failure of molecular cohesion in the ground underneath its enemies.
Micro-Miniaturized Elachi Walker (Vanity Pet)
This disarmed model is a micro-miniaturized version of the enormous walkers seen employed by Elachi on rare occasion, and suitable as only an automated companion. As it lacks any form of weaponry or combat routines, it will retreat for combat
Players may notice that the amount of Dilithium Ore rewarded has been shifted to place a larger focus on Bonus Progress functionality, and we have increased the base rewards for Bonus Rewards.
Now, upon claiming this Grand Prize (whether earned or purchased), your account will immediately become eligible for Bonus Progress. The first Bonus Progress rewarded will be accompanied by a reward of 8,000 Dilithium Ore. Earning Bonus Progress each day thereafter will increase this reward by an additional 1,000, and we have increased the cap on how high this value may scale to a value that is unreachable during this Event (thus effectively unlimited!).
The following table shows an example of how Bonus Progress Rewards are now laid out:
| | |
| --- | --- |
| # of Bonus Days | Dilithium Ore Rewarded |
| 1 | 8,000 |
| 2 | 9,000 |
| 3 | 10,000 |
| 4 | 11,000 |
| 5 | 12,000 |
| (etc.) | (etc.) |
| 42+ | 50,000 |

All Bonus Progress Rewards are rewarded a maximum of once per day, per account, and are immediately and automatically granted to the active character when the requirement is met.
Legacy Progress
This Featured Event will continue to honor Legacy Progress, the same as the last several previous Events.
Availability
Re-live this thrilling confrontation between Starfleet and a warring Klingon Empire alongside your allies once more, when the Battle at the Binary Stars returns to its Featured status once more. Face this challenge with a Vulcan Hello on Xbox One and Playstation 4 from October 13th, 2020 until November 3rd, 2020.
Jeremy "BorticusCryptic" Randall
Lead Systems Designer
Cryptic Studios