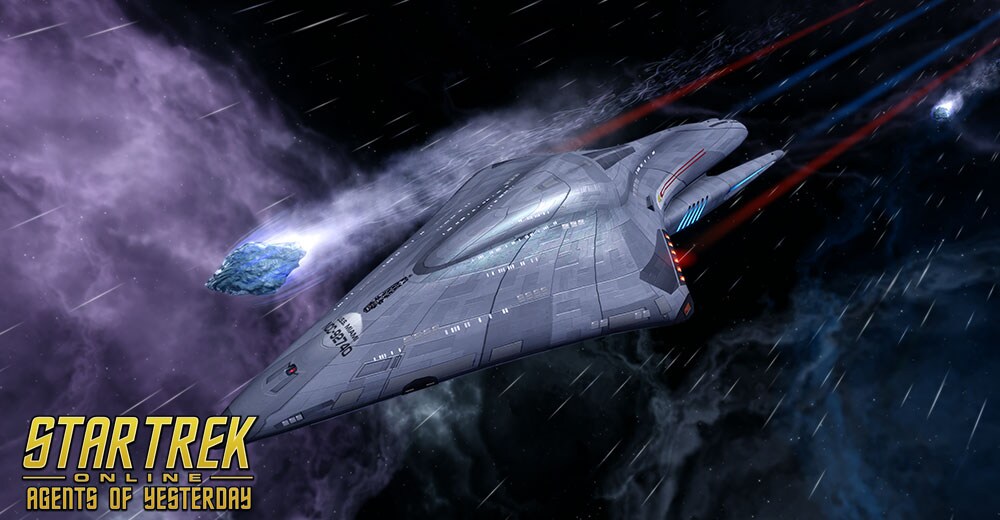 The original Dauntless class science vessel, discovered by the crew of the Voyager, was actually alien in origin. It featured Quantum Slipstream Drive technology, which was groundbreaking at the time, but ultimately this ship was created using Particle Synthesis to fool and trap the crew of the Voyager. In 2410 the blueprints for the original alien starship were closely examined and Starfleet Engineering Corps were able to re-create this impressive science vessel, and it will soon be available to Console Captains for 3000 Zen.
Minimum Rank: Vice Admiral
Faction: Federation
Availability: C-Store
Hull Strength: 29,700 (at level 50) and 36,000 (at level 60)
Shield Modifier: 1.3
Crew: 150
Weapons: 3 Fore, 3 Aft
Device Slots: 3
Bridge Officer Stations: 1 Lieutenant Tactical, 1 Lieutenant Commander Tactical, 1 Lieutenant Engineering, 1 Lieutenant Intel/Science, 1 Commander Science
Console Modifications: 3 Tactical, 2 Engineering, 5 Science
Base Turn Rate: 14 degrees per second
Impulse Modifier: 0.15
Inertia: 50
+10 Weapon and +10 Auxiliary Power
Sensor Analysis
Sub-System Targeting
Secondary Deflector Slot
Console - Universal – Particle Synthesizer
Matter-Antimatter Warp Core
Hyper-Advanced Quantum Slipstream Drive
Starship Ability Package (Science Vessel)

Enhanced Particle Generators (+Exotic Damage)
Advanced Shield Systems (+Shield HP)
Enhanced Restorative Circuitry (+Shield and Hull Healing)
Auxiliary Power Infusers (+Max Auxiliary Power)
Radiant Nanite Cloud (Starship Trait)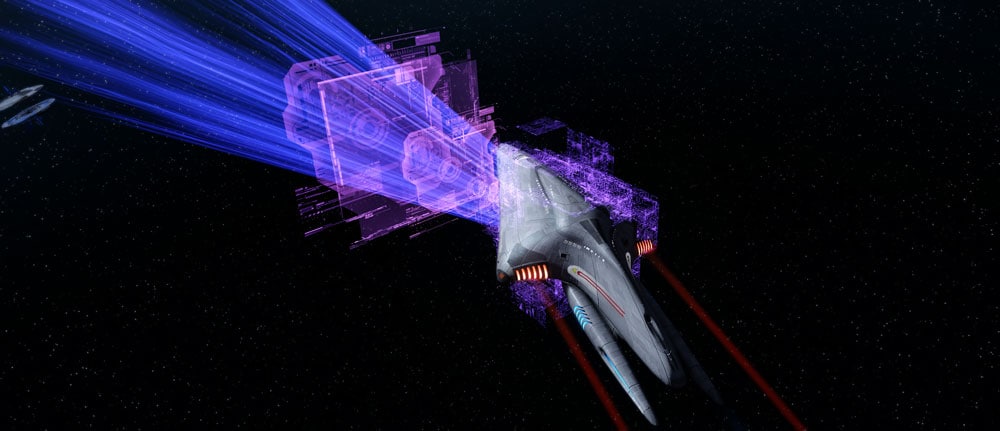 Console – Universal – Particle Synthesizer
The Experimental Science Vessel comes equipped with the Particle Synthesizer. This sophisticated piece of technology can project a particle synthesis beam at a distant target. This will cause you to assume the appearance of your target and your distant foe and its nearby friends will take on your appearance thus causing tremendous confusion between your enemies. Additionally, a photonic decoy of your starship is created near your position to draw the attention of your enemies.
Radiant Nanite Cloud (Starship Trait)
After achieving level 5 in your Experimental Science Vessel's Starship Mastery, you will unlock the Radiant Nanite Cloud starship trait. While this trait is slotted, all hull heal bridge officer abilities will heal for an additional 25% over 4 seconds in a 3 km radius.