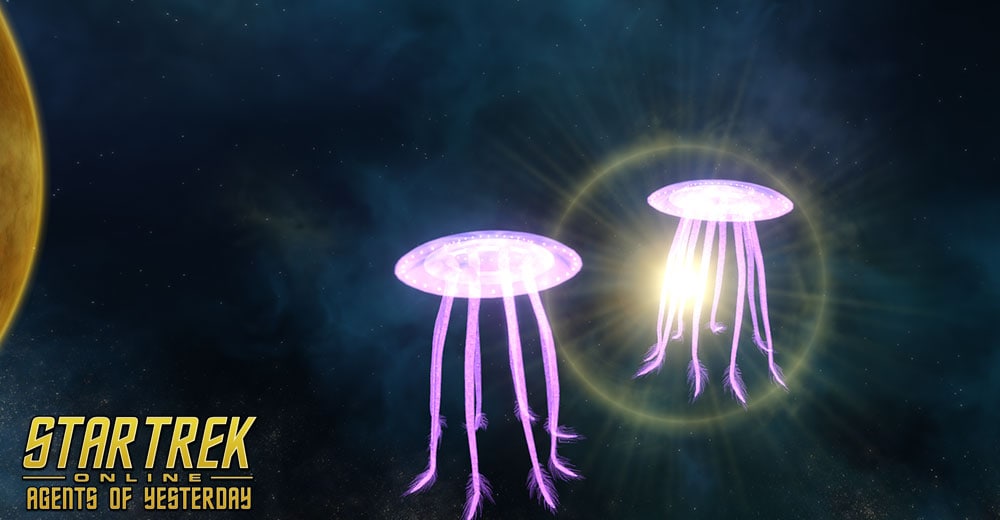 Each week we'll roll out new rewards for the Featured Episode "Echoes of Light." Last week's rewards were the Nausicaan Disruptor Beam Array and the Nausicaan Energy Lance. This week's reward is the Nausicaan Siphon Capacitor Science Console. In addition, the first completion of this mission on an account this week will grant a Featured Episode Weekly Reward Box. This box gives your choice of an Enhanced Universal Tech Upgrade or a Captain Specialization Point Box, which gives the character who opens it a Specialization Point. The Weekly Reward Box, Tech Upgrade, and Specialization Point Box are all Bound to Account, and may be freely traded between your characters. The Specialization Point Box requires the opening character to be level 50 or above.
In their attempts to make strides towards improved Nausicaan capabilities, scientists have constructed a siphoning capacitor specifically designed with Nausicaan Disruptor technology in mind. Nausicaan design brings with it an inherent boost to energy siphoning and power efficiency. As a side effect of this efficiency, it has been observed that Disruptor energy outputs have been noticeably increased.
The Nausicaan Siphon Capacitor Science Console is part of the Entoiled Technology set. Collect additional pieces from this set to unlock powerful set bonuses:
Entoiled Technology
Nausicaan Weaponry Augmentation (2 piece)
This 2 piece bonus modifies "Disruptor Net" (a chance to hold effect) to apply Disruptor damage over time as well.
Nausicaan Power Initiative (3 piece)
This 3 piece bonus provides an increase to Disruptor Damage and Hull Penetration.
Next week we'll reveal week three's reward for "Echoes of Light."
Matthew Campbell
Systems Designer
Star Trek Online