Breen Plesh Brek Heavy Raider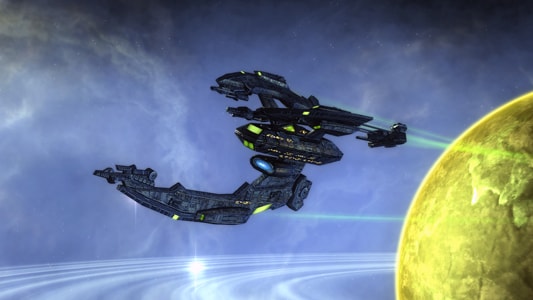 Details on how you can earn this ship for FREE can be found here.

The Breen Plesh Brek Heavy Raider is a fearsome and maneuverable craft that was most commonly seen during the Breen invasion of Defera space. It is sturdier and faster than similar ships within the Raider class of starships. However, unlike Klingon Raiders, it does not have the ability to Cloak.
Ship Details
Rank Required: 40, Rear Admiral, Lower Half (Fed); Brigadier General (KDF); Subadmiral I (Rom)
Faction: All
Availability: Winter Event Reputation Project
Hull Strength: 29,700
Shield Modifier: 0.88
Crew: 50
Weapons: 4 Fore, 2 Aft
Device Slots: 2
Base Turn Rate: 19 degrees per second
Impulse Modifier: 0.21
Inertia: 75
Bridge Officer Stations: 1 Commander Tactical, 1 Ensign Universal, 2 Lieutenant Universal, 1 Lieutenant Commander Universal
Console Modifications: 5 Tactical, 2 Engineering, 3 Science
+15 Weapon Power
Can Equip Dual Cannons
Console – Universal – Sensor Disruption Field
Improved Flanking
Can equip the Breen Energy Dissipator that is found on the Breen Chell Grett Warship
Sensor Disruption Field Universal Console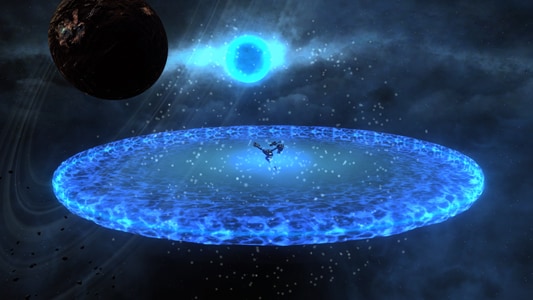 The Breen Plesh Brek comes equipped with a Breen Sensor Disruption Field console. The Breen Sensor Disruptor Field is a devastating tool utilized by the Plesh Brek Heavy Raider to allow it to disrupt nearby enemies' targeting sensors, preventing them from returning fire on the Raider. Affected enemies are also more susceptible to enemy fire.
This console placates nearby foes and causes them to take more damage enemy attacks by reducing their damage resistance. This console can be equipped on either the Breen Plesh Brek Heavy Raider or the Breen Chell Grett Warship, and may be equipped in any console slot.
The Breen Sensor Disruption Field's 3 minute recharge time is reduced to 1 minute 30 seconds recharge if equipped on the Plesh Brek.
Set Bonus
Equipping both the Sensor Disruption Field universal console and the Breen Energy Dissipator that is found on the Breen Chell Grett Warship will grant the captain a large skill bonus to Starship Flow Capacitors and Starship Countermeasure Systems. This will enhance the energy draining effect of the Energy Dissipator and increase the amount of damage targets can take before the fragile placate effect from the Sensor Disruption Field console breaks.
Improved Flanking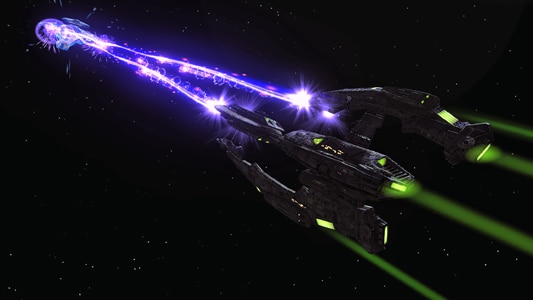 The incredibly maneuverable Plesh Brek Heavy Raider will deal a large amount of bonus flanking damage (+33%) when attacking an enemy's rear arc.
Designer's Comments:
Consistently attacking an enemy's rear arc (where their aft shield facing is) can require some clever positioning, practice and planning. Flanking requires that you strike the rear arc of the target ship and will provide a 33% damage bonus. It should be noted that this damage bonus is significantly reduced against players and it doesn't apply to mines and summon powers like the Scorpion Fighter device, Gravity Well or Tyken's Rift. It does apply to all energy weapons, all torpedoes (that don't spawn mines) and damage powers like Tractor Beam and Photonic Shockwave.
Our goal is to use the Plesh Brek's Flanking ability as a prototype to fine to tune it before eventually rolling it out to Klingon Raiders along with some other minor improvements to these ships. It should be noted that Klingon Raiders will receive a slightly weaker version Flanking bonus (+25% instead of the Plesh Brek's +33%).
Unique Bridge
The Breen Plesh Brek Heavy Raider is equipped with the unique Breen Bridge. While visiting your bridge, you will also be able to access your Account Shared Bank, move into a Small Craft, and contact different ship departments for Duty Officer Assignments. This bridge has also been added as a choice for the Breen Chel Grett Warship, in addition to the current factional bridges it has access to.
NOTE: The above stats and systems are subject to change. The box that the ship comes in, which cannot be opened until the minimum rank listed above, is bound to character upon pickup.
We hope you enjoy the Plesh Brek and look forward to seeing you flying one in-game!
Phil "Gorngonzolla" Zeleski
Systems Designer
Star Trek Online
- - - - -
Click here to learn more about Legacy of Romulus, our free-to-play expansion for Star Trek Online. Advance your journey of rebuilding the Romulan legacy with a Legacy Pack purchase! Click on the logo below to learn more about it.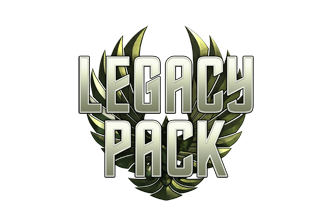 Want more game details, screens, and videos? Like Star Trek Online on Facebook for more exclusive content and follow us on Twitter – tweet us your questions! And, subscribe to our YouTube channel for the latest Star Trek Online videos.
- - - - -