The celebration of Simril has begun! Take a break from the blazing heat in the Well of Dragons and head on over to the wintery getaway of Twilight Tor. The Winter Festival features a zone full of activities, amazing rewards and this year players will receive a Starlight Voucher which grants players a Starlight Parcel that contains many unique gifts.
The Starlight Parcel is a gift given as a gesture by the residents of Twilight Tor to the adventurers of the Sword Coast for their tireless efforts in defending the realm.
This package contains many unique items from past CTA events, seasonal events and much more! Players will receive one Parcel for free every day during the Winter Festival. Upon completing a short quest, players will receive a Starlight Voucher. This will allow them to redeem a Starlight Parcel for free form the Zen Market. The Coupon will expire 24 hours after receiving it. Only one coupon can be obtained per character per day.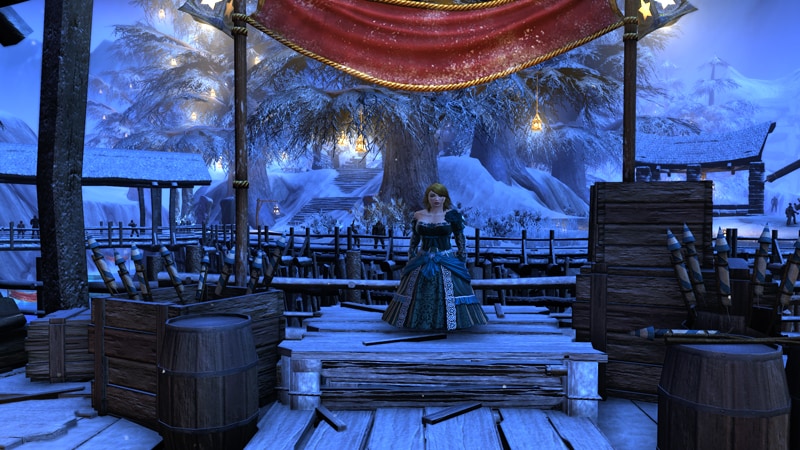 Furthermore, you can share the cheer and open presents with your friends! Every Starlight Parcel contains a Gif of Simril which can be used as a consumable item to grant nearby party members Lights of Simril, a Star of Fortune or even a Starlight Bag (which is a bound version of the Starlight Parcel).
The more Starlight Parcels you open the more unique rewards you may receive. Once you have opened 20 parcels you will unlock the chance to obtain the highest tier rewards. Here's a breakdown of the rewards and how you can obtain them.
Each parcel pack contains:
Gift of Simril
Winter Novelties
Zen Market Consumables and more
Preservation Wards x10
Scroll of Mass Life x2
Mini EXP Booster
Respec Token
Refiner's Cache
Rank 4 Enchantments
Rare Equipment
Event Rewards (Open 5 Parcels)
Wandering Scarecrow
Masquerade Masks
Lliira's Bell
Lion's Throne
Traveling Entertainer
Waukeen Weapon Set
Event Rewards 2 (Open 10 Parcels)
Siege Battlefield Medic
Champion's Battle Horn
Farmer's Weapon Set
Blue Ribbon Pig
Doohickey
Apparatus of Gond
Fawn of Shiallia
Dappled Riding Horse
CTA Rewards (Open 15 Parcels)
Every CTA Weapon or Companion
Promo Rewards (Open 20 Parcels)
Twisted Dwarf Scroll Case
Mysterious Chicken Egg
Forgehammer of Gond
Alchemist Experimenter
Lillend
Redcap Powrie
Zhentarim Warlock
Once players have reached the required number of Parcels opened for that tier, each subsequent pack open will always have a chance to receive that tier's items. Example: if I open 1 pack a day for 10 days, on the 11th day I will open a parcel with the chance to obtain the Event Rewards 2 tier items. Want to open more than the free pack every day? You can purchase additional packs on the Zen Market for 100 Zen and give yourself the best chance to receive the highest tiered rewards.
Every day players can visit the "Starlight Giftmaster" and find helpful information from this boisterious dwarven female. She will provide you with complimentary vouchers every day along with how many parcels players have opened and what theirs of rewards are available.
Are you excited to open a Starlight Parcel every day during the Winter Event? Let us know on the official Neverwinter Forums.