Guide created by emihime.
Guide for Workshop Guild Daily Quest:
First you go to your Workshop guild base and click on this npc: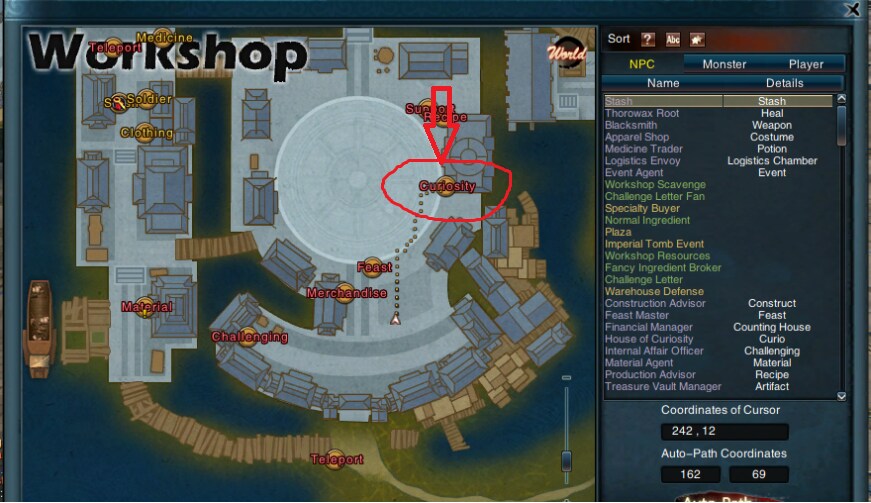 When you right click on the npc it shows you 2 options:
Curiosity Handbook Claim.
Curiosity Hanbook Submision.
You click Claim first.

Once you click on claim, it shows you an image like this one:



Basically you need to go and find the items that make the item at your image.
To do so, you click Guidance: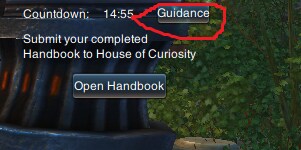 When you click on it, it shows you something like this: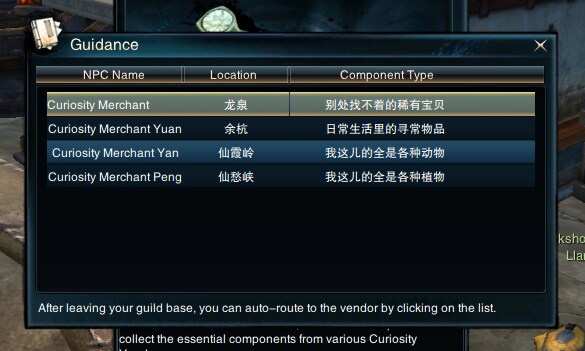 These are the four ''guides''. Depending on the item you get you have to go to the correct guide and take the correct items. Double clicking one of the 4 guides autopaths you.
Once you get autopathed, you will arrive at a npc called Curiosity Merchant..
It shows you this: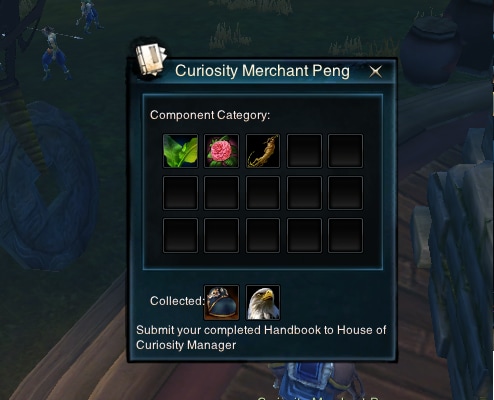 Your goal is to get the 2 correct items that when combined you get your item given in the beggining. To choose the items from the npc you need to drag them to the 2 slots bellow.


The items you get and their locations:

1st guide location: Dragonspring
2nd guide location: Salt Harbor
3rd guide location: Twillight Ridge
4th guide location: Immortals Sorrow

Items: Violin-> 1st guide: violin + green thing

Hat -> 2nd guide: hat + 3rd guide: eagle

Drum -> 2nd guide: drum + 3rd guide: snake

Leaf -> 2nd guide: fan(Zephyr wep) + 4th guide: leaf(green)

Once you get the items from the correct guides listed above, you need to go back to guild base to the Curiosity npc and click Curiosity Handbook Submission.

if you want to see the image you got, you need to click Handbook again.
If by any chance you get the wrong items and you go back to guild base to submit, the quest ''disappears'' from the upper right of your screen but basically it didn't and you have to manually go to the places listed above to get the correct items.