Floaters (Ground Device)
The Cyan, Gray, and Purple Floater colors have been added this year. These new floaters give captains who want to really see the sights new options in how they'll look while doing it.
While sightseeing, there's a chance you might come across a…
Risian Lunarian Caracal (Vanity Pet)
The Risian Lunarian Caracal is a small animal native to the planet Risa. Highly sought after as pets, Lunarian Caracals have an even temperament and require little maintenance – perfect for life aboard a starship! Different colors of Caracals are available from the Summer Event Store and the Lobi Store.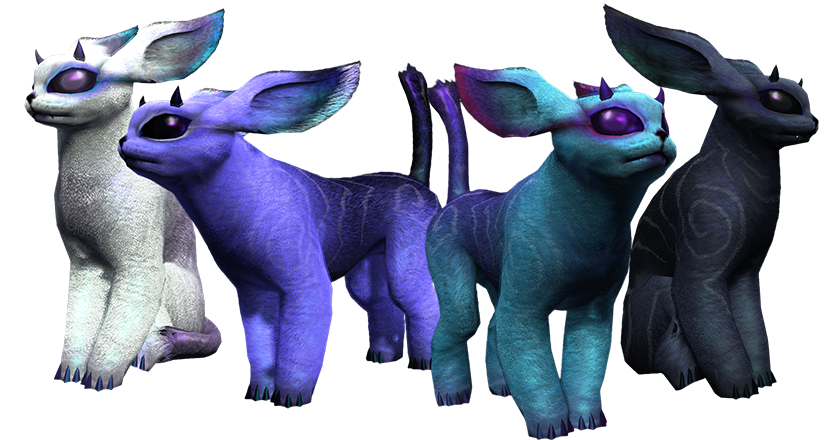 Since Lunarian Caracals can't help you when you're under assault by the Iconians, Risa now offers…

Class-Specific Kit Modules
The Risians have agreed to put their expertise in terraforming to good use and are offering a new Kit Module for each career. The new Kit Modules are:
Fabrication Kit Module – Hurricane Generator. Engineering Captains can deploy a stationary Hurricane Generator. Once deployed, the generator alters atmospheric conditions to cause a powerful storm in the vicinity. This storm deals continual cold damage to foes as they're pelted by heavy rain and hail. Foes also have a chance to be struck by lightning for additional electrical damage, or be knocked over by gale-force winds.
Research Kit Module – Seismic Agitation Field. Science Captains can repurpose Risa's terraforming technology to create a localized seismic event under their targets. The seismic waves deal kinetic damage to targets within the event, with a chance to cause enemies to lose their footing.
Assault Kit Module – Graviton Spike. Tactical Captains can enhance their weapons fire with charged Graviton particles to create a miniature singularity on impact. Enemies caught within the singularity's radius are pulled toward it, taking kinetic damage. While the singularity dissipates almost instantaneously, residual Gravitons slow the movement speed of enemies for a short duration.

All of the above prizes can be purchased alongside all the entries from previous years, giving captains a wide variety of rewards to earn by participating in this year's Lohlunat Festival. Remember, "All that is ours is yours!"
Jon "Crypticrock" Steady
Systems Designer
Star Trek Online