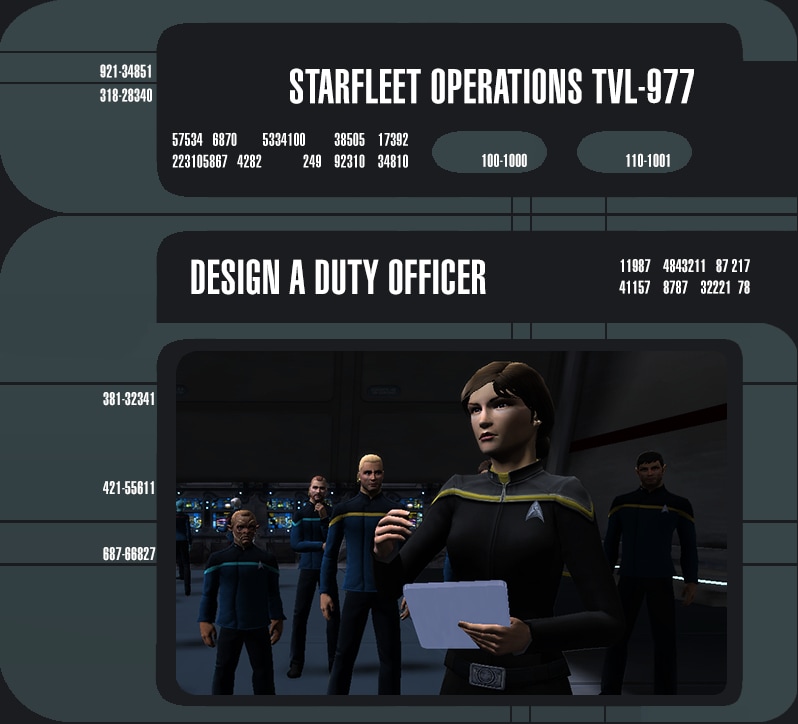 Captains, you've flown across the Galaxy committing heroic deeds. Stories of your bravery are told by Cadets and Warriors alike. Every officer wishes they could serve aboard your ship. Show off a crew you're proud of with our official Duty Officer Art Assets.
We here at the Galactic News Network want to showcase the very best in Duty Officers. New to making Art Assets? The guide below is the best place to get started, giving you the full steps for any user to make their very own Duty Officer. Once you're done, be sure to show it off to your friends, fleetmates, and to us! We'll be picking some of our favorites to showcase officially on Star Trek Online.
Idea: Brainstorm the officer you want to show off. Do you want to put your faithful Tellarite officer in the spotlight? Maybe you want to showcase your pet Targ "Bitey"? Imagine the possibilities!

Design: We have a full listing of available art assets for Captains to pick from. Grab your soon-to-be officer, and place the appropriate DOFF border over them. Our simple templates will make creating your officer a breeze.

Show off: We'd love to see your new officers! Submit any entries to either our Official Forum thread, or on our Official Twitter Channel. We'll be judging all entries submitted and post up our favorites on Monday 12/29!


Download and the PNG files for your faction
Open the PNG file of the Border in MS Paint.
Copy the image by hitting CTRL-A then CTRL – C
Now open the background image you want to put the cutout onto.
CRTL – V to paste the Border on top of the image
Under Select, hit "Transparent Selection"
This should remove all the white around the image.
Add text for your DOFF's name, species, gender, rank, etc.
Be sure to save and submit it!