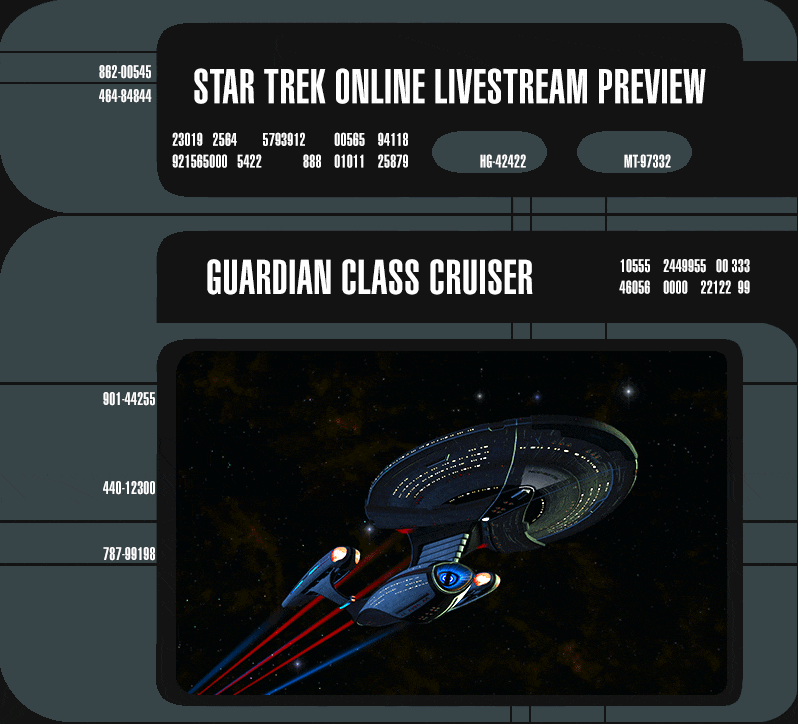 Missed the show? Catch the recorded version here at our TwitchTV Livestream Channel. See you next time!
Join STO Community Manager CaptainSmirk this Friday, October 3rd at 1PM PDT (click here for your local timezone) for our next Star Trek Online Livestream Broadcast!
This week we bring you an exclusive look at the Guardian Class Cruiser from our Operations Pack! Come and check out this amazing new ship from our upcoming expansion, Star Trek Online: Delta Rising.
We will be streaming live this Friday afternoon to bring you a preview of the amazing Starfleet Cruiser. We will be testing this ship out on our Tribble Test Server for this preview, so make sure to log in ready your starships to run a few PvE events to try out this new vessel on our TwitchTV channel.
Prizes!
Our Viewer Participation goal for this week's show will be set at 2000 viewers to unlock a chance to win an Operations Pack! We will have 4 packs to give out to 4 lucky winners who enter in our chat raffle contest during the broadcast when we have reached our viewer goal.
Prize Update!
During our show, we will raffle off this Alienware TactX gaming headset! Will you be our lucky winner?** Big thanks to our partners at Alienware for providing this amazing prize.
*To be eligible to win, you only need to be logged in to Twitch and chat the keyword that we'll ask players to post (in addition to us saying it verbally, we'll post it in chat so you can copy and paste it) right before each giveaway.
**To be eligible to win the PHYSICAL PRIZE, you must live in the continental United States in order for us to ship these items to you. No worries if you live outside the USA, we will grant you a comparable digital prize consisting of in-game ZEN.

With only 2 weeks left until the launch of Delta Rising, we will have one more show before the launch. We will be flying in the Dauntless next week, with this week's show devoted to the Guardian Cruiser! We are looking forward to seeing you in-game!
CaptainSmirk
Community Manager
Star Trek Online
Click here to learn more about Delta Rising, our free-to-play expansion for Star Trek Online. Explore the Delta Quadrant & rediscover the allies & the enemies the Voyager crew made during their exodus from distant space back to Earth & the Federation. Prepare yourself & your crew with an Delta Operations Pack now available for purchase! Click on the logo below to learn more about it.
Want more game details, screens, and videos?
Like Star Trek Online on Facebook for more exclusive content and follow us on Twitter – tweet us your questions! And, subscribe to our YouTube channel for the latest Star Trek Online videos!