4-Year Anniversary Event Rewards
Celebrate Star Trek Online's 4th Anniversary with exciting new rewards!
Q is back to celebrate in his annual style, offering fun and prizes to those that join in the efforts to amuse him during this festive time of year. Accepting and completing his daily mission will reward every player with their choice of Dilithium Ore, a Festive Party Horn (new this year!) or a Party Box which may contain a Skill Point Bonus Pool, special dual-system consumable devices, or a Mystery Item (random items appropriate for your rank).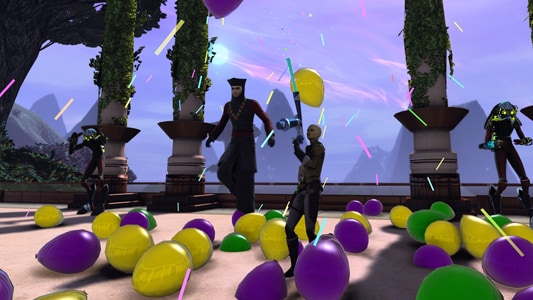 4-Year Anniversary Festive Party Horn
In addition to these prizes, completing Q's minigames on a daily basis will earn you 40 "Anniversary Qmendations" – these tokens of Q's design are used to claim your FREE Dyson Science Destroyer from a project in the Event Reputation system. While this limited-time project requires a total of 1000 of these tokens to complete, you will receive a package of 400 as a one-time bonus the first time you complete the new Feature Episode, "A Step Between Stars." After contributing the 400 bonus Qmendations to the project, and with only needing 600 Qmendations more, you'll want to complete Q's daily 15 more times during the 25+ days the event is running to complete your Dyson Science Destroyer event reputation project.
The Feature Episode will also offer all players the opportunity to choose from a variety of powerful starship equipment known collectively as the "Solanae Hybrid Technologies Set". Players may choose one of the three available set pieces (impulse engine, shield, and deflector ) on their first completion, in addition to each replay, of "A Step Between Stars." These three items combine with the warp core that comes pre-equipped on the Dyson Science Destroyer to form a 4-piece set bonus. Complete details on these set items are listed further down in this blog, and set bonus details will be available in the Dyson Science Destroyer ship stats blog that will be posted tomorrow.
As we shared with you earlier, these incredible new ships are also pre-equipped with a secondary deflector. In late February (next month), we'll be releasing a 3-pack C-Store bundle of each factional Dyson Science Destroyer, and each of those ships will feature a fantastic new console, in addition to upgraded stats, including a 10th console slot. Equip all 3 consoles on one of the upcoming, C-Store Dyson Science Destroyer variants, in addition to the secondary deflector found on the anniversary version, to gain access to another, special 4-piece set bonus. More details on this set bonus will be revealed next month as we get closer to its release.
Make sure to complete the Dyson Science Destroyer event reputation project on all of your characters to ensure you'll be able to take advantage of the upcoming 4-piece set bonus that will be available when the c-store bundles release next month, in addition to the 4-piece set bonus that is available through the items earned when replaying "A Step Between Stars."
But the rewards don't stop there! Additional special rewards are also attainable during the course of completing "A Step Between Stars" in the form of the Solanae Environmental Suits. There are three (3) separate variants of these stylish and highly effective forms of environmental protection available for players to obtain during the course of the mission, each earned by completing different optional objectives within the mission. Explore your options, and collect the full set!
Once a player has collected all three variants (full set), they have the option of trading them in at the Lobi Store to obtain one of two different "upgraded" variants. Each of these Lobi Store EV Suits offer increased stats over the three base variants, in addition to visual upgrades. These upgrades each cost 50 Lobi Crystals, in addition to turning in a full set of Solanae Environmental Suits. Replay the episode to pick up another set and trade it in for the other the variant to obtain the complete "upgraded" set.
Solanae Hybrid Technologies Set
The Shield, Impulse Engine and Deflector that make up this set are available in Marks ranging from II to XII, and most of the attached stats and bonuses will scale with the equipment. The Mark of item you receive will be dependent upon what level you are when you complete the "A Step Between Stars" Feature Episode. A Mk XII Warp Core (Matter-Antimatter or Singularity, depending on the ship hybrid type) will come pre-equipped on the Dyson Science Destroyer that can be obtained by completing the Event Reputation Project.
For the first time in Star Trek Online, this set is able to function as one whole regardless of the Mark of items you have equipped. Meaning that your Mk XII Warp Core can be matched with a Mk X Shield and still result in a 2-piece Bonus. The bonuses granted by these mixed sets will scale with Player Level, instead of the Mark of the set item(s) that are equipped.
Solanae Resilient Shield Array (Episode Reward)
In addition to the standard bonuses associated with a high-capacity Resilient Shield, this shield also reduces incoming energy damage by an additional 10%. The unique addition of Solanae Technology allows this shield to also redirect a portion of incoming Energy Weapon damage directly back at the attacker that fired upon your ship.
Each time you are struck with an Energy Weapon, you have a 1% chance to reflect 33% of incoming energy damage back at the attacker. This effect cannot trigger more than once every 2 seconds.
Solanae Hyper-Efficient Impulse Engines (Episode Reward)
Although fairly standard when it comes to basic thrust, these Impulse Engines offer increased Efficiency boosts to both Weapons and Auxiliary Subsystems, providing additional energy if either are currently low.
Additional Solanae circuitry also grants these engines a small chance to redirect incoming energy weapon damage into additional thrust. Each time you are struck with an Energy Weapon, you have a 25% chance to gain +1% Turn Rate and +0.15 Flight Speed for 15 seconds. This effect can stack up to 5 times.
Solanae Deflector Array (Episode Reward)
This unique Deflector Dish doesn't conform to the design standards of any known base type seen elsewhere in the galaxy, instead offering an array of unique bonuses.
Equipping this item will grant your ship increased Structural Integrity (Hull Hit Points), Power Insulators (Resistance to Shield and Energy Drain) and Particle Generators (Improved Exotic Damage). The enhanced sensors will also integrate into weapon targeting arrays, offering all weapons a small bonus to Accuracy.
Solanae Overcharged Warp Core and Singularity Core (Pre-equipped on the Dyson Science Destroyers)
These power cores were specifically designed to integrate with, and provide power for, the various advanced technology found in the Solanae Dyson Sphere without needing to rely upon Omega Particles. These adaptations have led to a Core design that greatly enhances Auxiliary systems in many ways.
In Matter-Antimatter Warp Cores, this translates to a synergy bonus between Weapons and Auxiliary subsystems, granting 7.5% of your current Weapon Power as bonus Auxiliary Power. In Singularity Cores, this bonus Auxiliary Power is based upon your current Singularity Charge level. Both Core types increase your maximum Auxiliary Power by 5, provide an efficiency bonus to Auxiliary power levels, and are capable of discharging additional energy into the Auxiliary subsystem in a manner similar to a battery device. The Singularity Core also enhances Singularity Shielding by adding additional Resistances to the ship when this ability is activated.
Both Warp Core types have been able to utilize Solanae technology to develop what has become known as the "Subspace Fold" ability. Activating this special ability will instantly transport the starship approximately 2 Light Years forward in the blink of an eye. This ability has a very short cooldown and may be used repeatedly. It is only available for use while in Sector Space.
- - - - -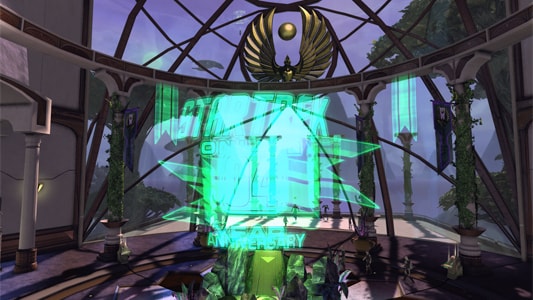 Both the Solanae Environmental Suits and the Solanae Hybrid Technologies Set will be permanently available as rewards for playing "A Step Between Stars," even after the Anniversary Event has ended.
Players will be able to earn Qmendations up until Server Maintenance on February 27th, 2014. Be sure to complete your Dyson Hybrid Ship Project before this day comes, or you may have to wait an entire year before you can claim it! If you won't be able to complete it in time, visit the Lobi Store and pick up an Annivesary Qmendation Package for 5 Lobi, which will contain between 10 and 20 Qmendations to add to an active Anniversary Ship Project.
We hope you enjoy these exciting new rewards and thank you for your support of Star Trek Online for these past, incredible 4 years.
See you in-game!
Jeremy "BorticusCryptic" Randall
Systems Designer
Star Trek Online
- - - - -
Click here to learn more about Legacy of Romulus, our free-to-play expansion for Star Trek Online. Advance your journey of rebuilding the Romulan legacy with a Legacy Pack purchase! Click on the logo below to learn more about it.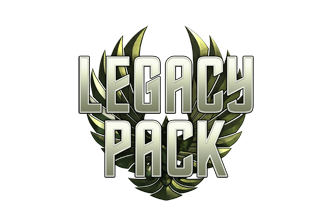 Want more game details, screens, and videos? Like Star Trek Online on Facebook for more exclusive content and follow us on Twitter – tweet us your questions! And, subscribe to our YouTube channel for the latest Star Trek Online videos.
- - - - -