Initially, on Earth, the term "flag ship" referred to the ship of an Admiral. The ship would fly the Admiral's flag, letting the rest of the ships in her squadron know where their commander was on the battlefield, and leading the charge into battle. Hundreds of years later, the Federation, the Klingon Empire, the Romulan Republic and the Jem'Hadar all use the same word (translated from various languages) to denote the ship that sallys forth at the front of any formation. These ships, such as the Enterprise F, are the ships that blaze a path into the future, whether that future be of exploration or conquest. Any citizen of the Federation feels safer when an Odyssey class comes into view, and this month, all of the Khitomer Alliance will gather to celebrate these mighty flagships and their crew.
The next step of our 2023 Event Campaign is coming to PC, with an event dedicated to the flagships of Star Trek Online. From June 8th at 8am PT to June 29th at 12pm PT, you'll have the chance to participate in four different Task Force Operations – all of them in space – to progress towards both this year's Event Campaign Grand Prize, and two new prizes: a Prime Beverly Crusher Holographic Bridge Officer, and an upgrade to your Fleet Support.
The TFOs that will be a part of this event are:
Borg: Disconnected (Space)
Iuppiter Irratus (Space)
Swarm (Space)
Synth Wave (Space)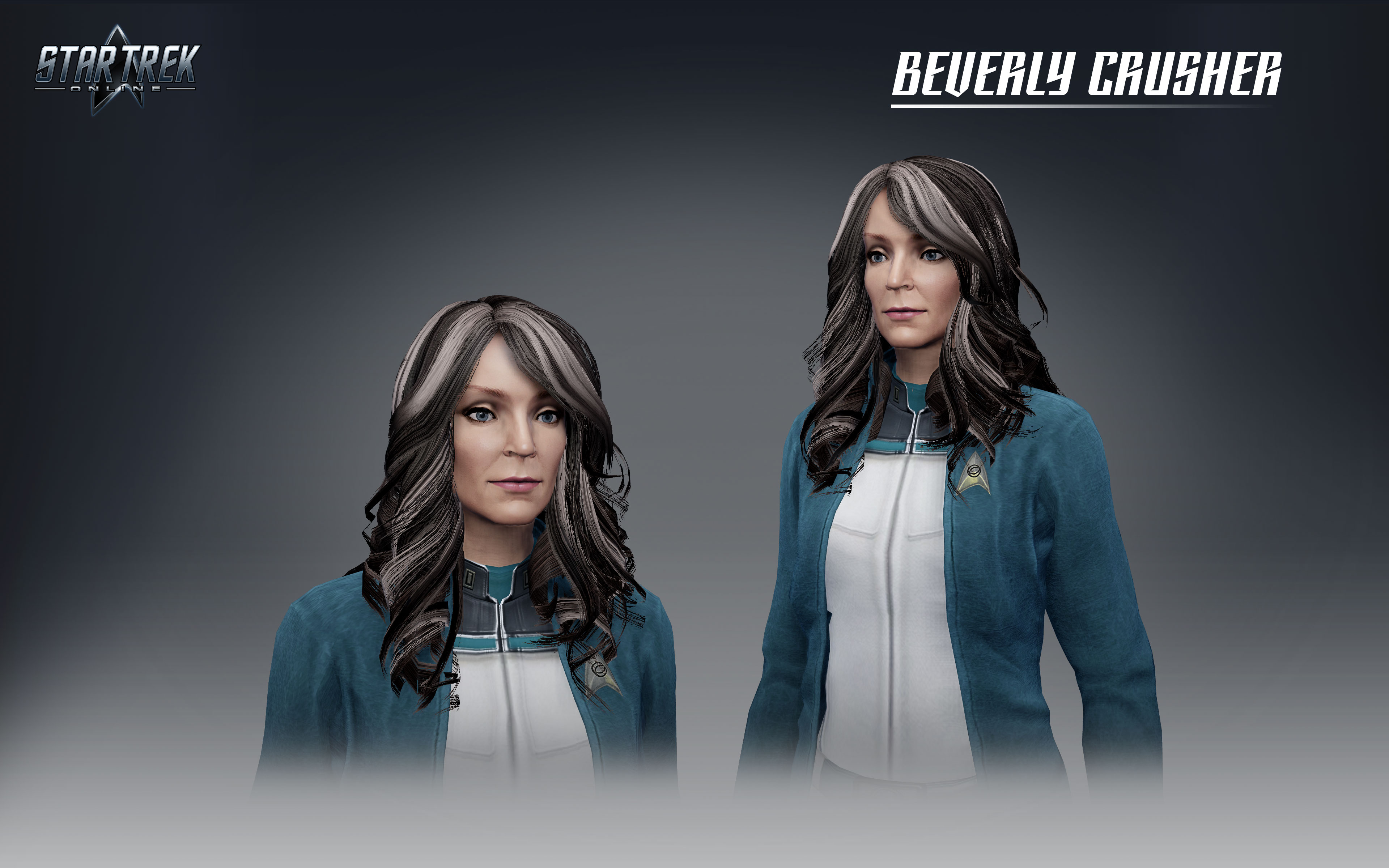 Rewards
Upon completing 14 days of progress on the Flagship Celebration Event, you'll unlock the a Holographic Bridge Officer of Dr. Beverly Crusher. This is the Prime Universe version of Dr. Crusher, as she exists in the Star Trek Online era.
Beverly is an Intelligence Specialist Science Bridge Officer, and comes with a new trait: A Lot's Happened in the Last Twenty Years. This trait reduces the recharge time of your bridge officer abilities each second after activating a beam or torpedo firing mode. It also applies Torpedo: High Yield one immediately after activating a shield or hull repair.
In addition, you'll receive the Fleet Flagship Distress Frequency. This passive device summons the Flagship of your faction when you activate Fleet Support.
Now, upon claiming this Grand Prize (whether earned or purchased), your account will immediately become eligible for Bonus Progress. The first Bonus Progress rewarded will be accompanied by a reward of 8,000 Dilithium Ore. Earning Bonus Progress each day thereafter will increase this reward by an additional 1,000.
Event Campaign V
Play through multiple Events to earn your choice between Premium Tier-6 Starship Choice (only includes ships released before 12/7/22), OR TWO (2x) Zen Store Tier 6 Starship Discount Coupons, OR a Bundle of 1,500 Lobi Crystals! A total of five Events will participate in this Event Campaign, each contributing Campaign Progress toward this valuable prize. Earn progress for your entire account by participating in an eligible Event, including after claiming the Grand Prize for each individual Event. Once per account, tradeable between your characters.
We hope you enjoy this event, Captains, and we'll see you in the final frontier.