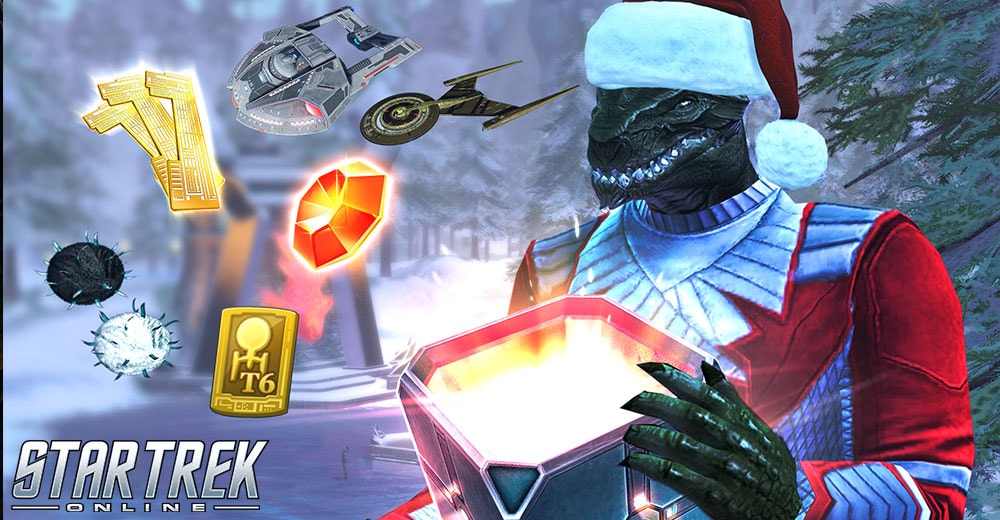 It begins. A rumbling deep in the mountains, the horns sound, and all the children of the galaxy know one thing: Santa Gorn is coming to town. Astride his mighty, burning Fek'ihri chariot, he sails into the system with only one goal. The only thought burning in his scaly mind is to find you, Captain, and make sure you're saving a lot of Zen this Holiday. Do you dare take up the challenge and match your fate to the power of the Jolliest Gorn? Only you can make that choice, and only you can face the extremely awesome consequences.
The consequences are saving a bunch of money.
Anyway, Star Trek Online is having a massive sale this winter, with five major sales and giveaways happening over the course of 11 days. And we're beginning with a sale so massive that putting it into separate blogs would likely crash our website. Instead, we're telling you everything you need to know, right now. From December 21st at 8am PT until January 2nd @ 10am PT, here are the things to know. Unless specified otherwise, these sales and events are for all platforms.
Sales

PC Captains can get a 20% bonus when they charge for Zen!
Save 20% on everything in the Lobi Store!
Purchase Vanity Shields for Dilithium!
Save 20% on Ships you can purchase with Dilithium!
From December 21st at 8am PT until December 23rd at 10am PT, save 25% on Keys and the Keyring Bundle!
The Keyring Bundle is available!
The Giftable Ship Coupons Return!

Buy a pack of three, 100% off Ship Coupons for 6000 Zen!
You can keep these for yourself, or gift them to your friends! But remember, Santa Gorn rewards generosity!

Sometimes. When he's in a good mood.

This pack is 25% off for the duration of this Winter Sale!

Events

Earn double the experience throughout the game!
Phoenix Prize Pack Event!

Claim a Phoenix Prize Pack for free every day
Use your phoenix tokens to purchase Experimental Ship Upgrades

Giveaway

Black Alert Tribble!

Log in during this time frame to claim a free Black Alert Tribble
This item can be reclaimed by every character on your account
Whoo boy, that's a lot. Make sure to get into the Final Frontier this holiday season, and take advantage of these savings!