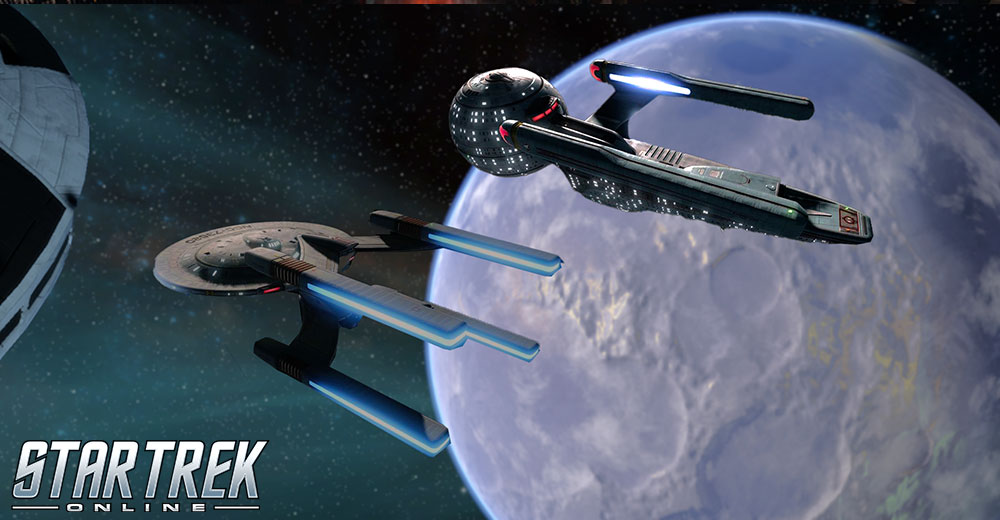 With the launch of Star Trek Online's 12th Anniversary Release we are excited to announce remasters of two more canon ships originally seen in Star Trek: The Next Generation. These two ships are the Cheyenne-class Cruiser, originally seen in "The Best of Both Worlds: Part II" and the Olympic-class Science Vessel, which appeared in the alternate future of TNG's final episode, "All Good Things." These remasters were total rebuilds from the ground up. The Olympic's remaster includes a new, screen—accurate ship material, while the Cheyenne makes use of the Galaxy material created for that ship's remaster in 2019. In addition, we've added all the "legendary" starship materials to the Cheyenne and Olympic family!
The Cheyenne and Olympic remasters were built for us by famed Star Trek modeler Tobias Richter. We're excited to give these ships a long-needed refresh, and hope you enjoy their new look. To see the new art, ready your Heavy Cruiser or Science Vessel variant, visit the Ship Customization Interface, and select the appropriate preset in the lower left.
"Please note that there are no plans for T6 versions of these ships at this time, we just wanted to show some love to some of our older, canon models.