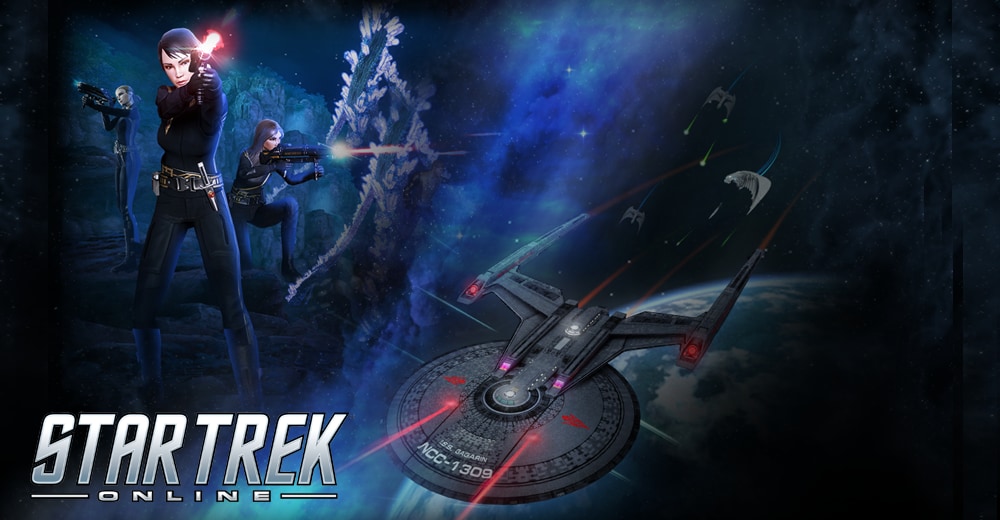 The living planet of Pahvo is once again the center of a siege by Terran forces. Gather your most trusted allies and come to its defense before they can manipulate its energies to be used as a weapon of galactic devastation!
The Defense of Pahvo Event will include multiple TFOs, previously featured individually, in a combined Featured Event that will allow players to choose their favored way of defending Pahvo each day, while earning Daily Progress toward a new grand prize reward. Defend the system space above the planet by maintaining and operating a series of defensive satellites, or take to the vibrant wilds of the planet's surface to stop Terran forces from corrupting its mysterious energies.
Participating in this Event will progress you in our third Event Campaign, and give all players the opportunity to earn a Crystal Prism (Universal Console) for their entire account! Keep reading for details on these items, how you can participate in the Event, and what additional prizes may be earned.
Defense of Pahvo – Activity Details
Two existing activities will be participating in this Event:
Pahvo Dissension – Ground TFO
The I.S.S. Charon has been sucked through space, time, and across universes to crash land on Pahvo. Word of the planet's unique nature has reached the Terran survivors and they are proceeding to agonize Pahvo into a weapon. Only you (and 4 other captains) can stop them!
Peril Over Pahvo – Space TFO
Enemy forces strike, seeking to control the enigmatic world of Pahvo! Rush to enable and defend a newly-established defensive blockade consisting of multiple configurations of satellites, while preventing various enemy factions from getting a foothold above the living planet.
While the action players will engage in during these TFOs have not changed for this event, a few minor adjustments have been made to each that will be present for the length of this Event's run:
Each completion will reward a Choice of All Marks (replacing the usual Mark rewards)
Both TFOs have had their Cooldown Timers temporarily disabled
Both TFOs have been temporarily removed from Random TFO eligibility
Players will be able to earn their Daily Progress once every 20 hours by completing the TFO of their choosing. Either of the above TFOs may be played as much as you like each day, so pick and choose how you prefer to gain Progress each day, and mix it up as much (or as little) as you like!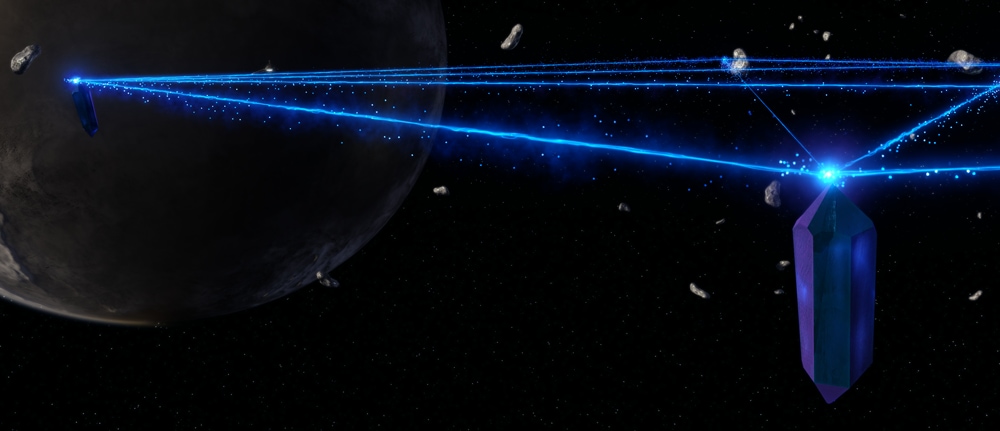 Defense of Pahvo – Event Rewards
Accruing a total of 14 Days' worth of Daily Progress will allow you to claim the Grand Prize of Defense of Pahvo Event. This reward includes all of the following:
Console – Universal – Crystal Prism (Account Wide Reward)

Once earned, every character on your account will be able to claim this unique Universal Console, which attempts to emulate the popular Kit Module by the same name. Complete details on this Console's capabilities is included later in this blog.
Other characters on your account may visit the "Reclaim Rewards" store interface to pick up their Universal Consoles once you have collected this on any character.

3x Featured TFO Reward Boxes (Single Character Reward)

Each gives a choice of 1x Specialization Point or an Enhanced Universal Tech Upgrade

25,000 Dilithium Ore (Single Character Reward)

Issued immediately for use as you see fit!
(Note: The Featured TFO Boxes and Dilithium Ore are only rewarded once, to the first character on your account that claims the Grand Prize.)
Reward Details: Console – Universal – Crystal Prism
Completion of this Event will grant you this novel Universal Console, featuring a charge-driven design that allows for rapid creation of multiple energy-conductive prisms in space. This console is purposefully meant to emulate the popular Kit Module of the same name, allowing players to build networks of damage-dealing crystal prisms in formations of their own choosing.
Each Prism that is placed in space will automatically attack nearby enemy starships, inflicting Psychic damage upon their crews, and tearing apart their hulls with telekinetic energies. The damage inflicted by each Prism in a connected group is increased based on the number of other networked Prisms, allowing for an incredibly high ceiling on such a cluster's overall potential for rending into their foes.
Bonus Rewards
After claiming the Grand Prize, you will unlock the option of earning additional Dilithium Ore each day that you continue participating in the content associated with the Borg Resurgence. Each day you earn the Daily Progress you will be automatically granted a bundle of Dilithium Ore.
This bonus reward will begin at 8,000 Dilithium Ore for the first day's completion, then scales up with each subsequent bonus completion that you achieve. The more you play, the more you continue to earn!
Zen Buyout Option
For players interested in instantly completing the Defense of Pahvo Event – whether that is due to worries over finding the play time to complete it, or simply wanting to move immediately into earning Bonus Rewards – we will be offering a method for buying out.
Within the Event UI, an option will be presented that allows you to purchase the remaining progress that you need, for a scaling amount of Zen. The base price for this service will be 2,000 Zen, but every single Daily Progress that you earn will reduce that price on a percentage basis. Thus, if you have already earned 7 Daily Progress (half of the 14 required), this price will be reduced for you down to 1,000 Zen. The more you play, the cheaper the Buyout Option becomes, dynamically!
Event Campaign III
This Featured Event will be the third of a series of upcoming Events that will participate in the third installment of our multi-event system known as an Event Campaign.
Players may earn 50 Event Campaign Progress for each day they participate in an eligible event.
Buying out an eligible event will include up to 700 Event Campaign Progress.
Each event's buyout only grants as much Event Campaign Progress as is relative to the amount paid, after pro-rated discounts are applied. This means that paying half price, (because you participated in 7 out of 14 of the required days so far) will grant you 350 Event Campaign Progress. Essentially, you get what you pay for.
Legacy Progress
As with previous Events, we will continue offering the opportunity for players to utilize their old Event tokens to apply toward this Event. To access this functionality, select the "Legacy Progress" button on the Event UI. This button will only be visible to players that have tokens available to trade in.
Availability
The Defense of Pahvo Event will begin on PC on July 27th, 2021 and run for 3 weeks before concluding. Meanwhile, it is expected to appear on Xbox One and PlayStation 4 starting in September 2021.
Jeremy "BorticusCryptic" Randall
Staff Systems Designer
Star Trek Online