This site uses cookies to optimize your browsing experience to help improve the platform. By clicking Accept, you agree to use the cookies necessary for the function of this site's services.
Warning!
You are leaving ArcGames.com
Heads up, you are now leaving Arc Games! Remember to not share ac- count information as the site you are attempting to reach is not affiliated with Arc Games.
Okay - I Understand
Continue to link and leave Arc Games.
No thanks
Take me back to Arc Games.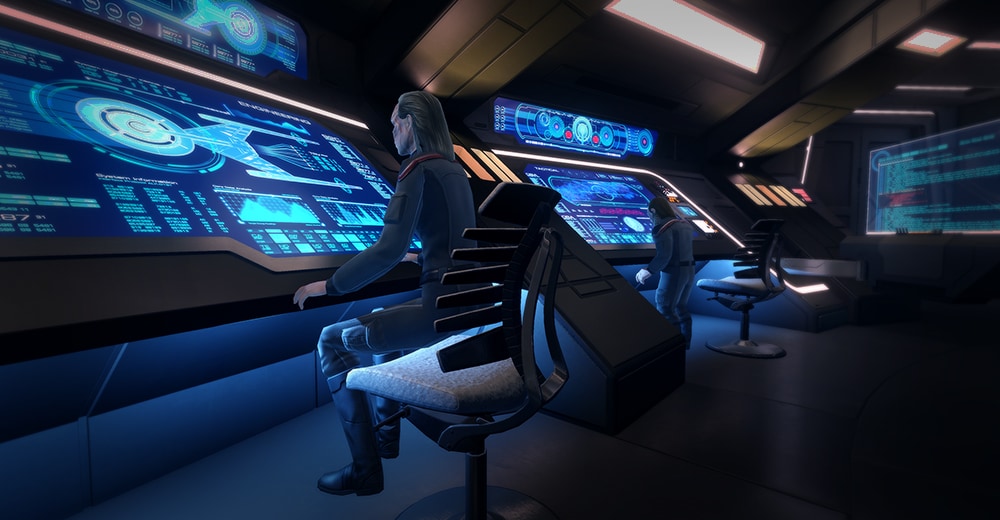 General:
Resolved an issue during the episode, "A Day Long Remembered", which could prevent completing the encounter with Aakar.
Resolved an issue that could sometimes prevent mission progression when quickly defeating enemy encounters during, "Warriors of the Empire".
Resolved an issue that was causing several special Starship Traits to go missing and no longer be available (e.g., Hunter's Instinct).
Resolved an issue that was granting all players the Starship Trait "Programmable Matter" without first unlocking it.
The following Consoles have been updated to correctly trigger the "Universal Designs" Starship Trait:

Subspace Jump.
Subspace Snare.
Immolating Phaser Lance.

Resolved an issue where the "Randomly Transporting Saurian" Schroeder's level was boosted by the Kit Module that triggered him.
Vanity shield FX will now properly display on Crossfield variants' saucer.
The price on the Trill Energy Staff has been reduced to 50 Lobi Crystals
Resolved an issue where the Aakar 4pc bonus wasn't showing the bonuses it added in the text of the other Aakar powers.
Resolved an issue that was causing planets to scale incorrectly in Sector Space.
Resolved a description error on the "Outfit Box - Federation Uniform (32c.)" which incorrectly stated it could be used by any character of any allegiance.

These uniforms are only available for use on Federation Species.

Resolved an issue that was showing negative Shield Damage on the Tetryon Mine Launcher tooltip.
Resolved misspellings within power descriptions on the Imperial Assault Ground Set.
Resolved a description error on the reward box for "Programmable Matter Enhancements".

Event Campaign – Part III:
Tholian Trouble Event:

This Featured Event is the second of a series of upcoming Events that will participate in the second installment of our multi-event system known as an Event Campaign.
This Event will include multiple TFOs previously featured individually in a combined Featured Event that will allow players to choose their preferred trial each day.

The event versions of "Azure Nebula Rescue" and "Vault: Ensnared" can be accessed via the new Event UI, accessible within your Mission Journal by pressing on the "Events" Tab.

Participating in this Event will give all players the opportunity to win Universal Console – Tholian Web Array for their entire account!

Azure Nebula Rescue Updates:

Optional objectives have been streamlined to be more approachable.

Gain bonuses for rescuing some ships early through the event, and for reaching a higher total overall during the event.

Map markers are now included to see where Romulan ships are being held on the overhead map.
The Azure Nebula has seen environment polish, updating its beautiful coloration and gaseous shapes!

Vault: Ensnared Updates:

Objectives and enemy behaviors have been tuned for more contact and less traveling around the Vault.
Updated UI elements have been added to direct Captains on where to go as well as updates to the mission tracker for better communications of information.
The number of Marks rewarded have also increased for both TFO's.

Rewards:

Players will be able to earn their Daily Progress once every 20 hours.
Accruing a total of 14 days' worth of Daily Progress will allow you to claim all of these rewards:

Universal Console – Tholian Web Array (and Account-Wide Unlock for Reclaim)
25,000 Dilithium Ore (once only).
3x Featured TFO Reward Boxes (once only).

Each gives a choice of 1x Specialization Point or an Enhanced Universal Tech Upgrade.

Bonus Rewards:

After claiming the Grand Prize, you will unlock the option of earning additional Dilithium Ore each day, beginning at 8,000 Dilithium Ore for the first day's completion, and increasing for subsequent days.

Zen Buyout Option:

For players interested in instantly completing the To Hell with Honor Event event, we will be offering the option to purchase the remaining progress of this event at a scaling amount of Zen, as with other recent events.

A Second Chance:

Progress after the Event has ended will remain in an all new Second Chance interface, allowing the option to buyout rewards long after the Event has expired.
For more information, please visit the "Tholian Trouble" blog at: https://www.arcgames.com/en/games/xbox/star-trek-online/news/detail/11488253-tholian-trouble%21
General:
Resolved an issue that causing a blank Reputation to display in the Reputations list.
Resolved an issue that was preventing Klingon Captains who had unlocked both Cross-Faction Flying and the "NX" Prefix, from using this prefix on Federation starships.
Equipped items on ships will now be sent to Inventory upon dismissal.