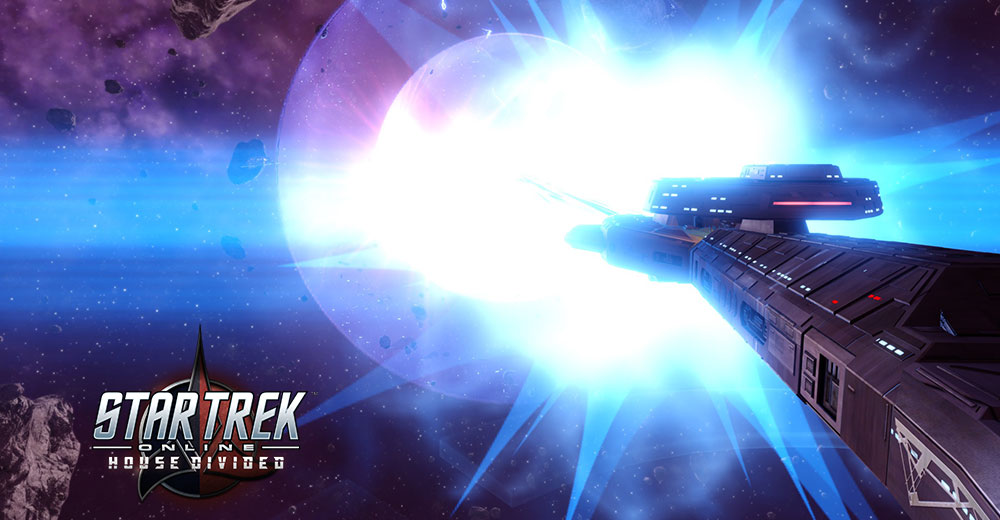 As part of our upcoming content release, from October 6th to November 5th, PC Captains playing Star Trek Online will have access to a special event: The Widening Gyre. This new event will provide participating Captains with an epic reward, the Imperial Rift Space Set. Read on to find out more about the event and its rewards.
Event Progress
Participating in this event grants daily progress towards the Grand Prize: The Imperial Rift Space Set. Obtaining the Imperial Rift Space Set requires 20 daily progress, and Captains can earn one daily progress per account per day by playing either the brand new episode or brand new Task Force Operation in our upcoming content release (more details on that, soon!).
Once Captains have obtained 20 daily progress on their account, they can claim the Imperial Rift Space Set. After that, the event will still be playable, granting a scaling Dilithium reward that begins at 8,000 Dilithium Ore and scales by 1,000 Dilithium Ore for every day you participate in the event, up to a cap of 50,000 Dilithium Ore per day.
Captains will also have the option to purchase their remaining progress in the event with Zen. The price for this buyout will prorate, based on the amount of progress a Captain has completed.
The Imperial Rift Space Set
Previously in House Divided, the Klingon Empire descended into Civil War, the opening days of which saw the deployment of a brutal new weapon of war: the Mycelial Rift. Details of the event are hotly debated by those accused of the act, but the technology involved is less subjective. Numerous advances in subspace particle physics were required to direct the multi-dimensional emissions involved in these rifts, and the kit built from this research is formidable in its own right. These devices, taken together, allow a ship to open its own weaponized Mycelial Rifts.
Revolutionary Gear
Each of the pieces of the Imperial Rift Space Set provides its own special bonuses. The Deflector Array captures excess power used from Beam or Cannon firing modes and shunts it into Control Expertise and Starship Particle Generators. The Impulse Engines pair nicely with them, enabling Control based Bridge Officer abilities to improve Weapon Amplification. The Warp and Singularity cores improve Auxiliary power capacity, and the Shield Array improves Energy Weapon damage based on Auxiliary power. All of these pieces of gear improve other elements of ship performance, but they really shine when combined.
2 pieces


Improves Damage Resistance Rating vs foes in the forward arc, improves ship turn rate, and increases Exotic Damage Critical Severity based on Starship Weapon Amplification.

3 pieces

Enables "Weaponized Mycelium Emitter". After charging for several seconds, this deals severe Radiation damage to foes in front of you and creates a Rift, which deals additional Kinetic Damage.

4 pieces

Augments the Mycelium Emitter, increasing the damage and duration of the Rift and gives it a chance to manifest allied Elachi Ships. Additionally, having all four pieces improves Critical Chance and Starship Hull Capacity.
This is a special event for our next content drop, and is not part of an Event Campaign. You'll be able to try out all of this new content very soon on PC, and not long after on Console. We hope you enjoy this special event, Captains, and we'll see you in game.