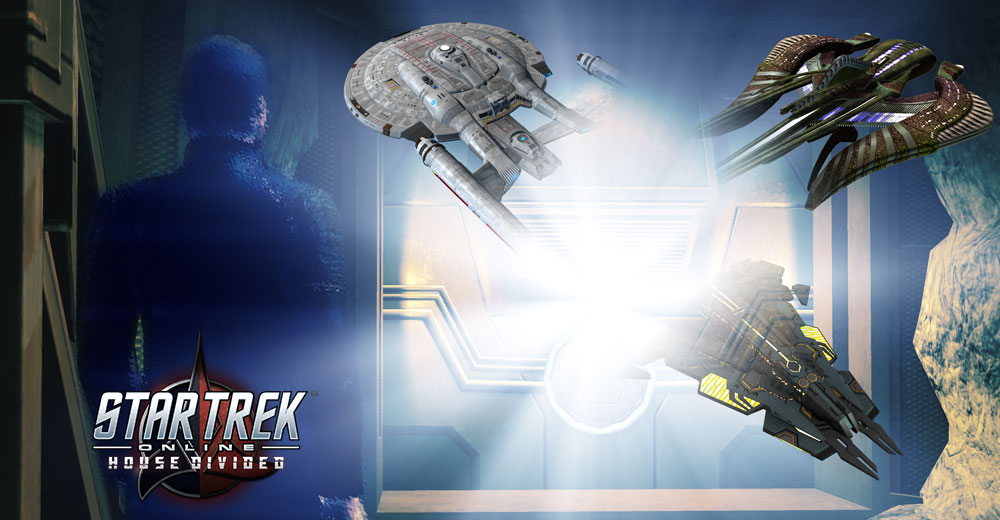 My dearest, dearest friends, colleagues, and of course, customers, it has been a long road. I speak, of course, of your journey from there, wherever you are in the galaxy, to here, my fabulous and very secret store, still hidden from Alliance forces. And I know it has been a long time, but I promise you, the time is finally near. That sound you hear is not the whining of the seventeen different megacomputers keeping this place hidden from the spies that would shut us down, no no, it is the feel of change in the wind, right now. Nothing is in our way, and those pesky "authorities" are not going to hold us down, no more. No, they are not going to hold me down, for I am Harcourt Fenton Mudd, and I offer the best deals in the galaxy!
You there! I see a new face. Ahh, yes, now that the Alliance has put you at the tippy top of their most wanted list, you come to me to fulfill your needs. And I shall fulfill them, my friend. With my next most dramatic reveal – the Mudd's Faith of the Heart Choice Bundle! Choose any three of the six items laid out before you! And if you'd like to buy multiple bundles, who am I to stop you?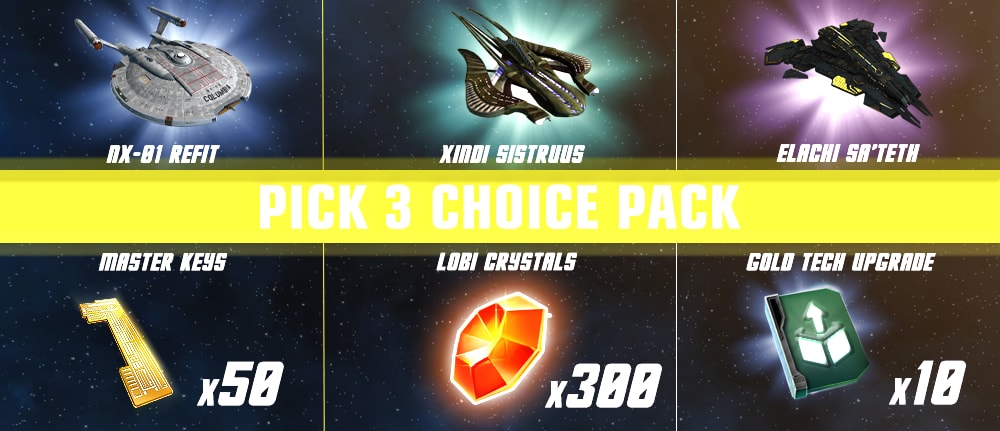 Mudd has returned with another Choice Pack, this one based on the exploits of the NX-01 Enterprise. Each time you purchase the pack, you can choose any three of the items listed below. The pack will release on August 4th, and the full price will be 29500 Zen, but you'll be able to purchase it until August 18th for 50% off, at 14,750 Zen. It includes:
NX Refit (T6)
Xindi-Reptilian Sistruus Escort (T6)
Elachi S'ateth Escort (T6)
[50x Pack] Master Keys
[300x Pack] Lobi Crystals
[10x Pack] Gold Tech Upgrades
In addition, the original Mudd's Choice Bundle will be leaving the market with the launch of this new bundle. As a last hurrah, it will be 50% off from today, 7/20, until maintenance on 7/23.
Here's some frequently asked questions, for your perusal.
Each time I buy this pack, I get to choose any three items?
Yes! Even if you only purchase it once, the Mudd's Faiths of the Heart Choice Bundle allows you to choose any three of the above ships, keys, crystals or upgrades. And, for the first time, you can choose multiples of the same item, as long as it's not a ship. Some of the possibilities include:
The NX Refit, the Xindi Escort, and the Elachi Escort
The Xindi Escort and two of the Master Key Packs, totaling 100 Master Keys
Three of the Lobi Packs, for 900 Lobi Crystals
The Elachi Escort, 50 Master Keys, and 10 Gold Tech Upgrades
And more!
Are the ships bound to the character that buys them?
Nope! The ships are account unlocks, like everything in the Zen Store. Once you purchase the bundle and choose any of the ships, you unlock that ship for all your characters, immediately, and all future characters.
Can I claim a second ship of the same type?
Also no. Because the ships are unlocked for your entire account, you only need to choose each ship once. Therefore, should you purchase a bundle and choose the Elachi Escort and two non-ship items, if you purchase a second bundle, you won't be able to choose the Elachi Escort again.
But I can choose the non-ship items again?
You sure can. You can choose master keys, lobi, and gold tech upgrades up to three times each, per purchase of the bundle.
Even within the same purchase?
That's right. If you only want Lobi, you can purchase this bundle once, choose the Lobi three times, and get 900 Lobi. It's up to you!
Do I have to purchase more than one bundle to get all six items?
Yes.
Do I have to purchase more than one bundle?
No! If you just want the ships, or any other combination, just purchase it once, claim the three items you want, and never think of it again.
Do I have to purchase this bundle?
That's really up to you, friend.
Why were there so many shower – I'm sorry, decontamination – scenes in Enterprise?
Ratings, I'd imagine.
Why is that song so catchy?
I have no idea, but it's stuck in my head right now.