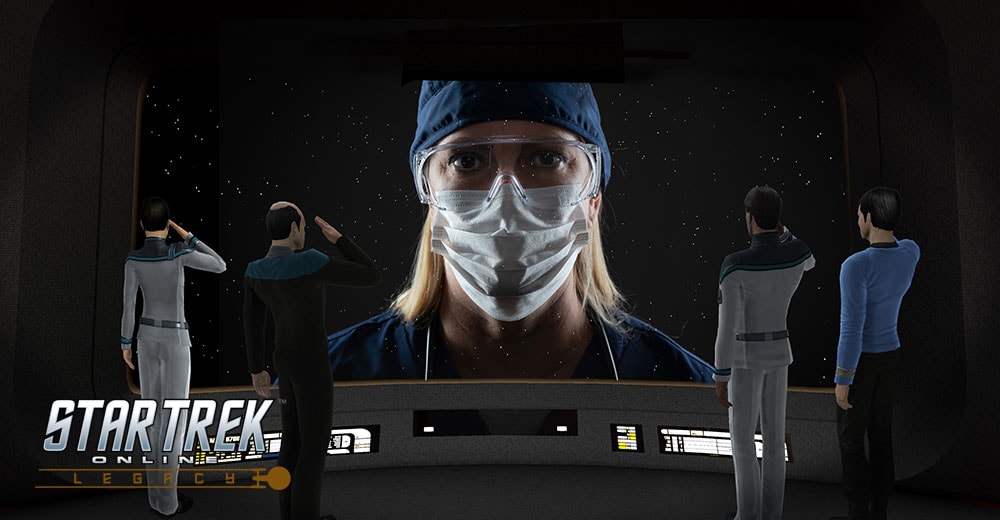 Star Trek, more than any other science fiction show, has always been about aspiration, seeking a universe where humanity has reached its true potential, far away from the things that divided us in the past. Right now, the world is facing a terrible crisis, and we're very glad that some of you have chosen to spend your time away from friends or family with us, escaping into our version of the Final Frontier. But that doesn't mean we want to forget the world we live in, either. Right now, millions of people are suiting up every day to defend us from the crisis we're all facing, and those in the medical field are putting themselves directly in the crosshairs to save lives. They may be wearing masks and hospital scrubs, but they deserve to wear a Starfleet Uniform.
It's a small gesture, but we at Star Trek Online want to show our appreciation to these people who are putting their live on the line to defend us. Starting today, we're offering a free pack to players on PC, which will come to Xbox One and Playstation 4 on May 7th. The pack contains:
A brand new Vanity Shield, to deck your starship out in medical colors
A Holo Bashir Bridge Officer for Federation Captains and their allies
An Emergency Medical Hologram Bridge Officer for Klingon Captains and their allies
A new Admiralty card, for medical ship the USS Hope
In addition to putting this out in the game to allow you to show your support, we are going to be holding an in game gathering this Saturday, April 18th on all three Platforms, at 1pm PT. We will be meeting on the upper promenade of Deep Space Nine, outside of Quarks. Please show up in your best Medical Uniform, of whatever faction you choose, and show your support for the doctors, nurses, and other medical workers out there right now.
Thank you very much, and we'll see you in game.