Just like those that crew her, the Legendary Temporal Flight-Deck Carrier represents the best of Starfleet. Inspired by Captain Pike's U.S.S. Enterprise from 2257, the Legendary Temporal Flight-Deck Carrier incorporates Molecular Reconstruction, Reinforcing Squadrons, five forward weapons and two hangar bays into a durable hull that can face the demands of destiny without fear.
Legendary Temporal Flight-Deck Carrier Stats
Tier: 6
Faction: Federation and Federation Aligned
Hull Modifier: 1.4
Shield Modifier: 1.3
Fore Weapons: 5
Aft Weapons: 3
Device Slots: 4
Bridge Officer Stations: Lieutenant Tactical, Ensign Engineering, Commander
Engineering/Temporal Operative, Lieutenant Commander Science,
Lieutenant Commander Universal/Temporal Operative
Consoles: 3 Tactical, 4 Engineering, 4 Science (scales with level)
Can Equip Dual Cannons
Base Turn Rate: 7
Impulse Modifier: .16
Inertia: 35
+5 Weapons Power, +5 Shield Power, +10 Auxiliary Power
2 Hangar bays, equipped with Tactical Flyers
Console - Universal - Reinforcing Squadrons
Molecular Reconstruction
Cruiser Command Array

Command - Attract Fire
Command – Shield Frequency Modulation

Starship Mastery Package (Flight-Deck Carrier)

Absorptive Plating (+Kinetic and Physical Damage Resistance)
Rapid Repairs (+Regeneration)
Quick Deployment (+Hangar Launch Recharge)
Enhanced Plating (+Energy and Radiation Damage Resistance)
Polarized Lattice-Optimized Tritanium Armor (Starship Trait)
NEW: Weaponized Time Crystals (Account-Unlocked Starship Trait)
Activating Weapon Firing Modes adds Chroniton distortions to the weapon attacks,
applying a stacking Antiproton damage over time effect on the enemy ship.
These distortions accumulate almost indefinitely, eventually tearing the
ship's temporal reference field apart.

Admiralty Stats

Eng: 49
Sci: 35
Tac: 33
Special: +10 Eng per SciShip
New Visual Variant: Eaves Constitution Concept
The Legendary Temporal Flight-Deck Carrier includes a brand-new visual variant: the Constitution "Gamma" variant. This variant is inspired by John Eaves' original concept art for the U.S.S. Enterprise as seen in Star Trek: Discovery. It features a less reflective material, straight nacelle pylons, a smaller deflector, and an enclosed bridge module.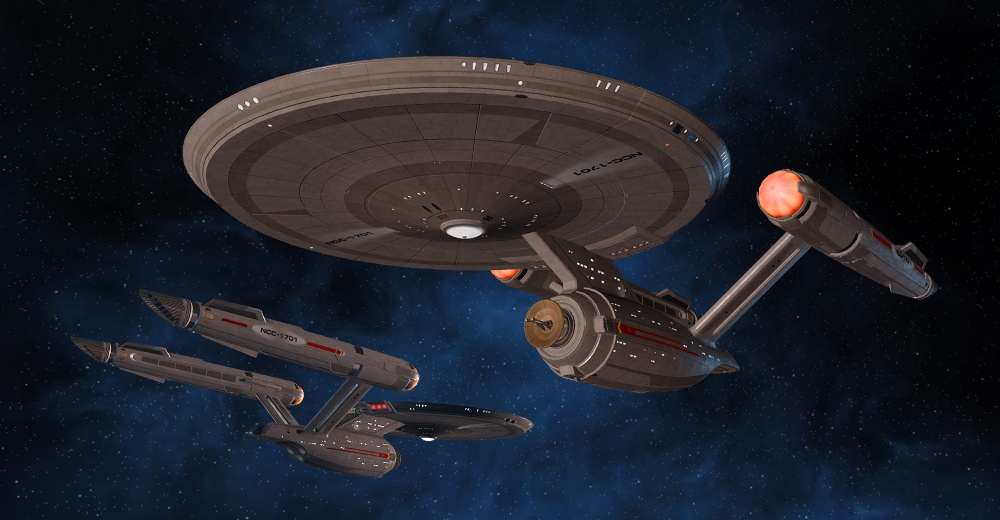 Other Included Variants
In addition to the brand-new parts, the Legendary Temporal Flight-Deck Carrier includes all of the following starship visual variants: