The Legendary Command Exploration Cruiser is purpose-built to lead Starfleet into the final frontier. Based on technical modifications made to the Galaxy-Class U.S.S. Enterprise NCC-1701-D by Chief Engineer Geordi La Forge and Operations Officer Commander Data, the Legendary Command Exploration Cruiser can venture into uncharted space alone or lead a squadron of Starfleet ships into action. Equipped with Saucer Separation, Antimatter Spread, Molecular Cohesion Nullifier Field, a Cruiser Command Array, and the Command Inspiration Ability Suite, the Legendary Command Exploration Cruiser represents Starfleet's commitment to discovery, communication, and mutual defense.
Legendary Command Exploration Cruiser Stats
Tier: 6
Faction: Federation and Federation Aligned
Hull Modifier: 1.55
Shield Modifier: 1.05
Fore Weapons: 4
Aft Weapons: 4
Device Slots: 4
Bridge Officer Stations: Lieutenant Commander Tactical, Lieutenant Commander Engineering,
Commander Engineering/Command, Lieutenant Science/Command, Ensign Universal
Consoles: 3 Tactical, 5 Engineering, 3 Science
Base Turn Rate: 6
Impulse Modifier: .15
Inertia: 25
+5 to All Power Levels
Console - Universal - Saucer Separation
Console - Universal - Antimatter Spread
Console - Universal - Molecular Cohesion Nullifier Field
Inspiration Abilities:

Turn the Tide
Against All Odds
Battle Preparation

Cruiser Command Array

Command – Strategic Maneuvering
Command – Shield Frequency Modulation
Command – Weapon System Efficiency
Command – Attract Fire

Starship Ability Package (Cruiser)

Absorptive Plating (+Physical and Kinetic Damage Res)
Rapid Repairs (+Hull Regeneration)
Enhanced Hull Plating (+Energy Damage Resistance Rating)
Armored Hull (+Max Hull Capacity)
Explosive Polarity Shift (Starship Trait)
NEW: Make it So (Account-Unlocked Starship Trait)
Activating Captain Abilities adds +1.5% improved Healing and Damage for each rank of each
Bridge Officer Ability currently affecting the ship. Ranks are Ensign, Lieutenant, Lieutenant
Commander, and Commander. Bonuses last 30 seconds.

Admiralty Stats


Eng: 65
Sci: 22
Tac: 30
Special: +8 ENG and TAC per SciShip
New Visual Variant: Ross-Class Exploration Cruiser
The Legendary Command Exploration Cruiser includes a brand-new visual variant: the Ross-Class Exploration Cruiser. This ship, commissioned in the 2380s, is a hybrid of the Galaxy and Sovereign-class aesthetic. Featured in the recently-launched Star Trek Adventures roleplaying show "Clear Skies," the U.S.S. Ross pioneers many advanced technology that will go on to become standard on Starfleet ships in the 25th century.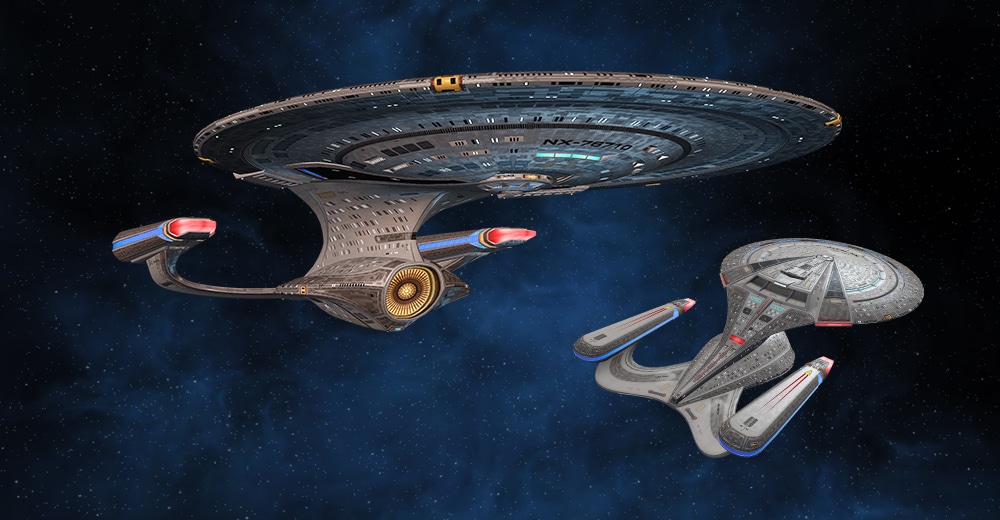 Other Included Variants
In addition to the brand-new parts, the Legendary Command Exploration Cruiser includes all of the following starship visual variants: