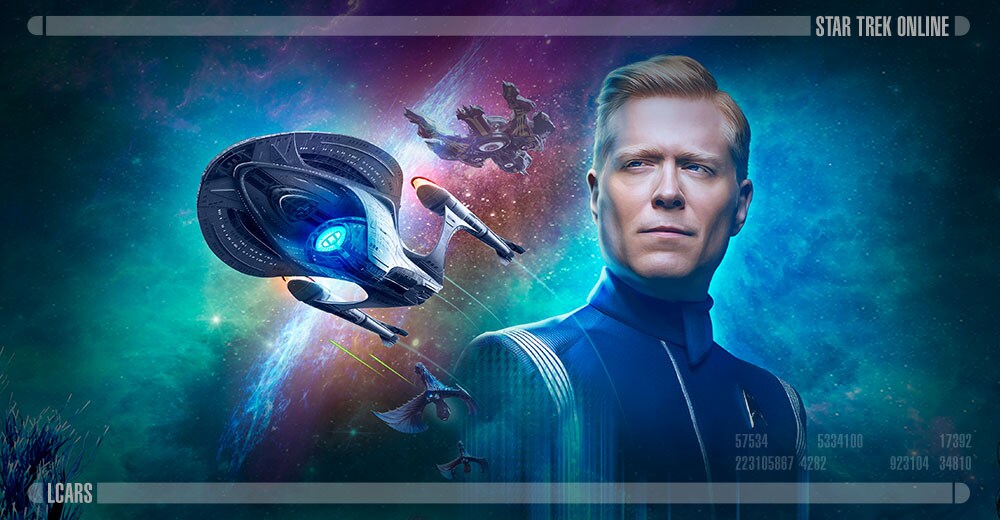 Bienvenue sur Awakening, capitaines ! Cette mise à jour revêt une importance particulière à mes yeux : depuis que j'ai pris mon poste sur Star Trek Online, nous avons travaillé d'arrache-pied pour vous offrir une expérience Star Trek complète et de qualité en 2256, à l'époque de Discovery, au sein de l'extension Age of Discovery.Aujourd'hui, nous retournons en 2410 pour replonger dans l'histoire que les capitaines ont pu suivre pendant près de dix ans sur STO.C'est un plaisir de pouvoir la faire progresser et de voir l'influence des événements d'Age of Discovery sur notre ligne temporelle !
Tant de passionnantes aventures vous attendent ! La mise à jour Awakening apporte avec elle une toute nouvelle intrigue avec Anthony Rapp dans le rôle du commandant Paul Stamets qui reprend vie dans le futur, en 2410, sous la forme d'un holographe. Avec Stamets à vos côtés, vous vous aventurerez dans le réseau mycélien pour mettre un terme à la menace que pose J'Ula et ses raiders de la maison Mo'kai. Mais ce n'est pas tout : cette mise à jour voit l'arrivée de cinq nouvelles patrouilles disposant chacune de sa propre histoire individuelle mettant à l'honneur Stamets et certains des personnages les plus emblématiques de Star Trek Online, tels que Madran et la capitaine Kuumaarke.
Pour tout dire, la menace qui pèse sur le réseau mycélien est d'une telle ampleur qu'elle s'étend à toute la galaxie sous la forme d'une crise mycélienne. Pour la toute première fois, nous avons transformé l'intégralité du contenu d'une mise à jour majeure en un événement jouable. À chaque fois que vous terminerez une patrouille, le nouvel épisode ou la nouvelle TFO « Mycelial Realm », vous ferez progresser votre compte jusqu'à débloquer le nouveau vaisseau Elachi Qulash Frigate, équipé d'armes et d'améliorations elachi premium au choix.Vous ne pouvez pas finir l'événement ?N'ayez crainte, vous aurez la possibilité d'acheter la fin de votre progression, au prorata de ce qu'il vous reste à accomplir ; plus vous jouerez, et moins vous aurez à payer !
Nous avons hâte de vous voir plonger dans le réseau mycélien et cette histoire qui marque le début d'une nouvelle ère sur Star Trek Online. Profitez bien de cette mise à jour et prenez garde : il va y avoir du spore ! À bientôt en jeu !
Andre Emerson
Producteur exécutif
Star Trek Online