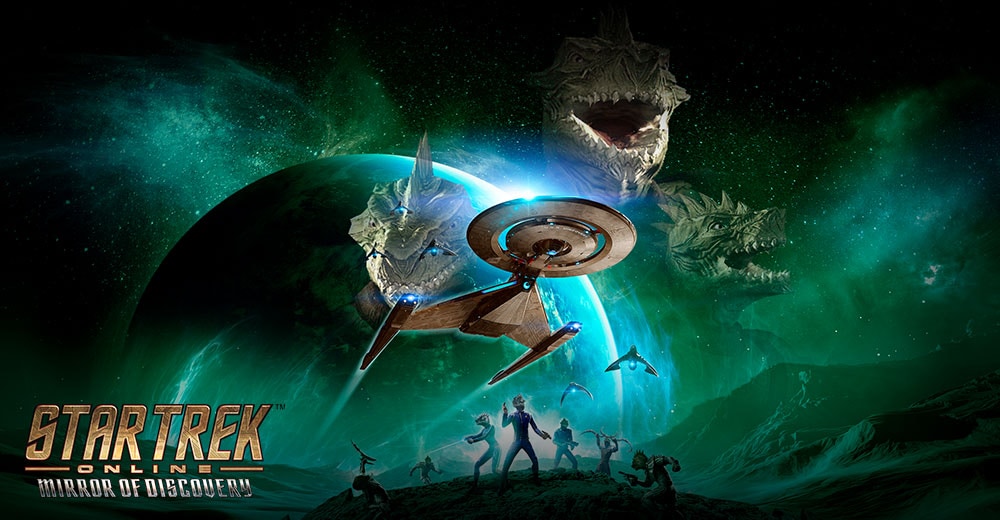 Nous travaillions en secret depuis des mois sur cette mise à jour, il est désormais temps de vous annoncer notre nouvelle extension : Star Trek Online : Gorn of Discovery ! STO fait peau neuve et nous espérons que vous apprécierez ce tout nouveau contenu ! Essayez nos deux épisodes de saison : « Bienvenue à Marly Gornmont », et « Vilains gornements » où vous devrez défendre Gornar d'une menace venue du froid interstellaire, et notre toute nouvelle TFO : « Gornet de glace » !
« Gorn of Discovery » inclut d'autres missions comme :
Les Gornies
Le Gorn, la brute et le truand
Les Gornlins
De nouvelles TFOs :
Gornzilla
La Gorne vadrouille
Et une toute nouvelle expérience de tutoriel :« Où le Gorn dépasse les Gorns », une visite guidée de Gornar au bord de la guerre civile : « Gornica », pendant laquelle vous rencontrerez les descendants de l'incident de Cestus III, les Ch'gorns.
Cette mise à jour permettra aussi de renouveler la bande son (qui commençait à s'écailler), avec des classiques tels que :
Gorn to be alive
Gorn to be Wild
Sweet egg of mine (par les Gorn N' Roses)
Le Gornographe du phonographe (de Gorn Brassens)
Nous inclurons également des tout nouveaux kits pour vos capitaines, dont les compétences et les armes suivantes
Prendre le taureau par les gorns
Gornerator de bouclier
BFG (Bio Force Gorn)
Gornade à plasma
Bay-gorn: Lance-flame anti-hur'qs
Et une toute nouvelle émote : Danse hip-hop de Gornelsan
Nous avons hâte de vous voir essayer tout ce contenu Gorngantuesque au moment du lancement de Gorn of Discovery sur Star Trek Online quand les poules auront des dents ;).