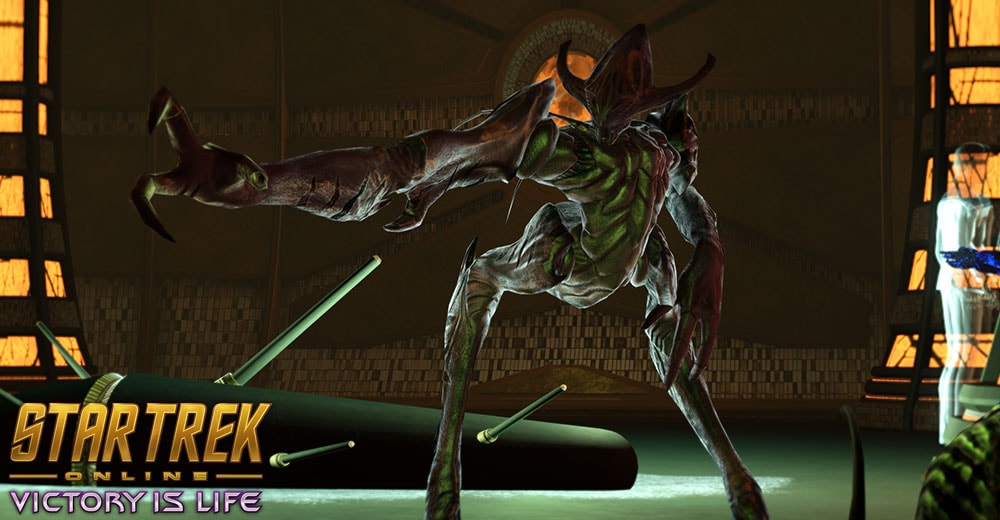 Each week we'll roll out a new reward for the Featured Episode "Home." The first completion of this mission on an account this week will grant a Featured Episode Weekly Reward Box. This box gives your choice of an Enhanced Universal Tech Upgrade or a Captain Specialization Point Box, which gives the character who opens it a Specialization Point. The Weekly Reward Box, Tech Upgrade, and Specialization Point Box are all Bound to Account, and may be freely traded between your characters. The Specialization Point Box requires the opening character to be level 60.
The Morphogenic Matrix Controller is a non-sentient mass of Morphogenic material contained within a miniaturized Polaron radiation shield array. This Morphogenic mass is naturally attracted to capacitors and power relays of starship weapon systems, insulating them and ensuring a higher energy transfer efficiency. The Polaron radiation shield array keeps the Morphogenic Matrix malleable and gelatinous, allowing it to easily spread out along your starship's power transfer lines. The Morphogenic mass seems to behave as a conductive transfer between the Polaron Radiation shield and weapon systems, providing an unintended but not unwelcome boost to Polaron Weapon damage capabilities.
The Console - Tactical - Morphogenic Matrix Controller is part of the Morphogenic Armaments set. Collect additional pieces from this set to unlock powerful set bonuses:
Morphogenic Armaments Set
Morphogenic Efficiency (2 piece)
This 2 piece bonus reduces the recharge time of Fire at Will, Beam Overload, Scatter Volley, Rapid Fire, High Yield, Torpedo Spread, Mine Pattern Alpha, and Mine Pattern Beta.
Hyperactive Morphogenic Enhancements (3 piece)
The Morphogenic Matrix has completely integrated into the ship's weapon systems, and is generating a positive feedback loop whenever activating certain Beam, cannon, Torpedo, and Mine attack enhancing abilities. This feedback loop imparts bonuses to various weapon systems.
Next week we'll reveal the final rewards for "Home."
Rob "CrypticRidi" Hrouda
Systems Designer
Star Trek Online