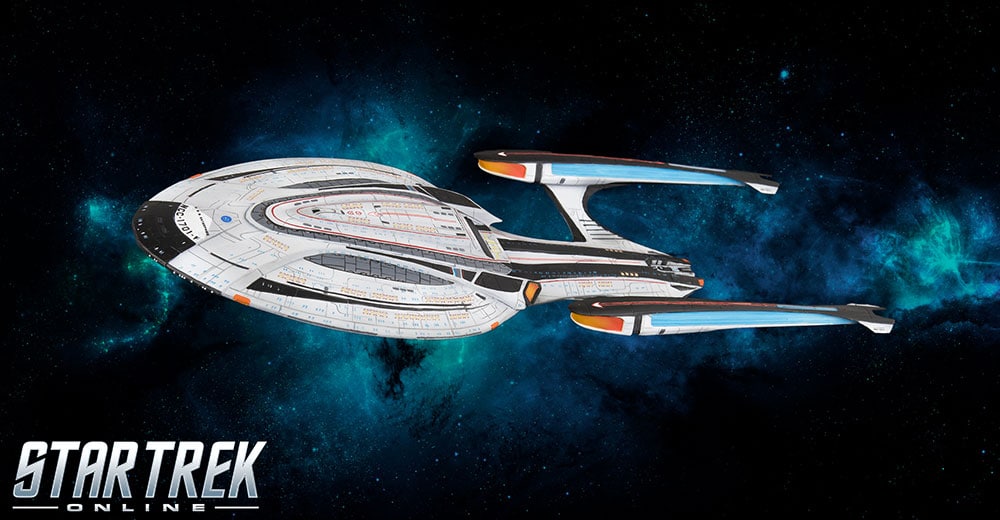 Do you have a favorite ship in Star Trek Online? The one that's always carried you through, no matter how tough the fight? The one that you've lovingly built and rebuilt again and again, chasing that perfect set up, and just the right colors? The ship that you proudly call your home among the stars? We're happy to announce that, starting today, Captains all over the world can begin the process of bringing that ship to life. You'll be able to order a 3D printed, high quality collectible of your ship to keep with you at work, at home, or wherever you want to see the ship you love.
Here's how it works: Ready the starship you want printed, and head to the ship tailor. You'll find a brand new button that reads, "3D Print This Ship." Clicking on this will bring you to the option to learn more about this process, or to print this ship. Once you've chosen to print the ship, it'll upload directly to our partner, Mixed Dimensions. You'll be able to pick from three different options:
Collectible Version

Base Price: $350
Captains can commission one of the company's master artists to hand-paint a premium, full-colored resin model of their starship, which includes detailed shading. Exceptional artistry and focus is placed on each individual ship.

Single Color Version

Base Price: $225
Captains can order a 3D-printed model of their starship, painted in either gold, silver, bronze or black. The model is polished, finished and ready for display.

Primer Version

Base price: $200
Model painters and hobbyists can order a primed model of their favorite starship, coated in a base layer of primer and ready to be painted.
*Please note that costs for all three options may vary according to ship size and customizations. A stand will be included with every order and all ships will be delivered in customized packaging.
To celebrate the launch of Star Trek Online's starship collectibles, Mixed Dimensions will offer introductory pricing for a limited time. Please visit http://www.gameprint.net/startrek for additional details.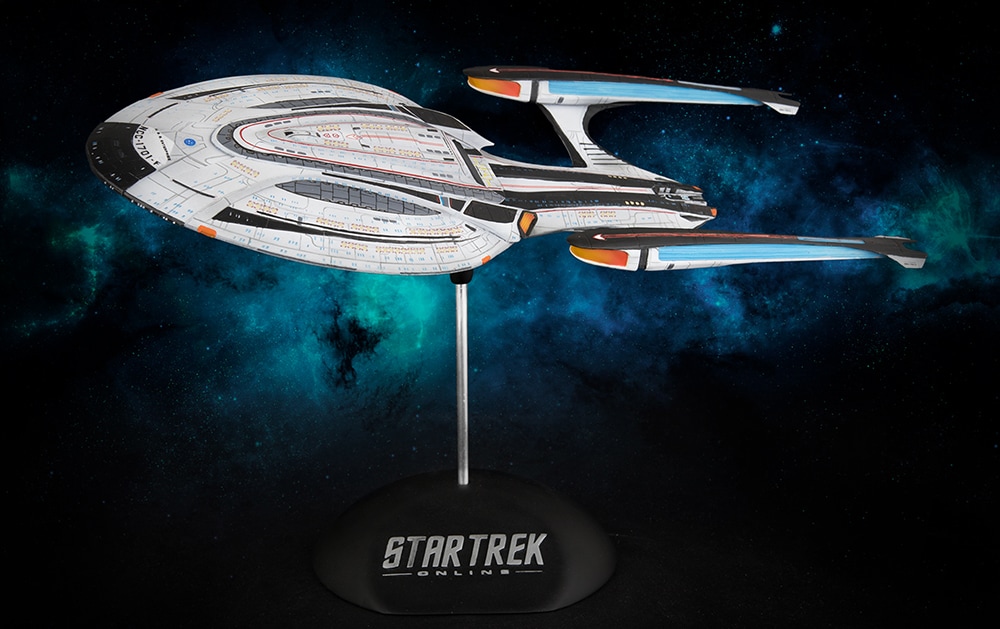 Interested in more information on the process? We'll be holding an AMA on our Official Forums and the Star Trek Online subreddit to answer your questions on Friday, March 16th at 10am PT.
Since every customized starship is individually crafted and hand-painted, these ships will only be created in batches of 100 units at a time. When players place their order with Mixed Dimensions, they will be notified of the estimated time it will take to create and deliver their starship. In addition, captains will also receive photo updates of their ships in real time, notifying them when their collectibles have been printed and painted.
For those who don't have access to the PC version of Star Trek Online, Mixed Dimensions will be offering completed models, replicating 20 of the game's most popular starships. These hand-painted starship collectibles will be available soon.
There is a small selection of ships that will not be offered as 3D Prints. Those ships are:
Crossfield-class Science Vanguard
Walker-class Light Exploration Cruiser
Sarcophagus Dreadnought Carrier
Vesta-class Multi-Mission Surveillance Explorer
Herald Baltim Raider
Herald Quas Flight Deck Cruiser
Herald Vonph Dreadnought Carrier
Na'kuhl Acheros Battlecruiser
Na'kuhl Daemosh Science Vessel
Na'kuhl Tadaari Raider
Sphere Builder Arehbes Destroyer
Sphere Builder Denuos Dreadnought Carrier
Sphere Builder Edoulg Science Vessel
Tholian Tarantula Dreadnought Cruiser
Son'a Collector Science Dreadnought
Jupiter-class Carrier
Delta-class Shuttle
In addition, the following starship parts are not available to print:
Risian Luxury Cruiser
Starfleet Multi-Mission Science Vessels

Saucer: Vesta
Hull: Vesta, Rademaker, Brigid
Nacelles: Vesta
Stanchions: Vesta

Starfleet Research Science Vessels
With our huge selection of ships and the complex export process involved, players may find that printing is disabled for other ships. If you are unable to print a ship that is not on the above list, please let us know on our official forums. That maybe a technical issue we can resolve in the future. Please also note: Captains who use Lighting 1.0 will not be able to 3D print a ship at this time. If you are able to switch to 2.0 long enough to export the ship, you will still be able to.
Shipping is available in most of North America, Europe, Australia and several other territories. For a list of countries where shipping is unavailable due to international restrictions, please visit the FAQ section of the Mixed Dimensions website. In addition, customers who place orders outside of the United States may be responsible for taxes and/or dues required by law within their territory.
We can't wait for you all to get the chance to own a high quality collectible of the ships that have carried you through eight years of Star Trek Online. We'll see you in game.
PLEASE NOTE THAT THE MATERIALS USED FOR MANUFACTURING THE 3D MODELS MAKE THE 3D MODELS SUITABLE ONLY FOR DECORATIVE PURPOSES AND THEY ARE NOT SUITED FOR ANY OTHER PURPOSE. THE 3D MODELS ARE NOT SUITED TO BE USED AS TOYS, OR TO BE GIVEN TO CHILDREN. THE 3D MODELS SHOULD NOT COME IN CONTACT WITH ELECTRICITY OR FOOD OR LIQUIDS AND SHOULD BE KEPT AWAY FROM HEAT.