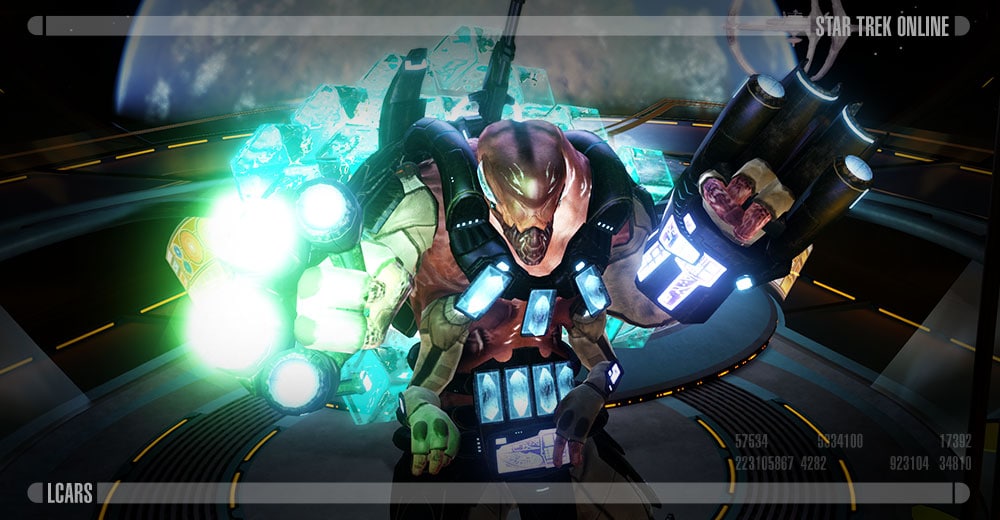 Chaque semaine, nous vous proposerons une nouvelle récompense pour la complétion de l'épisode « Scylla and Charybdis ». La première complétion de la mission sur votre compte cette semaine vous accordera une boîte Featured Episode Weekly Reward en récompense. Ce cadeau spécial vous permet de choisir entre un Enhanced Universal Tech Upgrade ou une boîte Captain Specialization Point accordant immédiatement un point de spécialisation au personnage qui l'ouvre. La boîte-cadeau hebdomadaire, le Tech Upgrade et la boîte contenant le point de spécialisation sont liés au compte et peuvent être échangés librement entre vos personnages. Pour bénéficier du point de spécialisation, votre personnage doit être de niveau 60.
Les Bajor Defense Hyper-Impulse Engines ont été spécialement développés pour les manœuvres de proximité. Pendant l'opération, le moteur génère un bouclier protecteur secondaire autour de la coque du vaisseau, augmentant ainsi son intégrité structurelle. Cette protection supplémentaire s'harmonise avec la fréquence du bouclier ennemi afin de permettre l'exécution de manœuvres d'éperonnage sans subir de dégâts, tout en transperçant intégralement le champ d'intégrité structurelle du vaisseau ennemi.
Les Bajor Defense Hyper-Impulse Engines fait partie de l'ensemble Bajor Defense. Obtenez les pièces de ce set pour débloquer de puissants bonus :
Ensemble Bajor Defense
Core Damage Systems (2 pièces)
Ce bonus 2 pièces augmente les dégâts de phaseur, disrupteur, et plasma.
Range Modulation (3 pièces)
Ce bonus 3 pièces augmente la portée des Plasmatic Retaliatory Coronal Ejections et de l'Energy Siphoning Field.
Manipulative Energy Siphon Field (4 pièces)
Ce bonus 4 pièces modifie la capacité Energy Siphon pour réduire également la Vitesse de rotation de l'ennemi de 33 % et ses Résistances de 15 %, et vous accorder ces mêmes bonus.
La semaine prochaine, nous dévoilerons la dernière récompense de l'épisode « Scylla and Charybdis ».
Rob "CrypticRidi" Hrouda
Systems Designer
Star Trek Online